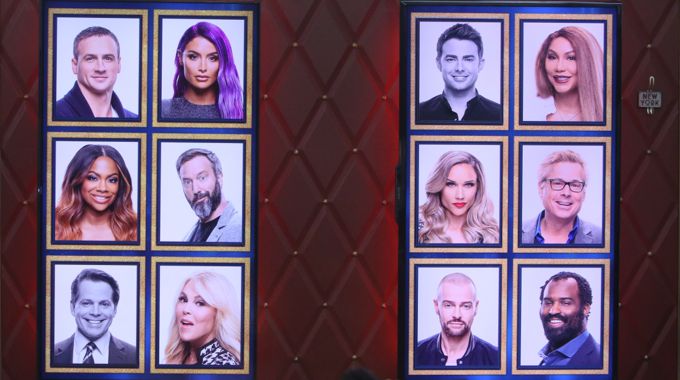 It's Eviction Day for Celebrity Big Brother 2019 and we've got a lot of possibilities tonight ahead of the live vote thanks to the Veto Competition waiting to play out. While there are a lot of options we can also see what's most likely to happen by the end of the night.
Right now we've got Dina and Tamar on the Block with Kato calling the shots. During the live episode tonight (8/7c) we'll be watching a live Power of Veto battle as well followed of course by the Veto meeting to decide our final noms of the round.
Kato has decided he wants Ryan out the backdoor but he'll settle for Joey if need me, depending on who wins the Veto and plays it, if they do. Now Joey and Ryan know they're in danger and have both agreed to not use it so the other is protected. Catch here is we don't know who is playing just yet and there aren't that many HGs so the odds aren't too bad for the guys.
Now should the Veto be won and not used then Kato has told his allies he wants Tamar to go. Lolo and Natalie talked about that today and both agreed that Kato wants to keep Dina because she's closer to Kato, no surprise. They're worried though that Dina might come after them while maybe their chances are better with Tamar sticking around. Not a bad assumption, despite the arguments Lolo has had with Tamar.
So who is most likely to go? Odds aren't bad that Ryan could be the one out the door. For Joey to go it'd most likely need to be Ryan winning and using the Veto, otherwise, anyone else using the Veto would result in Ryan going up and out.
Should the noms remain then that'll be interesting. No chance of a tie with 2 noms and 7 votes. Should Kandi, Lolo, Natalie, and Rick stick together they can send Dina out the door but then that'll end Tomato's trust in Natalie, Lolo, and Ricky. Would they trade their alliance with the guys for Tamar? Hmm.
Who do you think will be voted out? Cast your vote now in our poll below and share your reasons why.