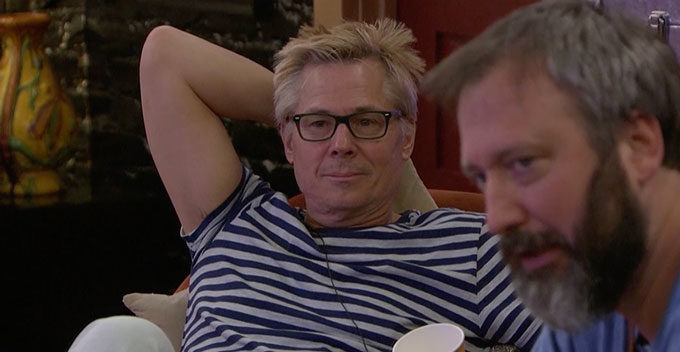 Overnight, the latest Celebrity Big Brother 2 Head of Household was revealed, and it looks like we aren't getting any kind of power shift this round.
Tom was crowned the latest HOH after the haunted house competition (where the house is blacked out and people are on hand to scare the HGs while they search the house for objects). So that means Tom and Kato have won all of the past four competitions. So if you're counting there have been six competitions and they have won four. That's pretty impressive. And they're one of the most solid alliances in the house. So are they running the game? Yes and no.
Tom and Kato can be credited for getting rid of Ryan Lochte, who was arguably the biggest threat in the house. And in a normal round, they'd be controlling all the power this time. But there's a twist on the way, and based on social media, it will be going to one of the next two targets: Joey or Tamar. So while Tom and Kato have held all the power since Round 1, this week isn't going to be as easy. Especially if Tamar gets the power to save herself from the public and then Joey wins veto. Who will the power duo target then? Kandi? Dina? They would both be a wasted round.
And aside from competitions, are they really in touch with the game? A little. Tom seems to have a better grasp of what should be done than Kato. Tom seems to know who he can and cannot trust while Kato seems to just believe everything everyone tells him. Kato's blindspot seems to be Lolo and Natalie. The girls are in an alliance with the guys, but they're a little more loyal to Ricky, going to him with information Tom and Kato. Of course they're all with Ricky now, but Ricky likes to stir things up, so he probably should be trusted by them either.
So at the moment, Tom and Kato are running the game. And since this is a short season, it could work out for them. But all this early power could sputter out and they could find themselves in trouble soon for being such threats. But regardless of what happens, I'm surprised by this duo. Not only am I surprised they're even a duo, but I'm shocked at their performances. Kato winning the wall endurance competition was just insane to me. Not bad for a 59-year-old man who is only famous for freeloading off an actual celebrity athlete in 1994.
And while I'm enjoying this unlikely duo at the moment, I'm a big fan of power shifts, so here's to hoping something different happens soon. We don't want this whole thing to be a wash. So I'm going to just put this into the universe: Tamar survives this week and wins the next Head of Household. Now that would be fun.
What do you think of Tom and Kato? Are the running the Celebrity Big Brother house? Do you like their alliance?