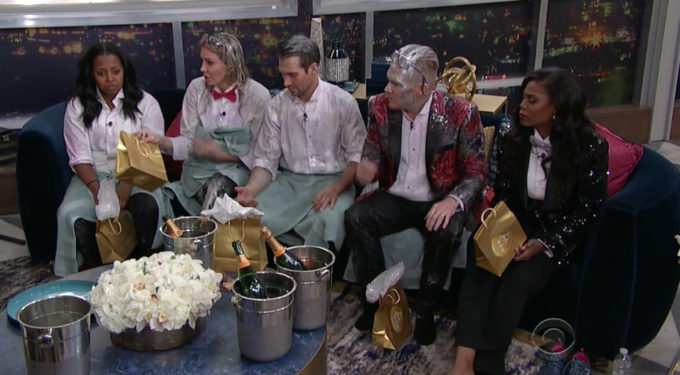 Celebrity Big Brother's three-night premiere continued Thursday night as actress Shannon Elizabeth came into power as Head of Household and promptly learned that a twist could threaten her reign and that female alliance that has already been forming.
The episode picks up right after Julie dropped the "HOH Recast" bomb. Someone could end up with the power to recast Shannon with themselves as HOH, giving them the power to make the nominations for the ween instead of Shannon. And the twist is definitely making the houseguests nervous. Ross tells them that some of them might end up in unitards, which I think everyone more afraid of than being nominated. James, of course, says he has nothing to fear with this twist. Insert eye rolls here.
Since the girls are really set on sending a guy home this week, they know they have to work this twist to their advantage. If there's any way for one of them to get it over a guy, they're going to go for it, they decide.  Elsewhere, the guys are starting to figure out they might be outnumbered. Mark and Chuck agree that Shannon is a threat and that she is probably assembling a girls' alliance. So their only hope right now is for one of them to get the recast power, Mark says.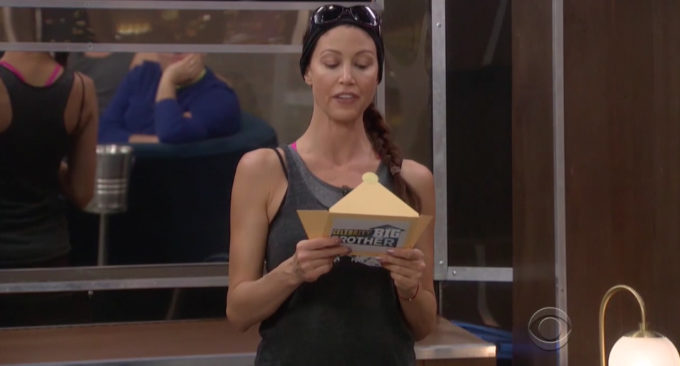 Shannon finally comes out of the Diary Room with details on how the twist works. It's conviluded like most Big Brother twists. So each person has a gift bag. Some of the bags contain dumb BB swag like baby costumes and unitards. One (or maybe more) bag contains the HOH recast power. This gives that person the chance to take over as HOH before the nomination ceremony and make their own nominations on the spot.
Apparently this twist is in play until the power is used, meaning before every nomination ceremony, the TV will alert the HGs they can go into the DR to decide they want to open their bag. If more than one person decides to open it, then who gets to actually open it will be decided by random draw. And as I kind of said before, once it's used, the power is over for good.
The girls grow more worried about this twist and decide to come up with a plan. Shannon and Marissa decide that one of the girls has to go into the DR to open their gift bag no matter what. Every girl is going to request to open their gift bag so one of them has a better shot at getting the power.
While the girls are busy playing the game, James and Chuck are off revealing to us that they have known each other for a long time and are obviously in in an alliance. And they decide to name it. And James comes up with one of the worst alliance names in history. The Celebrators. Insert cricket noise here.
That alliance thing, however, isn't the dumbest thing in that house. No, that honor might go to Mark McGrath. When Shannon asks who his biggest threats in the house are he tells her James and OH, YOU, SHANNON. YOU. The current HOH. And Shannon, being the super fan she is, knows just how dumb it was for him to tell her that. I'm trying to refrain from making a Sugar Ray "Fly" joke right now. Maybe later.
A little later James also tells Shannon she's a threat. So Mark and James are now tied for dumbest HG.
Shannon definitely knows now that it's going to be a women vs. men war so she decides to enlist a spy in Ross. And he's more than happy to team up with the girls because he's always better with girls anyway, he says. So it's decided. It's the women and Ross vs. the rest of the men.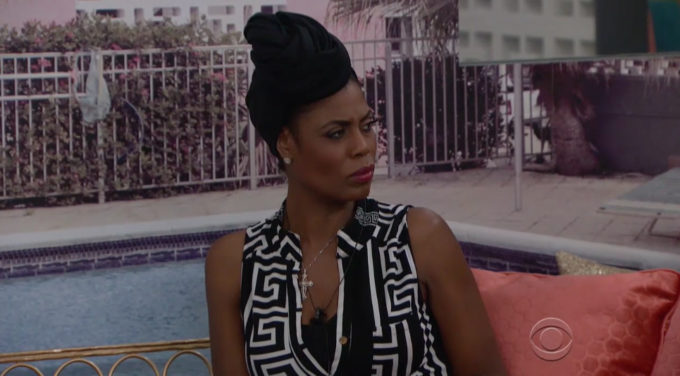 And because I like to call myself a thorough recapper, I have to at least mention that it's now time for some segments on why CBS cast Omarosa. She decides to actually discuss where time with the Trump administration. She also compares Trump to Bill Cosby to Keshia, reminding her that she stoop by Cosby when all of his sexual assault allegations came out.
OK, enough of that. This is Big Brother not current events.
It's time to see if anyone wants to check their gift bags! Chuck decides to go for the bag. So now the girls and Ross are going to line up and force a draw. Shannon tells Chuck that he was not her target but now she's suspicious of his decision. Chuck knows he's in danger now.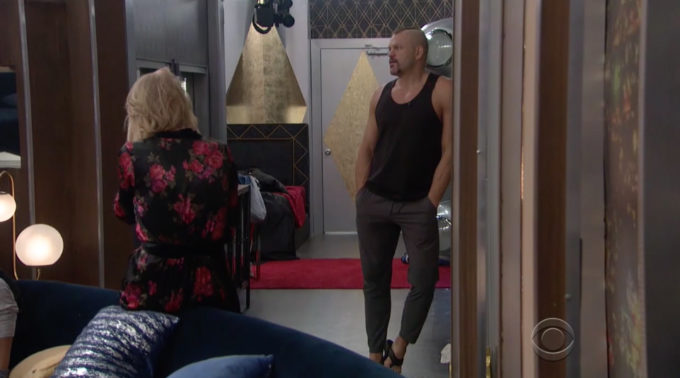 Since more than one person decided to go for it, they now have to have the random draw. Each person who went to the DR drew a color chip. It has to match the chip shannon draws. She draws the orange chip. But who does it belong to? We will find out during the nomination ceremony.
At the nomination ceremony Shannon has her nominees locked in, but the gift bag winner gets to open their gift bag if they choose. And they choose. It's Keshia who had the orange chip and she decides to open the bag. And she has the power. She recasts Shannon as the HOH and she must name two HGs on the spot. She nominates James and Chuck.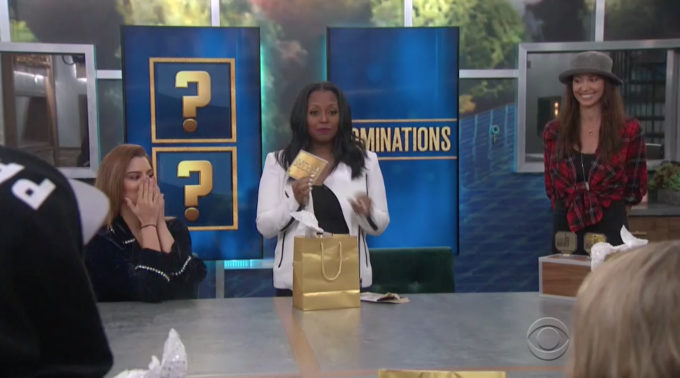 So just like that another Big Brother twist flops right out the gate. You'd think production would just stop with these silly twists. Remember the Tree of Temptation?
What did you think of the second night of Celebrity Big Brother? Who are you rooting for?