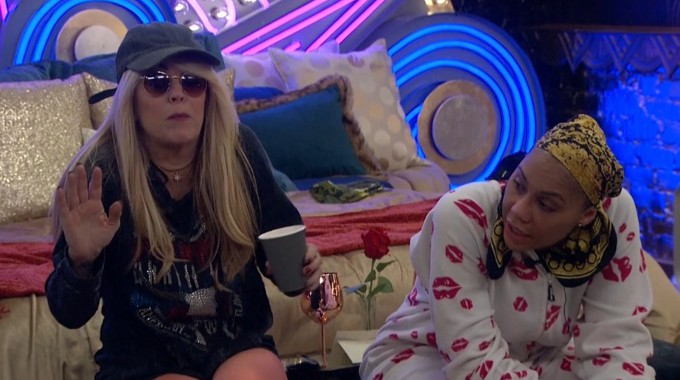 Feeds got a late start for Celebrity Big Brother last night after the Double Eviction that dropped us to just five Houseguests left in the game. Eventually Feeds returned and we listened in on the planning and prep for the final days of the season.
Don't miss your chance to watch along with us. The season is just getting started and that'll run less than a month (check the schedule) so you can watch all the fun for less than $6.
If you've got the Live Feeds (Free Trial) then you can watch all of these moments with the Flashback feature to go back and watch those important conversations or funny scenes you may have missed.
Celebrity Big Brother Live Feed Highlights – Friday, February 8, 2018:
7:40 PM BBT – Feeds finally return after the DE.

7:45 PM BBT – Tamar has been dancing around and celebrating. She feels the weight has been lifted off her now that Tom is gone.

7:50 PM BBT – HGs wonder if it could be an endurance comp. Lolo says she'll be upset if it is because of having to miss it.

8:05 PM BBT – Feeds have continued on and off while we wait for the HOH comp.

10:58 PM BBT – Feeds returned. Ricky won HOH.

11:05 PM BBT – Ricky tells Lolo that Kandi shouldn't have called him out. He says she'll be going home if she doesn't win the Veto. Ricky says he won't do it though without permission. Tamar tells him to go ahead.

11:07 PM BBT – Ricky says he doesn't want to stay in the HOH room and will offer it to Kandi and Dina. Lolo says the room is toxic.

11:15 PM BBT – Kandi expects to go up on the Block with Dina. Dina says she (D) will be the target.

11:45 PM BBT – Tamar asks Lolo if she's afraid to go to the end with her. Tamar suggests everyone is upset at her (T). Lolo says actually a lot of the HGs like her and she expects Tamar to get AFP. Lolo expects it to be between Tom and Tamar. Tamar says Tom isn't a favorite. Lolo points out the cheer Tom received. Tamar counters that was cheering for his eviction, not him.

12:00 AM BBT – Ricky confirms to Tamar that he's putting up Kandi and Dina.

12:05 AM BBT – Lolo is sad that her basket has a letter from her friend instead of from a husband. She says she avoided winning HOH because of that.

12:20 AM BBT – Dina asks Kandi who is going up. Kandi says obviously the two of them. Dina was trying to figure out who would be the renom. She suggests they could save each other if one of them comes down. Kandi points out Ricky will just tiebreak against them.

1:05 AM BBT – Tamar works again on Lolo regarding who she'll take to F2. Lolo says she doesn't know. Tamar reiterates that no one likes her (T). Lolo says Dina and Kandi don't have any blood on their hands.

2:00 AM BBT – Everyone is upstairs in the HOH room.

3:50 AM BBT – Ricky and Lolo are still awake and chatting about the game. Ricky says Tom was good at the game but terrible at the social aspect.

4:05 AM BBT – Lolo notes that Tom was a big fan of Big Brother and had lied about only seeing a few episodes.

4:10 AM BBT – Ricky tells Lolo he doesn't care about winning and will just make his case at the end.

5:00 AM BBT – Ricky continues to wander around the house.
No surprises here for us as Ricky plans to put up the two opposing HGs, Kandi and Dina. If one of them gets the Veto then the other will still go unless someone decides to do a surprise flip vote but that Bedroom Alliance seems pretty solid so I wouldn't expect much change here.
You can watch all of these Big Brother events using the archives Flashback, the DVR-like feature of this year's Live Feeds which means it's always live, even when you missed it! Sign-up now to get the free trial to watch it all live & uncensored.