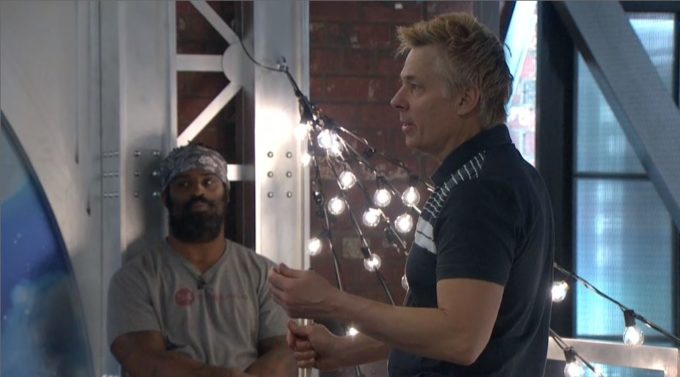 The Celebrity Big Brother 2 HGs spent most of the morning trying to put their finger on who got the Power of the Publicist and awaiting the Power Of Veto comp. Some of the HGs are still confused as to what the plan is after the POV takes place. Keep reading to find out what the HGs discussed throughout the day on the Celebrity Big Brother live feeds!
Don't miss your chance to watch along with us. The season is just getting started and that'll run less than a month (check the schedule) so you can watch all the fun for less than $6.
If you've got the Live Feeds (Free Trial) then you can watch all of these moments with the Flashback feature to go back and watch those important conversations or funny scenes you may have missed.
Celebrity Big Brother Live Feed Highlights – Wednesday, January 30, 2018:
9:15 AM BBT – HGs are waking up for the day.

10: 25 AM BBT – Pretty quiet morning in the house. Feeds cut.

11:07 AM BBT – Feeds come back. Lolo wondering how long they have until "the game" so that she can plan her workout around it.

11:27 AM BBT – Tamar mentions being mad that she isn't playing in the POV comp. (I'm assuming the players were picked while the feeds were down.)

11:37 AM BBT – Tamar goes to the HOH room to listen to Tom's music. Tamar says to Tom "So, I'm not playing in the Veto, am I safe?" Tom pauses for a second and "Uh, yeah, I think you are and I think you know you are too."

11:48 AM BBT – Tamar goes into the gym and tells Natalie about her exchange with Tom and is wondering about what he meant when he said "I think you know you are too." Natalie tells her that if he put her up it wouldn't matter because she has the votes. Tamar isn't convinced.

12:03 PM BBT – Lolo and Natalie talk about Tom's plan to BD someone over this power. Lolo tells Natalie that Kato and Tom have lost sight of jury management. Natalie tells Lolo that she doesn't even think that Tamar has it and mentions how Tom wanted Tamar to stay because she doesn't do well in the physical comps.

12:07 PM BBT – Joey and Tamar are talking about how Tom has pissed off everyone, even the people in his clique.

1:35 PM BBT – Tom hopes he doesn't have to put Ricky up too soon before the eviction so they don't have to deal with an intense living situation. Tom says Ricky might already know anyway and wonders if Natalie told him about it. \

1:36 PM BBT – Tom tells Kato that if this plan doesn't work they're going to have to end their alliance with Lolo and Natalie. He says they don't need to work with people who won't get with their plan. Tom thinks they need to talk to Lolo and Natalie and tell them what needs to be done without threatening them.

1:53 PM BBT – Natalie tells Tom and Kato that she doesn't think it's a bad idea to backdoor Ricky, she just thinks it's too early and it leaves her and Lolo too open.

1:57 PM BBT – Tom tells Natalie that he doesn't feel like he's in an alliance with Ricky. He said when he asked Ricky to be in an alliance and name it he didn't want that and later called him a prick. Then when Kato wins HOH he suddenly wants to work with them. Natalie can't defend Ricky there.

2:08 PM BBT – Natalie says she's worried about her and Lolo getting nominated together. Kato said he and Tom worries about the two of them going up to. Natalie says they have to win next HOH and Tom says they will because they win everything (someone is getting cocky).

2:14 PM BBT – Natalie tells Lolo about her talk with Tom and Kato. Says Tom is getting harder and harder to work with and that she is almost over it. She also says that Tom knows the game way more than they do. Natalie says they need Tom and Kato on their side though since they win so much. Natalie says she just needs to get to final 4 then they can slice and dice them.

2:15 PM BBT – Lolo says that Tom and Kato are making valid points, but if they're so good how can they beat them at the final 4.

2:25 PM BBT – Kato and Tom as Dina to take Joey down if she wins veto. Dina said it would be hard to not take Kandi down. Tom tells Dina that Kandi isn't who they want to go home this week so if she's on the block still, she'll be OK.

2:28 PM BBT – Dina says since Joey picked her to play veto it would at least makes sense for her to use the veto on him.

2:36 PM BBT – Ricky asks Tom how his paranoia is doing and says that a lot of people are bothered by it. Tom says he's actually not paranoid. Ricky says it's shaken up everyone's trust in Tom.

2:48 PM BBT – Ricky tells Tom that he tried to warn him about going to Tamar about the power and if he had listened to him she wouldn't have blown up. So he tells Tom he hopes he trusts him. He says they're a team and Tom needs to use that to his advantage.

2:56 PM BBT – Joey tells Lolo, Tamar and Natalie that they need to turn the house on its head and nominate Tom and Kato. Then he says Kato is the one to take out because that would make Tom unravel. Lolo cracks up and seems to love the idea.

2:58 PM BBT – Joey says they all need to try to win and Lolo tells him he doesn't need the money and he says money doesn't grow on trees for everyone. He says he takes care of a lot of people and has for a long time and wouldn't turn down the prize money.
So as of now, if the veto is used, Tom will nominate Ricky. But Tom's recent paranoia could be his undoing as an unlikely foursome of Joey, Lolo, Natalie and Tamar could be forming. This is definitely the season that doesn't take any breathers, so expect more drama after the Power of Veto competition today.
You can watch all of these Big Brother events using the archives Flashback, the DVR-like feature of this year's Live Feeds which means it's always live, even when you missed it! Sign-up now to get the free trial to watch it all live & uncensored.


Gallery: Live Feeds Highlights