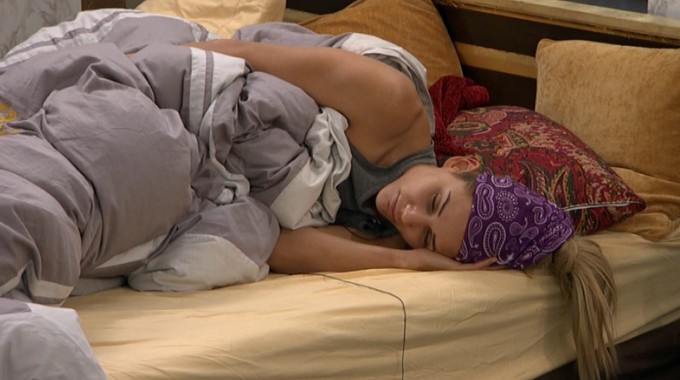 Things are surely winding down in the Celebrity Big Brother 2 house as the HGs spent the day moping about and packing up for the end of the season Wednesday. And as if emotions weren't already high, they got videos from home, which were actually shown on the Live Feeds.
Don't miss your chance to watch along with us. The season is just getting started and that'll run less than a month (check the schedule) so you can watch all the fun for less than $6.
If you've got the Live Feeds (Free Trial) then you can watch all of these moments with the Flashback feature to go back and watch those important conversations or funny scenes you may have missed.
Celebrity Big Brother Live Feed Highlights – Sunday, February 10, 2018:
10:15 AM BBT – Lights are on for HGs to get up. No one is stirring.

12:00 PM BBT – HGs have been lounging around. Lolo and Ricky speculate the Veto competition will be on Monday instead.

1:30 PM BBT – HGs hanging out in the bedroom and sharing stories.

2:00 PM BBT – Tamar has injured herself, needed the heating pad earlier, and is continuing to complain about the discomfort.

3:55 PM BBT – Tamar and Kandi are whispering about who has a F2. Tamar wants to know if Dina had pitched that to Kandi.

4:23 PM BBT – HGs called to the living room.

4:28 PM BBT – Videos start playing featuring messages from loved ones and friends for all the HGs. Videos loop a few times for the HGs.

5:38 PM BBT – Lolo says she'd rather have seen her dog than her training partner.

6:00 PM BBT – Lolo and Tamar working out. Tamar is really emotional after seeing the video of her son.

6:50 PM BBT – HGs still talking about messages from home. They're all really happy they got them.

7:05 PM BBT – Lolo is cleaning. Ricky and Kandi are playing chess.

8:44 PM BBT – Tamar is still emotional from earlier when she got to see a video of her son.

10:20 PM BBT – HGs are packing up and getting ready for the end of the season Wednesday.

10:35 PM BBT – Tamar, Ricky, and Lolo have gotten in the pool after heating it up.

11:30 PM BBT – Kandi plays cards with Dina while Tamar and Ricky relax in the bedroom.

11:50 PM BBT – Lolo notes they have a 9AM wakeup call tomorrow.

1:00 AM BBT – Tamar and Lolo are rehearsing days and events using the deck of cards. They can't remember all the details.

1:30 AM BBT – HGs discussing what all happened this season. Lolo wants to go back and watch to find out what really went down.

2:00 AM BBT – HGs are off to bed.
We've reached the slow crawl death of the season. Only thing left is the Veto competition and then the HGs can drift off to sleep until Wednesday night. No decisions can be made until we hit those PoV results but it should be an exciting reveal when that time comes.
You can watch all of these Big Brother events using the archives Flashback, the DVR-like feature of this year's Live Feeds which means it's always live, even when you missed it! Sign-up now to get the free trial to watch it all live & uncensored.