The biggest Power of Veto competition yet on Big Brother Over The Top has arrived as the two sides of the house remain divided and this week's eviction plans hangs in the balance. Will the Smashers lose Shelby or will LNJ say goodbye to Jason? It all comes down to this event.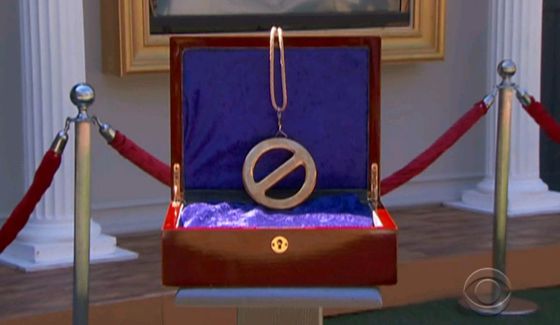 There was no America's Vote this week and no third nominee at all. With Justin holding immunity this round the only options for eviction are Kryssie, Jason, and Shelby. One of those three will be going home just shy of the F4 round as we close in on the BBOTT season finale on December 1st.
Today we've got Morgan (HoH), Jason & Kryssie (noms), and Shelby & Justin playing for the medallion. Even though Jason and Kryssie were sent to the Block this Veto will be the decider on the final noms of the week. LNJ is playing to save Jason while Smashers want to keep him and Kryssie in place so Shelby can stay out of the danger zone and in a voting seat this week. If she's up on the Block then the other side will have complete control and she'll be gone.
Order was drawn as Justin going first then Shelby, Morgan, Kryssie, and Jason going last. With everyone going one at a time this is going to likely draw out the event though some of these have gone much faster than others.
Rules: HGs must crawl through a maze to find 3 ears of corn then race to the exit and hit the buzzer. They must have all 3 ears of corn in hand when they buzz in to finish or they will be disqualified. Fastest time wins.
Want to watch? Get One Free Month with promo code BBOTTNOW! Sign-up NOW for the Live Feeds Free Trial & check out the action as it happens!
Big Brother Over The Top Spoilers: Week 8 Veto Competition – "Maize Maze":
12:35 PM BBT – HGs waiting for the comp to kick off.
1:00 PM BBT – Morgan returns from the DR. Individual performances.
1:16 PM BBT – Justin heads to the backyard. We see it's a maze puzzle.
1:23 PM BBT – Justin starts his maze journey.
1:25 PM BBT – Justin finishes in approximately 1m56s.
1:35 PM BBT – Shelby's turn begins.
1:39 PM BBT – Shelby struggled but finally finishes at approx 4m23s.
1:49 PM BBT – Morgan's turn begins.
2:00 PM BBT – Morgan had serious issues on 3rd piece. Approx time 10m59s.
2:08 PM BBT – Kryssie's a go.
2:10 PM BBT – Kryssie is done with an approx time of 2m04s.
2:19 PM BBT – Jason begins his turn.
2:20 PM BBT – Jason is done fast! His approx time is 1m29s.
2:49 PM BBT – Results confirm… Jason won the Veto!
Official times:
Jason: 1m30s
Justin: 1m56s
Kryssie: 2m05s
Shelby: 4m24s
Morgan: 11m00s
If you missed any of action then you can later rewind your Feeds to 1PM BBT and watch it again. CBS should also include results and clips in the daily recap video either tonight or tomorrow.
What do you think of the PoV Comp today? What should happen at the ceremony? The Veto Ceremony will be coming up Tuesday at 1PM PT (4PM ET) and we'll post live spoilers then.
Turn on your Live Feeds and enjoy the latest drama. Watch it all now live & uncensored.