The very first Power of Veto competition live on the Feeds for Big Brother Over The Top has arrived today as we prepare for the 1PM PT (4PM ET) event where Jason, Danielle, and Cornbread are preparing to compete for their Big Brother game.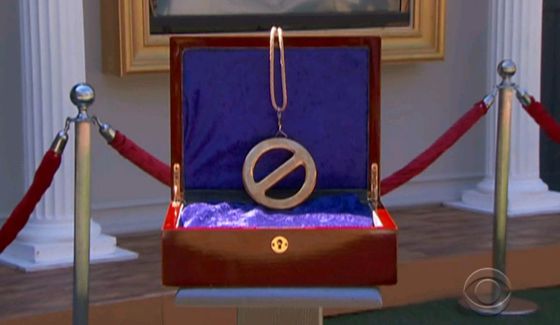 Cornbread was just sent to the Block by America's Vote but he's got Monte, Alex, and Whitney playing in his corner, a big advantage over Jason and Danielle who are playing alone in this competition. Ready to see how this all plays out on the Feeds? I'm anxious to see what we've got and if you're signed up for the Feeds then you can watch too!
Never miss a spoiler: Download our Big Brother App, join us on Facebook & Twitter, and by Email.
Big Brother Over The Top Spoilers: Week 1 Veto Competition:
Considering how the HoH comp lasted 24 hours I wasn't sure what we'd get with this but it ended up being a lot of fun. The comp lasted thirty minutes and we got to see it all play out on the Feeds as the HGs ran around looking for clues to solve the challenge.
If you missed the action then rewind your Feeds to 1PM PT (4PM ET) and watch it again. CBS should also have the clip posted before too long that you can watch if Rewind isn't available for you.
Want to watch? Sign-up NOW for the Live Feeds Free Trial & check out the action as it happens!

Today we've got Monte (HoH), Danielle, Jason, & CB (Noms), and Alex & Whitney (drawn players) competing in the Power of Veto competition. Shane is hosting.
12:55 PM BBT – Feeds cut presumably to prep for comp…
1:01 PM BBT – Feeds return. HGs in the backyard. Comp is "Veto Vault." HGs must figure out a 4-number code to win. Clues around the house will reveal the digits to use.
1:04 PM BBT – Horn blast starts the comp. HGs race inside.
1:08 PM BBT – Danielle tries. Wrong guess. CB tries. Wrong. Danielle tries again. Also wrong.
1:10 PM BBT – Everyone has tried so far & gotten it wrong. Whitney tells Monte what she tried.
1:12 PM BBT – Monte & CB sharing what they're trying. Everyone working together but Jason & Danielle.
1:15 PM BBT – HGs wandering the house & then getting in line to try it again.
1:20 PM BBT – Camera keeps showing the kitchen table (chairs).
1:25 PM BBT – HGs keep trying & then going back in to count & inspect.
1:30 PM BBT – Jason gets the code (2449) right!
Results: Jason Roy won the Power of Veto
What do you think of the PoV Comp playing out live? What should happen at the ceremony? The Veto Ceremony will be coming up Tuesday at 1PM PT (4PM ET) and we'll post live spoilers then.
Turn on your Live Feeds and enjoy the drama. Watch it all now live & uncensored.