The Veto Ceremony has arrived for Big Brother Over The Top this week as we're narrowing in on the season finale with just six final Houseguests left and it's about to be five after tomorrow night. So who will be sitting in the hot seat come eviction show time? Read on to find out.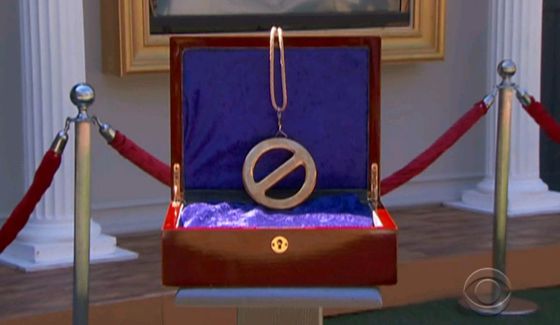 Shelby won the Power of Veto on Monday and that's going to leave Danielle in a bad spot with her game on the line after she turned in a disappointing performance with her last place finish. Now it's Shelby's turn to override the viewers and finalize her noms for the week.
You could watch the ceremony live as it happened but if you missed it then Flashback to 1PM PT (4PM ET) to see how this plays out on our Live Feeds (get the Free Trial now).
Power of Veto Ceremony Results – Week 7:
Shelby used the Veto on Morgan
Morgan was America's Nom so no renom req'd
Final noms of the week are: Danielle & Jason
Note: Shortly before the Veto meeting (12:45 PM BBT), Morgan revealed to Kryssie that Alex was her sister. Morgan said she was telling Kryssie, and only Kryssie, this big secret to help build trust between them for their F4. Kryssie was wholly unimpressed. We'll have to see if she tells anyone later.
Last week we saw a sweep of the ladies alliance on the Block and this week the tables were turned with nothing by LNJ filling the couch now. The season's back and forth balance of power continues on BBOTT.
As of now, Danielle remains the top target and everyone is on board to vote her out tomorrow night when the weekly live show returns at 10PM ET (7PM PT) on All Access. Jason should dodge a bullet on this one unless something unexpected comes along.
What do you think of today's events at the meeting? Were the right choices made by everyone involved? Who do you think should be the most likely target for the week?
Eviction vote comes up Wednesday night and we'll see then how this all turns out but don't forget that America's Vote which will start at 5PM ET this afternoon. Who do you think will be voted out this week? Cast your eviction prediction vote in our poll below.