Results are in for the BBOTT Veto Ceremony today as two PoV medallions awaited the opportunity to come in to play and change up Scott's HoH plans to go after Shane for eviction this week. Would either Justin or Alex clear the path for that to happen?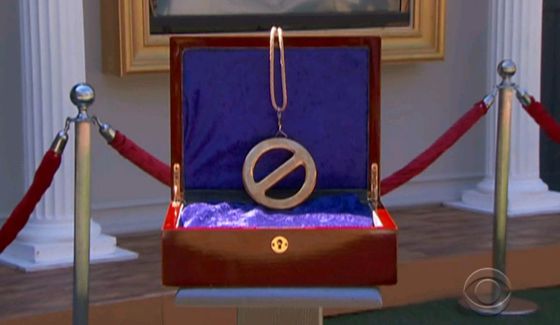 Justin had already promised Kryssie he'd save her if he could and that's all it'd take to set Scott up for getting Shane on the Block and a day away from heading out the door. It's time to find out who will be the final nominees of the week on Over The Top.
You could watch the ceremony live as it happened but if you missed it then Flashback to 1PM PT (4PM ET) to see how this plays out on our Live Feeds (get the Free Trial now).
Power of Veto Ceremony Results – Week 3:
Justin used his Veto on Kryssie
Alex did not use her Veto
Scott (HoH) renom'd Shane in Kryssie's place
Final noms of the week are: Danielle, Neeley, & Shane
This went just as planned for the nominations as Scott had hoped and now he's got the chance for Shane to go out the door. Earlier Justin and the Jamboree said they wanted to keep Shane instead of Danielle, but they didn't know Scott and the Plastics were angling to keep Danielle, get her side to vote against her, and then evict Shane instead. Now if Justin had decided not to use the Veto then Danielle would most likely have been the one to go. Ah well for them.
What do you think of today's events at the meeting? Were the right choices made by everyone involved? Who is our most likely target for the week?
Eviction vote comes up Wednesday night and the votes look stacked against Shane. We'll see if there are any last minute changes. Who do you think will be voted out this week? Cast your eviction prediction vote in our poll below.