It's Veto Ceremony day for the Big Brother Over The Top Houseguests after Monday's competition put the power in the hands of one of the nominees and now we've got a renom coming our way.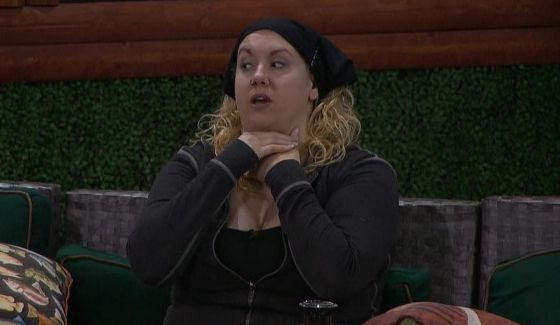 Kryssie had narrowed it down to one of the two ladies from PBS for her renom plans and talks on Monday appear to have narrowed the choice down for her though she's been mentioning both options when talking between the sides of the house. So who is it going to be?
Since she was working through her nominations Kryssie had mentioned the seat next to Scott would be filled by either Morgan or Shelby. Even during her final button push of the Safety Ceremony Kryssie was saying to herself that Shelby better hope Scott stays up there. Well Scott will but Morgan won't.
On Monday evening and night Kryssie was working through having to plan for who would go up and that was going to be either Whitney or Shelby. When speaking with Whitney she mentioned leaning toward Shelby as the renom though Whitney was quick to offer herself as the renom. This would be a move to avoid having to vote and make her vote known, a tactic some of her allies easily detected.
Later in the night Neeley was pressing for Kryssie to renom Shelby rather than Whitney since earlier talks concluded Shelby would not vote out Scott like they had arranged in their pre-noms deal.
Now I'm not at all expecting Whitney to be willing to hold that deal either, so this may not really matter who Kryssie decides to put up. However, it does seem like Kryssie will renom Whitney instead of Shelby in part because she believes she's helping shield Whitney from the voting.
Swapping out Morgan for Whitney or Shelby won't really change things as all three appear ready to vote together to keep Scott. That decision could come down to America's vote later tonight and Wednesday morning unless the ladies are able to flip Justin again to send Neeley out the door.
Remember that this Big Brother Veto Ceremony can be watched live as it happens on the Live Feeds today at 1PM PT (4PM ET) so be sure you're signed up and ready with All Access (get the Free Trial).
You'll especially want to have that going because an hour after the Ceremony we'll get the next round of the America's Eviction Vote starting at 2PM PT (5PM ET). We'll all be voting to decide where our one vote goes this week and you'll get to help make that choice if you're subscribed.
Get the results when they're announced. Grab our Big Brother App and we'll send you an alert when the spoilers are in. Join us on Facebook, Twitter, and by Email Updates to get more results all season.