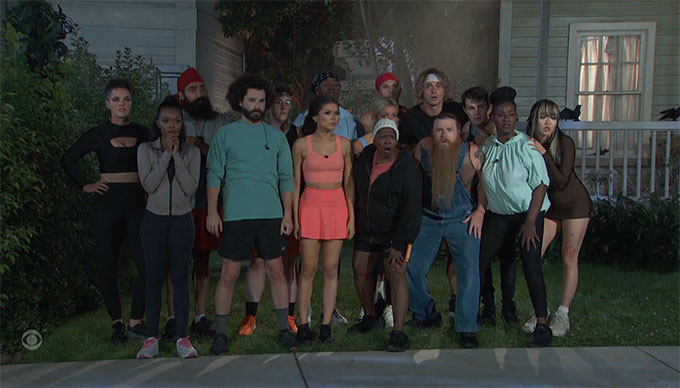 As Big Brother 25 Week 2 begins to already wind down, we've all gotten a pretty good feel of the houseguests this season, and the impressions they're making are starting to show on polls across social media and the web. It's time to take a look at how fans are thinking about houseguests this season, starting with the results of our first BB25 Popularity Poll. And make sure you take our Week 2 poll at the bottom of the page!
Big Brother Network Popularity Poll Results from Week 1
1 Cameron
2 Cirie
3 Reilly
4 Matt
5 Felicia
6 Red
7 Cory
8 Hisam
9 Jag
10 America
11 Jared
12 Blue
13 Izzy
14 Mecole
15 Luke
16 Bowie
17 Kirsten
OK, so something is clearly off here. We aren't sure how or why Cameron would be in first place, unless his family are readers and took it upon themselves to pad his popularity. But I'm not buying he would naturally beat out Cirie, Reilly, Matt and Felicia. So take this as you will. But I would say he's probably more likely lower that Red at the very least. But all I can report are the actual results.
The Others
On Twitter, BigBrotherJunkie's Popularity Poll results are based on retweets and likes, and are always a really good indicator of how Twitter is feeling, so let's take a look at their results from Week 1:
1 Cirie
2 Mecole
3 Matt
4 Felicia
5 Kirsten
6 America
7 Blue
8 Jared
9 Cory
10 Jag
11 Reilly
12 Hisam
13 Izzy
14 Luke
15 Bowie
16 Red
17 Cameron
Another poll with a strong grasp on the social media pulse is Big Brother Daily. They record HG popularity daily, and their latest results are:
1 Cirie
2 Felicia
3 Cory
4 Matt
5 Mecole
6 America
7 Jag
8 Blue
9 Jared
10 Izzy
11 Reilly
12 Hisam
13 Bowie
14 Kirsten
15 Red
16 Cameron
17 Luke
Over at Jokers Updates things look a little differently, as always:
1 Matt
2 Cory
3 America
4 Cirie
5 Reilly
6 Jag
7 Felicia
8 Mecole
9 Blue
10 Kirsten
11 Bowie
12 Red
13 Jared
14 Izzy
15 Hisam
16 Cameron
17 Luke
Big Brother Network Popularity Poll Week 2
Please vote only once. We want to accurately gauge the results here, as this poll is a trusted way to track things like America's votes and end-of-season America's Favorite Houseguest.