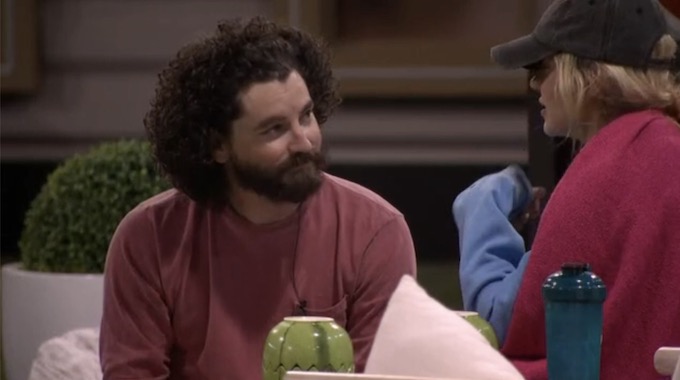 Hisam has made it clear who his target is for Week 2 of Big Brother 25. Now that the Power of Veto Competition has taken place, we have a better idea of whether his plan will work out. Monday afternoon will bring us the Power of Veto Ceremony where this week's Power of Veto winner can decide if either Reilly or Cameron should be taken off the chopping block. If you missed out on the POV spoilers from Saturday, keep reading to get all the details of what will take place moving forward this week on Big Brother!
Reilly made an enemy of Hisam's when she blatantly told everyone in her alliance that she would target him and Izzy if she had the opportunity to. This week she tried to convince him that she only said it out of paranoia and that she would love to work with him moving forward. However, that plea fell short of convincing him and he decided that he needed to put Reilly on the block to make a statement to the rest of the house.
Cameron found himself sitting next to Reilly because he would be the first person to take her off the block if he won the Veto. Therefore, Hisam put him in a position where if Cameron did win, he would have no choice but to use it on himself. Going into Saturday's Power of Veto Competition, the player draw was on Reilly's side with America, Blue, and Matt all being picked to play. The best case scenario would have been for Matt to win it and take her down since Matt was the renom option if the Veto was used at Monday's Veto Ceremony.
That scenario didn't end up playing out when Hisam put a bigger target on his back by winning his second Veto in a row. With this win, it is likely that the noms will stay the same and Reilly and Cameron will be the final noms for week 2. As of right now, things are looking good for Hisam's plan to work out and for Reilly to be voted out. The only potential for Reilly to stay at this point is if the majority of the house decides that Cameron is the bigger threat, which some of the houseguests are already considering.
Check back a little later for confirmation on the results of the Week 2 Veto Ceremony! In the meantime, do you think that Hisam keeping the noms the same is the right move for his game? Or does this leave too much temptation for the vote to flip?
Download our Big Brother App, join us on Facebook & Twitter, and get our Email Updates for more!