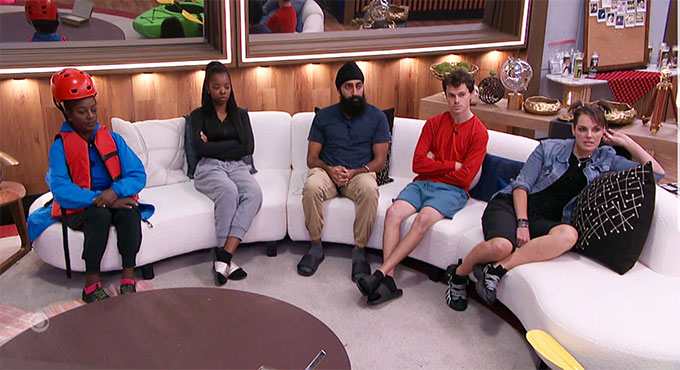 This week's Big Brother 25 Player Rankings are going to look a little differently. That's because this has been quite a week of power shifts in the house. It's going to be hard to figure this all out this week, but lets get to it.
A reminder first: Every week this season I'll be grading each houseguest based on their gameplay, social skills and competition prowess. These scores will result in a final ranking of each houseguest. Now, let's really get to it.
Big Brother 25 Houseguest Report Card: Week 6
Cameron, 98/100 — Cameron makes a massive leap this week after winning his second Head of Household competition and setting fire to the house with his nominations and push to get Izzy out this week. Say what you will about Cameron, but he has played the hell out of the game this week. He realized he had nothing to lose and everything to gain after he was blindsided last week and everyone in the house is feeling it. The game has practically reset at this point. Last Week: 67
Matt, 95/100 — Matt continued his streak this week as one of the best-positioned players in the house (despite the fact that might have changed the past 24 hours). And then he won the veto competition, even though Jared ended up with the actual veto. That was a smart move, really. because Jared was the one who had to not use it instead of Matt. His only misstep was keeping that punishment over a trip to Europe. Last Week: 90
Jag, 88/100 — Jag gets a boost this week for going from actually evicted to not even the direct target any longer. Jag also made a deal with Cameron (while not totally trusting Cameron) to keep himself off the block. Jag hasn't played a 3rd place game this week, but everyone else played a worst game. Just had to preface that. Last Week: 70
Cirie, 85/100 — I don't blame Cirie for what could be her downfall (that's all on Jared in my opinion), but she was actually in danger this week. She wasn't in grave danger, but she was about to be Cameron's backdoor plan. She made some mistakes this week, and again, I blame Jared. I think Cirie can still work herself out of the mess she's in, but this week she just didn't make the grade the way we know Cirie can. Last Week: 95
Cory, 80/100 — I think Cory's biggest mistake in this game will be getting into a showmance. It always clouds judgments and makes the players a target. And this week they pretended they're going to spend time a part, but no one believed it and it just made Cory seem more sketchy. Last Week: 85
America, 79/100 — America played the game this week as a top tier, but she just doesn't have anyone's trust. Everyone talks about not telling her any information because she'll just spread it and her name is on so many upcoming eviction hit lists. She should be getting a score of about 95, but she has no actual power so this is where she lands this week. Last Week: 88
Mecole, 79/100 — Mecole might be laying too low. I've given her credit for doing so up until this point, but it's time she makes a game move. She's about to be a part of the Izzy vote, but that's just her saying she's keeping her word to Felicia. Maybe this will all pay off for her eventually, but right now she doesn't have much to be praised for. Last Week: 87
Jared, 76/100 — I cannot stand Jared's game. And I admit it's hard for me to be objective with him because he's just so terrible to watch it's hard for me to recognize maybe when he's not being terrible. This week he didn't win the veto, but ended up with it, so that counts for half or something. I don't know. He wisely didn't use it though and this week played Cameron very well, so I'm giving credit where credit is due. Last Week: 80
Felicia, 69/100 — Felicia might be staying this week, but it's only because Izzy is the bigger threat and it will weaken Cirie. Otherwise, Felicia was toast at the start of the week. She just hasn't done herself any favors lately talking to the wrong people about the wrong things. Last Week: 77
Izzy, 66/100 — Izzy got some good praise from me last week and here she is this week probably getting evicted. But the reason why she's scored so low this week was the fact that she even entertained the idea of not using the veto on herself (if she had won) just to keep Cirie safe. I will never respect anyone who considers that. Last Week: 88
Blue, 68/100 — I have nothing to say about Blue. She's not good at the game, brings nothing to the table and has made her position worse by saying all the wrong things. Last Week: 68
Bowie, 59/100 — Bowie holds onto the very bottom this week, but I did give her one extra point because she realized she was being played. She still has no idea who is actually powerful in the house and brings even less to the table than Blue, so lat place it is. Last Week: 58
Flunked (evicted)
Kirsten
Reilly
Hisam
Red
Expelled
Luke
These scores and rankings are simply my own. There's no real science to it, so please don't take them so seriously. If you disagree, please share your thoughts in our comments below and on Twitter and Facebook! Let's discuss!
Also, keep in mind that a lot went down today on the Live Feeds, so these rankings were finalized before a lot of the drama kicked in.