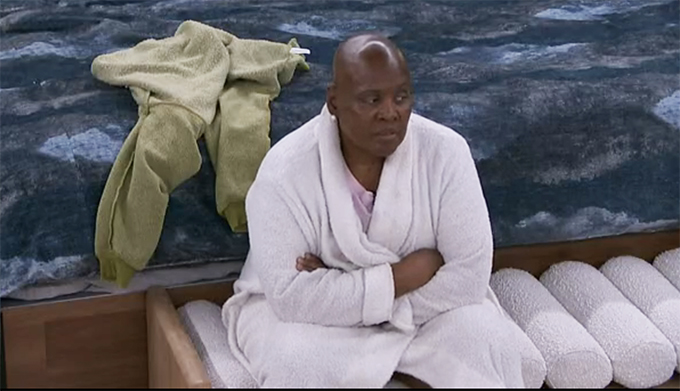 It was a typically quiet Final 4 night in the Big Brother 25 house as the Veto played out predictably and the plan has been set on which of the two nominees will join the HOH and the veto winner in the Final 3.
There has been no real indication yet that a move will be made abasing Matt at this point, but it sounds more and more like the shot will come at Final 2.
Try Live Feeds 1 Month Free! Code: BIGBROTHER25 Sign-up now!
Don't forget to sign up for the Big Brother Live Feeds right now so you don't miss anything else this season. Anything you want to watch from our Highlights report is always available using the rewind feature to pick any day, time, and camera to watch it again. Enjoy!
Back up and read the Daytime Highlights Report before moving on to overnight events.
Big Brother 25 Live Feed Highlights – Friday, November 3, 2023:
3:00 PM BBT – Felicia is in the comic room by herself. Everyone else is in the HOH room.

3:10 PM BBT – Matt and Bowie are talking in the HOH room while Jag is in the Diary Room. Matt is annoyed that Felicia is campaigning. He says he is going to campaign because he doesn't want to be cocky and not campaign, Bowie tells him he doesn't need to campaign. He says but he can at least remind Jag that Felicia is a big liar and she could win in the end.

3:11 PM BBT – Bowie says she wants the three of them there on day 100 so everyone can see they never turned on each other.

3:30 PM BBT – Matt and Bowie Jane are rehashing things about the season that no longer matter.

3:45 PM BBT – Felicia joins Matt and Bowie Jane in the HOH room. They are talking about how many hours they've spent together awake since the game started.

4:04 PM BBT – Felicia says it is Day 94. Bowie Jane says Jag as been in the Diary Room for ages. Matt says it's because he won the veto. Felicia says she's going to go back downstairs and do laps around the house.

4:05 PM BBT – After Felicia leaves Matt says he thinks Felicia wanted to talk to her about Matt going to jury over her. Bowie says she has not power anyway and there would be no way to change her mind if she had any power.

4:07 PM BBT – Felicia is playing bumper pool by herself.

4:13 PM BBT – Bowie Jane says Felicia is charming when she wants to be and she's not a comp threat, so if Felicia had played her cards differently someone could have taken her all the way to the end. Matt says that was never going to be him.

4:25 PM BBT – Matt and Bowie talk about how bad it would be if Jared was in the jury house. Bowie says the only person she wishes was in jury is Red. Matt says he hopes Reilly gets to play Big Brother again. Bowie says maybe they can do The Amazing Race. Matt says or The Challenge.

4:47 PM BBT – Felicia says to herself "I am tired, tired tired. Jag knows what he needs to do. Matt knows he's lying about what he did. But what can you do? All I can do is rely on my faith of a mustard seed. It was carried me 94 days."

5:01 PM BBT – Jag tells Matt and Bowie Jane the next phase is for them to figure out what Jag can say in his speech to cut Felicia. Bowie says he could reveal that the three of them were working together and could even reveal the Mafia. Jag says he doesn't know know if he wants to say all that. He says he doesn't want to me mean or cheesy. He wants it to sound cool, but not mean.

5:04 PM BBT – Matt and Jag think there will be a veto ceremony Saturday. They don't seem to realize that the veto decision is live and the actual eviction decision.

5:15 PM BBT – Felicia is back in the comic room by herself. She is falling asleep.

5:43 PM BBT – Jag asks Matt if he will fill up his water bottle. Matt says "yes, king."

6:25 PM BBT – Everyone is fighting to stay awake. No one is talking.

7:45 PM BBT – Matt and Jag are in the kitchen talking to Felicia now. They're talking about possible Part 1 of the final HOH competitions. They can hear them building stuff outside.

8:45 PM BBT – Felicia is back in the comic room laying in bed.

8:54 PM BBT – Bowie Jane is about to open her HOH wine for her, Matt and Jag. Jag decided he wants to go to bed early, so wine gets delayed a day.

10:20 PM BBT – Matt and Jag are hanging out in the kitchen chatting about past HGs while Felicia snores in her room.

10:55 PM BBT – Bowie and Jag telling stories. Bowie tells one about meeting a group and being friends. She says it happened seven years ago and Jag quickly asks again about her age. Bowie is sticking with the 35 years old story (she's 44).

11:05 PM BBT – Jag and Bowie talking about F2 and it'd be ideal to get there together. Jag thinks it would have been dangerous for him to be on the Block this week.

11:10 PM BBT – Bowie and Jag discuss how risky it is for Matt to reach the end because he's played the game well and everyone likes him. Jag says his own game was too sloppy and relies on comp wins. Bowie agrees everyone likes Matt and he'd win.

11:15 PM BBT – Bowie predicts a 7-0 win for Matt if he's at the end. Bowie wonders if she'd get a sympathy vote from Cirie over Matt (no).

11:20 PM BBT – Jag and Bowie debating how these Final HOH 3 comps will work out and how Matt will do in them.

11:30 PM BBT – Jag explaining Round 3 to Bowie on how the quiz portion will work and how it'll be about the other HGs.

11:40 PM BBT – Jag retelling what Felicia told him about Matt considering cutting Jag. Bowie says it's true.

11:45 PM BBT – Jag tells Bowie he's only talked with her about possibly cutting Matt. He says he's still planning to vote out Felicia at this point but is considering the alternative because going against Felicia instead of Matt in the next rounds would be a lot different.

11:55 PM BBT – Matt has joined Jag and Bowie in the HOH room.

12:30 AM BBT – Matt says he feels nervous being on the Block and isn't looking forward to having to pack up in advance of the show on Sunday.

12:45 AM BBT – HGs talking about the silent fans they got that help with the hot/cold in the rooms.

12:55 AM BBT – Bowie and Jag discuss again the possibility of keeping Felicia instead of Matt on Sunday. Bowie keeps mentioning some of the things Matt supposedly said, according to what Felicia told them. Jag doesn't know who is lying, but thinks Felicia is more likely than Matt to lie to him.

1:00 AM BBT – Jag says them plus Matt deserves to be F3. Bowie thinks Jag would feel too guilty to cut Matt.

1:10 AM BBT – Lights out and HGs off to bed.
Will Jag or won't Jag? He's got a big decision to make this weekend on whether or not to keep Matt or send him out. Voting out Matt would increase Jag's chances of winning, so why not do it? It'd be a cold blooded move, but hasn't that been Jag's MO this season? I could see Jag doing it, but not Matt. All the same, the choice will be made on Sunday night and we'll keep watching leading up to that for any signs of what may happen.
You can watch all of these Big Brother events using the archives Flashback, the DVR-like feature of this year's Live Feeds which means it's always live, even when you missed it! Sign-up now and get the free trial to watch it all live & uncensored.

Download our Big Brother App and join us on Facebook & Twitter for more!