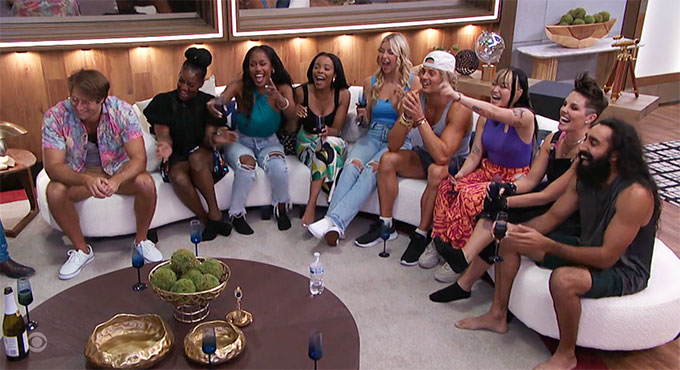 The Big Brother 25 multiverse kicked into full gear during Sunday night's episode as the new Head of Household was crowned, the nominations were narrowed down to two and Cory returned from the Nether Region with a Scary-verse message.
The second episode of the season picked up where the houseguests walked in to find Cirie in the house pouring them all Champagne. She lets them know that she is the 17th houseguest. And many of the players recognize her right away. But do any of them realize that her son Jared is also in the house?
Yes. One of them does. Izzy. She immediately pulls Jared aside and says "You're Cirie Fields' son aren't you?" He has to confirm but asks her not to say anything. She tells him that his secret is safe with her. But that is some powerful information Izzy has right out of the gate. But no one else seems to care that someone as experienced as Cirie is playing the game with them.
Jared and Izzy go in and talk to Cirie and let her know that Izzy already knows their secret. Cirie then tells us in her Diary Room that her No. 1 goals are to make sure things are OK with Izzy and to get Jared off the block. So Cirie gets right to work not that.
While the HGs are doing the whole get to know each other toast, the Scary-Verse light starts flashing and Cory returns from the Nether-Region. Cory says he was was pulled to the Nether Regiion to deliver this message: "Cory was pulled into the Nether Region. Lucky for him, it was for a short time. Unfortunately, next week one of you won't be so lucky." So that must mean someone else will be pulled into the Nether Region next week but for a longer time.
The Humili-verse activates long enough to ask the players who wants to be the first four have-nots. Jared, Cory, Luke and Hisam volunteer.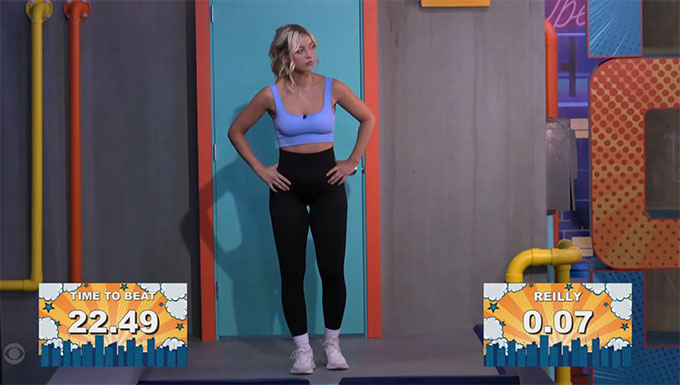 And since the Night 1 competitions were to decide the nominees (Jared, Mecole, Cory and Felicia, it's finally tie for the first Head of Household competition. And of course those nominees must sit this one out. For this competition, the houseguests have to race across a balance beam course to lock in their time. The person with the fastest time will become the first HOH. And the HOH gets to remove two nominees from the block.
Here are the scores:
Blue: 1:36.04
Cameron: 53.11
Red: 50.56
Blue: Timed out
Hisam: 22.49
Bowie: Timed out
Reilly: 16.03
And everyone else times out. Reilly is the first Head of Household.
Jared and Cirie get to work on Reilly right away to try to get Jared off the block. And fortunately for them, there's an easy target this week in Kirsten. For some reason, everyone seems to have Kirsten on their radar. So Reilly has to figure out who comes down and who needs to stay up as the pawn to make sure Kirsten goes.
At the nomination ceremony, Reilly decides to take Jared and Cory off the block, That means Kirsten and Felicia remain on the block.