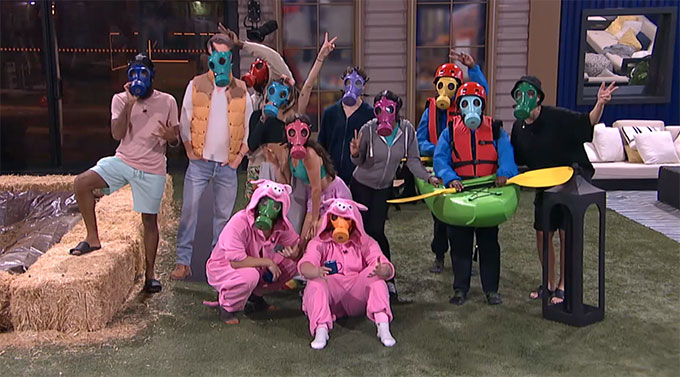 Two hours of gas masks, a cardboard cut-out of a B-list celebrity, and two grown humans dressed as pigs rolling in mud. Just another episode of Big Brother 25. The Humili-verse is in full effect, and I couldn't be more humiliated I am a fan of this show.
The humiliating episode picks up right after the shocking nomination ceremony that left Izzy and Felicia on the block.
Cameron lets us know that only an amateur would go after the president first (Cirie). He says he wants to chop off the arms first and watch it wiggle. This guy is certainly an interesting one.
Felicia right away catches up with Cameron and, as he says, "sings like a bird." She lets him know that she wasn't planning on voting out Red until Cirie and Izzy came to her about an hour before eviction.
Now it's Izzy's turn. Cameron lets her know this is purely game and not personal. He tells Izzy that she's not the target and that he wants to work with her. But he lets us know in the diary room that this is all BS. Izzy knows it too, though. And Cameron throws in an "I love Cirie." And Izzy deciphers that means Cirie is his backdoor target.
And speaking of her, Cirie goes to have her time with Cameron. He thanks him for sparing her. But her Cirie senses are telling her that Izzy and Felicia is not the ultimate plan. She knows that she's probably a part of his plan this week.
Jag checks in with Cameron next, and Cameron thinks he's making a solid deal with Jag, but Jag isn't too happy that Cameron is doing it with a threat. Jag says to us that none of this is making him feel any better about Cameron.
And after his meeting with Cameron, Jag goes to solidify a Final 2 deal with Matt. And for some reason they come up with the aliened name The Minutemen.
It's time to pick players for the veto competition. Joining Cameron, Izzy and Felicia are Matt, Jared and Jag as Izzy's houseguest choice. And then we head right into the veto competition, which is also a giant commercial for CBS's Buddy Games. Oh, and Buddy Games host Josh Duhamel is outside ready to host to competition.
For this competition, the players will play in rounds. They each will have to be spun in a chair, and after they're nice and dizzy, they have to roll some balls into some slots to rack up a score (think ski ball). And the person with the best score wins… well maybe not. This is the white elephant-style veto, so really the person with the best score gets to pick the prize or punishment they want – veto or not.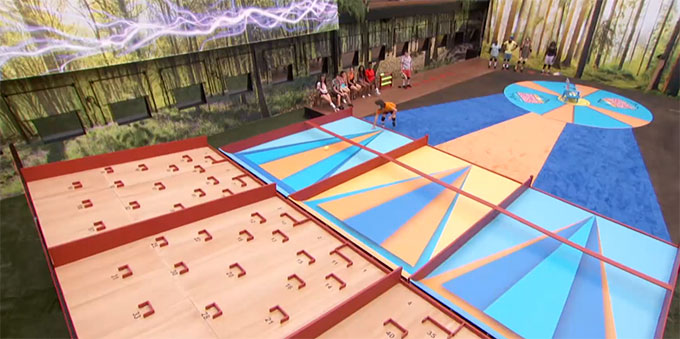 Round 1
Felicia is up first. Her score is 70. Jared is up next and he ends up with a score of 30 points. Cameron is next and he finishes with a score of 65. Izzy is next and she lands a total of 15. Matt follows and gets 142 points. Jag is last up and he scores a total of 102. That means Izzy is eliminated. And she gets the veto. But you know how that goes, the veto is always first but no one in last place ever gets to keep it.
Round 2
Jared goes first and scores a 184. Cameron follows with a 26. Matt is up next and lands a 122 total. Jag is up for his second turn and scores a 91. Felicia closes out the round with a 27. That means Cameron is out. And his prize is a pig costume punishment. He trades it for the veto.
Round 3
Matt kicks off the round with a total of 63. Jag follows and lands a 17. Jared is up next and he scores a 150. Felicia is up again and she ends up with a score of 47. But Felicia gets overheated and has drop out of the competition. So Felicia is out. She picks a European vacation, but she trades that to Cameron for the veto.
Round 4
Jag is up first and lands a 76. Jared is next and gets a 74. Matt is the last one up this round and ends up scoring 116. Jared is out. And he gets a kayak punishment. He trades that for the veto.
Final Round
Jag and Matt remain. Matt is up first and scores a 139. Jag finishes out with a 96. Jag is out and gets $5,000. Jag keeps the money. Matt picks his prize and it's a Josh Duhamel prize (so he thinks – but it's really a punishment). But he keeps it anyway. So that means Jared wins the Power of Veto.
Izzy picks Cameron to be her pig costume partner. And Felicia picks Cirie to be her kayak punishment partner. And Matt finally realizes he doesn't really get to hang out with Josh Duhamel this week. Instead he has to be attached to a cardboard cutout of the actor all week.
So Jared won the veto, just as he wanted, to make sure he can keep his mom safe this week. But Cameron tells Jared his plan is to put Cirie up because that makes sure Izzy goes, and leaves Cirie open for an alliance. Jared tells Cameron that he thinks Cirie would go home. So Cameron entertains the idea of putting Jag up if Jared pulls Felicia down. But Cameron lets us know it would be really hard for him to not put Cirie up instead. But enough of this will he, won't he. Let's get to the veto ceremony and find out.
Jared does not use the Power of Veto. Felicia and Izzy remain on the block.