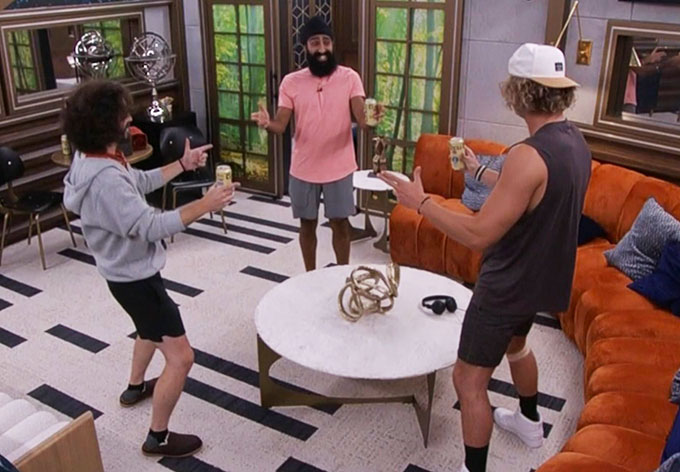 During that week off from Big Brother 25, the houseguests not only spent their days speculating which zombie would re-enter the game, they worked on new alliances and deals. And even though we're seeing these new groups already fall apart on the Live Feeds (seriously, the most disloyal cast in history), let's take a look at what the structure looks like currently.
The new majority (which like every other alliance this season, was never really solid) consists of Cory, America, Matt, Jag, Blue, Bowie Jane and Cameron. Within that group we have The Fugitives, which are Cameron, Matt and Jag. And while The Fugitives seem to be a pretty real alliance, there are already cracks forming. We also still have the Matt, Jag and Blue trio, and then there's the Matt, Jag, America and Cory thing. There are a lot of these groups going on, just like they have been doing all season.
Matt and Jag also have an unnamed thing with Cirie. Blue also has Cirie's back, as does Bowie Jane. And Bowie Jane also has Cameron's back.
As for the Final 2 deals, we still have Felicia and Mecole, America and Cory, and Matt and Jag.
So right now, it looks like some of these groups are falling apart already, so we can expect some new dynamics to form this week, especially if Cameron goes through with the backdoor plan he's been brewing.
I've said it so many times this season, but I can't say it enough: I still just can't believe how disloyal these people are. They have never trusted each other and it seems like they never will. I can't image them trying to decide who to vote for at the end.
So that's how it looks right now inside the Big Brother 25 house. A big thanks, as always, goes out to BigBrotherJunkie on Twitter for keeping this mess nice and tidy for everyone. Check out their latest alliances and deals chart below.
twitter-tweet">

🚨9/29/23 #BB25 Alliances & Deals Update🚨

🔹How The House Stands With Cameron's As HOH Again! pic.twitter.com/rA65qd6IuF

— BigBrotherJunkie👁 #BB25 (@89razorskate20) September 29, 2023