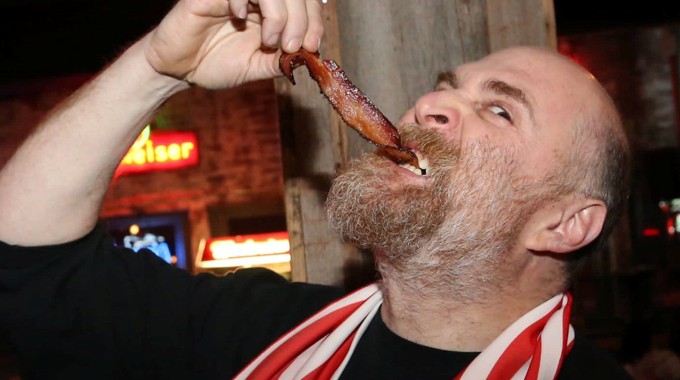 Another week in the Big Brother 24 house and another blindside about to go down on eviction night. Although in the past 24 hours – the REAL target may be catching on that something is up. This week we also saw a Flirtmance turning into a Showmance, and the most important storyline of the week was production getting rid of the Knee Scooter that was always making squeaky noises around the house. (Seriously – how annoying is it when they add the extra sound fx?!).
The Festie Bestie twist has actually been pretty good (despite it being a cheap re-do of the BB13 Dynamic Duo twist) – and we will probably see it end after the next eviction – so fingers crossed the game stays exciting the rest of the way. BUT FIRST – let's take a look back at each player's game this week.
Monte – 5 strips of Bacon – I was a little worried when Monte became HoH that he would become an unbearable egomaniac. I was also fearing that every Diary Room he did would be in that horrible Marlon Brando / Don Corleone impression. But Monte had a very successful HoH and did not get HoHitis. As the game shifted last week in his favor – he is playing smart and not emotional. Truth be told – if the Veto was used or not, he would have still walked away this week without a bigger target on his back.
Joseph – 5 strips of Bacon – see Monte without the title of HoH. Joseph is actually in a better spot than Monte, as he is more of the brain of the operation, but also more well liked by several of the non-Leftovers. It's pretty cool watching him figure out this game in a way that we all hoped Derek X would have on BB23. His best asset is his communication skill of LISTENING and not saying too much. He's not getting cocky – but could this come back later and bite him in the butt? We'll see.
Michael – 4 strips of Bacon – for the first time all season, Michael did not have the Veto around his neck – but it did not matter. Things are going very well for him so far – but he is already looking ahead to the 2nd half of the game, and putting himself in a position to go for the win. Preseason he said he wanted to team up with strategic players to get rid of the physical players. Currently he is teamed up with both – but knows he'll have to start cutting them as soon as he can.
Brittany – 3 strips of Bacon – I think this was the first week that we did not see Brittany having a mental breakdown. It took awhile for her to feel comfortable and not be such a downer around the others. Her friendship with Michael is sweet – but she will need to be able to win something once the bestie twist ends or she will be an easy nominee / evictee. Lucky for her that will be another week or two and perhaps other targets will rise up.
Taylor – 3 strips of Bacon – despite being on the block for the 3rd time in 4 weeks – this time she is 99.99% safe and feels good about it. Seeing her smiling all week has been just what we needed as fans. She is also working on a scorcher of a speech tonight – which normally I would be against, but after what she's gone through this season – I want to see her have her moment.
Kyle – 2 strips of Bacon – Kyle's Veto win was clutch and he even had a moment where he was considering not using it and getting rid of his budding Showmance. Ultimately it was used despite him not being the one to use it. This saved him from upsetting people on both sides of the fence in the house – and allowed him to keep playing grabass. But will the showmance be the reason that his alliance starts to turn on him?
Turner – 1 strip of Bacon – has anyone seen Turner this week on the feeds? He has settled back in the background after turn(er)ing the game around during his HoH last week. He also took his turn on slop like a champ – but he does not eat much anyway. He should be in a comfortable spot for several weeks to come, so look for him to take advantage of that.
Terrance – 1 strip of Bacon – as we saw, Terrance picking Monte & Joseph was strategic and it paid off immediately as Monte won HoH this week and he was automatically safe. He also gets Bacon for the first time this season for saying he is gonna vote out the person that voted to evict him last week.
Alyssa & Indy – 2 strips of Tofu to share – getting nominated in this game is never easy despite being told over and over you are not the target. These Besties took it in stride and never freaked out. I do not think they have enough game sense to even overthink it – so good job(???). Alyssa finally broke Kyle down and got him to kiss her – several times – that could come back and hurt their game later. Indy is still making her funny quips here and there – but they are not having the same impact as they used to. There is talk that if/when Taylor stays – she joins these 2 as Festie Besties – but we REALLY need Indy or Alyssa to win HoH this week to prevent a steamroll by the Leftovers.
Jasmine – 4 strips of Tofu – I just said that I want to see Indy or Alyssa win HoH to shift the power – but god help us if Jasmine wins her 2nd HoH. As I mentioned in the opening – production took her scooter away and she actually realized she can walk in a Walking Boot (go figure). However – Jasmine does not see this as a step in the right direction (pun intended) – as she will not be able to play the sympathy card as much… until she finds something else to latch onto.
That brings us to the Tofurkey of the Week – and in the past, we have had a couple of people earn that title 2 weeks in a row. But we have NEVER had a two-headed Tofurkey ever repeat… until now! Yes – the toxic twins Daniel & Nicole have earned this illustrious honor.
One of my favorite bands System of a Down have a lyric – "Stupid people do stupid things, smart people outsmart each other, then themselves then themselves, then themselves then themselves" I have yet to figure out if these 2 are stupid or smart – but either way – they have completely lost sight on how to play Big Brother. Remember week 1 when they seemed to have the game figured out? Well – now they are about to lose 1 of the Rogue Rats tonight – and Daniel is looking like the next target for the Leftovers.
Monte told Daniel not to use the Veto – which he said repeatedly over and over before the Veto meeting he was not going to – but overthought Monte's request and now is a main culprit in sending Nicole home. Nicole on the other hand has remained so self-unaware and basically handed people the nails to put in her coffin by talking AT people not TO people. For someone who is 41 years old (as she has said so much, it actually was trending on Twitter) she acts like a 4-year-old when things don't go her way. I am hoping that when she gets out and goes back and sees/hears what she did/said was wrong – but something tells me she will remain defensive.
The blindside may be spoiled – so we will not get the shock faces we all love – but I think it is safe to say that most of the BB Community will be rejoicing once Julie reads the votes tonight. Just follow the hashtag #NicoleEvictionParty on Twitter.
There ya go – week 4 in the books and a new HoH to be crowned tonight. I would love to see the power shift and the Leftovers start to get nervous to keep the drama on high.
Who would you like to see win HoH tonight? Tell me in the comments section below – along with your thoughts on my rankings this week.
From outside the Big Brother house – I am Adam Poch reminding you to shake your spear to Shakespeare!
Catch me here every week during the BB season for my rankings. If you want more of my thoughts during the season. follow me on Twitter @HeavyMetalTeddy – and listen to my Podcast – @BigBrothersPod.