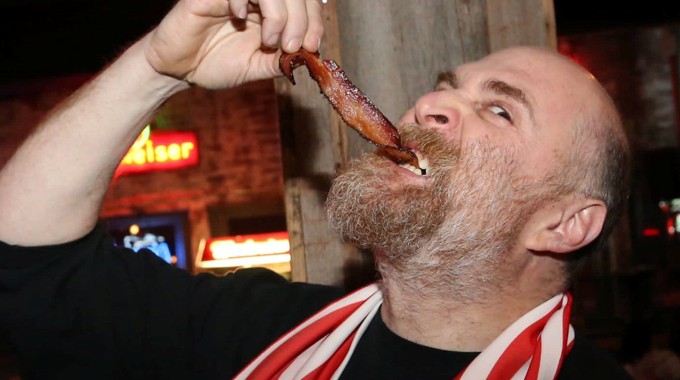 If I didn't know better, I would think that Big Brother 24 was teaming up with Discovery for Shark Week as we saw a lot of vicious attacks on innocent (and not so innocent) players inside the Big Brother House. This season may have started a little slow – with several hiccups and mis-steps (yes, I used that pun again) – but we just had ourselves one of the best weeks in modern Big Brother history. There was an awakening by a small group and when it's all said & done, this week will end up with a memorable blindside.
BUT FIRST – let's rate each player's game for the past 7 days. In keeping with my Shark Week analogy, I was thinking of changing it up a bit. Instead of Bacon give out Minnows and instead of Tofu, give out Plankton… but…. let's not get crazy!
Turner – 5 1/2 strips of Bacon – I'll just say it – Turner may have saved this damn season! First of all – that was a very impressive HoH win. Turner's focus after losing his #1 ally was incredible. He may have started his reign a little shaky by making safe nominations, but he was always entertaining the backdoor / renom possibilities. Once The Leftovers formed, he said & did all the right things – and made the big move that many HoH's talk about, but rarely do. The extra half strip of Bacon for being the youngest, but the most aware of how the bullying got out of control.
Michael – 5 strips of Bacon – winning Vetoes seem to come easy to this kid. 3 weeks into the game, and 3 Vetoes hanging around his neck. This week he had some help – and sure, he did not face much competition, but a win is a win is a win is a win. Plus, somehow, being the comp beast that he is – NO ONE has him on their list of targets. That shows his social game is just as impressive as his physical game.
Brittany – 4 strips of Bacon – the 2nd half of the winning Veto team and while she may have been the fallback target, she did step up and help win when she needed it the most. I also have to give her a lot of credit for keeping her mouth somewhat in check and not go blabbing about the new alliance she is in yet.
Joseph, Kyle, Monte – 3 strips of Bacon each – these 3 guys finally connected all of the dots – saw through all the shade in the house – and actually did something about it. For all of the armchair houseguests watching at home (and reading this column) that think the clues would be obvious when people are double & triple dipping in other alliances, it's really not. The players only have what is in front of their faces to go on, which is why it was so good that these 3 went over everything together. It really was not a hard sell to bring Taylor, Brittany, and Michael in once they established the Pound with Turner. Plus you also have to applaud their acting abilities after Turner pulled off the big renom to keep the rest of the house scratching their heads.
Taylor – 2 strips of Bacon, and a bag of Lay's – it's refreshing to see the Taylor bashing stop long enough for someone(s) to pull her into a true alliance. Up to now, she has been on the defensive the whole time, but the game has spun, so let's see what kind of player she is.
Indy – 1 strip of Tofu – despite providing comedic outbursts here and there, some non-intentional, Indy has made no strides to become a player, and is still just floating along.
Terrance – 2 strips of Tofu – see Indy without the comedy. Maybe now that he is on the block, he may get some screen time – but since he's not the target – probably not. He did have a moment when he was walking around bragging about his campaigning skills, too bad he's unaware that everyone's mind is already made up.
Alyssa – 3 strips of Tofu – loose lips sink ships – and Alyssa has the loosest in the house. Her crush on Kyle has actually been the albatross that will sink the Girl's Girls alliance and spawned the Leftovers into existence.
Jasmine – 4 strips of Tofu – Jasmine must have been spawned by BB19 – as she is currently equal parts Christmas (scoot scoot) and Raven (lies lies). Her voice and overembellished accents are annoying a lot of people outside of the house – but it's the ridiculousness of what she is actually saying that may be even more annoying. If Forrest Gump was coming out this summer – I am sure the tag line would be "Life is like a day with Jasmine, you never know what you are gonna get"
Ameerah – 5 strips of Tofu – I say this every year…. you get cocky, you get confident, YOU GO HOME. "Big Brother isn't as hard as I thought it would be" – can't wait to see that on her tombstone!
And that brings us to our two-headed Tofurkey of the Week. Oh Daniel & Nicole – it must have made you feel so good to rip apart a person that was genuinely trying to be nice. Even after the fallout – they still think she is a mean person and not self aware. They both made half ass apologies which were more "explaining themselves" than actually apologizing. I truly hope that when this is all said & done – they see the error of their ways and actually try and make amends. Their behavior has no place in the game, or in life. Nicole lecturing someone on how they talk to people is laughable. When you point at me, there are 3 fingers pointing back at you!
Phew – that was a lot to unpack as this week has seen it all – and once again, it will all come to a crescendo with an epic blindside even better than last week's. Let's just hope no one blows it today and Ameerah does not catch wind of it. Fire up your feeds tonight – as I am sure there will be plenty of scrambling by people trying to figure out how the vote flipped.
My question of the week is – of all of these HGs – who do you think you would like to be friends with outside the house the most? Let me know what you think along with thoughts about this week's rankings in the comment section below.
Catch me here every week during the BB season for my rankings. If you want more of my thoughts during the season. follow me on Twitter @HeavyMetalTeddy – and listen to my Podcast – @BigBrothersPod.