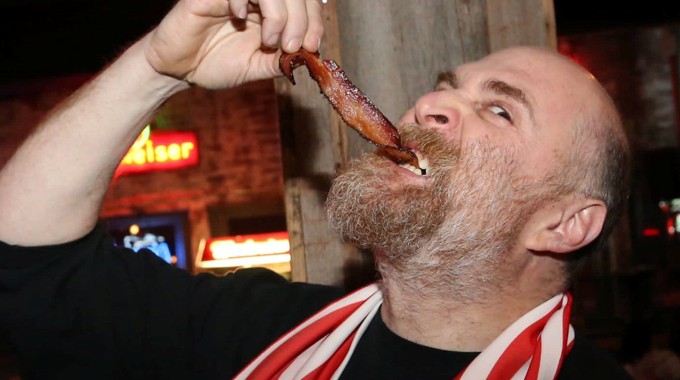 What a mess!!! I mean, Big Brother 24 has seen so many missteps (pun intended) and we are only in week 2. Both game & non-game factors have led to some bad twists (again, pun intended). However – this is Big Brother, and nothing will stop the scurrying by players & production – and the eviction will go on tonight, but we won't know anything about it (or the new twist) until Sunday.
BUT FIRST – let's take a look back at each player's week and see who gets Bacon, who gets Tofu, and I think you all know who the Tofurkey of the Week will be.
Kyle – 5 strips of Bacon – somehow this week, Kyle has risen to the top of the heap and is in one of the most comfortable seats in the house. It's a combo of some people playing horrible, and others just trusting him. Knowledge is power in this game, and a ton of info is coming his way.
Michael – 4 strips of Bacon – another Veto win for Michael but that's not why he is getting so much bacon this week. Outside of Kyle (see above) – I think Michael is in a great position currently. People are not threatened by him (yet), and continue wanting to work with him. He's got his foot in several alliances and has proven he can keep calm under pressure.
Jasmine – 4 strips of Bacon – I know, I know…. Jasmine is super annoying and is at or near the bottom of all HG Popularity polls – but she is coming off a very successful HoH week – where she is getting out a big player (provided there is not a last minute flip). She has not ruffled any feathers in the process – and her HoHitis was not nearly as bad as we've seen in the past. I just fear we will hear the "oh woe is me" voice from her as long as the boot is on her leg.
Nicole – 3 strips of Bacon – here is another player that is seemingly in a good spot with most of the house. Nicole's best quality in the game is her ability to listen and seem genuinely interested when others are talking. The Rogue Rats alliance (with Daniel) is probably the strongest alliance in there in regards to absolute trust. While other alliances are starting to crumble – look for Nicole to deflect any negativity that may come her way.
Ameerah – 3 strips of Bacon – If you are not HoH – it's always good to be aligned with the HoH. It's even better if you are so close to the HoH that you can actually take over and control it. Ameerah spent most of the week in a pretty position – but that may be crumbling as a lot of info was exposed overnight – and she will have to sweet talk her way out of some drama.
Taylor – 2 strips of Bacon – It's so nice and refreshing to see SOME of the Taylor jealousy subside – and she is now able to play with people instead of being public enemy #1. She's still public enemy #2 or #3 to many – but that seems to be morphing into her actually being an asset for some of them. Don't look now – but she may survive 2 straight weeks on the block and I guarantee she wins an HoH soon.
Daniel – 2 strips of Bacon – despite the way Daniel talks / talked about Taylor – he did a good job going from the Penthouse to the middle of the pack. Lots of times the outgoing initial HoH has had some trouble blending back into GenPop – but Daniel built on some of the relationships he formed while HoH.
Indy – 1 strip of Bacon – still the comic relief in the house – but not exactly the most strategic player. Her name keeps coming up as a potential nominee, but who will really take that shot at this stage? I think the house could use an Indy HoH to just make things a little more interesting, however – not really sure she will / want to win anytime soon.
Brittany – 1 strip of Tofu – despite being discussed as a target among some of the other HGs – Brittany may benefit from sloppy play all around the house. Her immediate life in the game will be determined by who the next HoH is. She may still be an easy pawn or she may fall deeper in the shadows.
Alyssa – 2 strips of Tofu – the best thing to happen to Alyssa was Paloma leaving. Paloma was an albatross around her neck and was sinking her game. However – Alyssa's crush on Kyle and loose lips telling him about one of her alliances could either sink her or earn her some trust. I think the later
Joseph – 3 strips of Tofu – for a guy who said he did not want to walk around without a shirt all the time on the feeds – he is walking around the house all of the time without a shirt. OK ladies – I get it, but that seems to be the extent of his game.
Terrance & Turner – 4 strips of Tofu each – both of these guys are still in the house. What they are doing gamewise – ?????????????
Monte – 4 strips of Tofu – Monte's game is all over the place, I am not sure if he has any sort of set strategy, or just relying on his social game. If so – he is in trouble. His obsession to get Taylor out is interfering with how he will get himself further. But now he is realizing he needs to work with her.
That brings us to the most obvious Tofurkey of the Week we have had in quite a while. NEVER EVER EVER do you volunteer to go on the block. NEVER. Yet that is exactly what Pooch did this week. Completely misreading the pulse of the house and for absolutely no reason putting himself in jeopardy. Pooch – if you are reading this, hit me up – I'll give you Lawon's (BB13) & Dustin's (BB8) phone numbers – and you can all discuss what went wrong!!
Well – there we have it – another week coming to an end and a new/confusing twist about to be unleashed into the house. Along with delays in the feeds and broadcast show – CBS is really testing us as fans. But we love this show and will stick with it no matter what (right??).
My question of the week – what is the dumbest move you can recall in BB history? Let me know what you think along with thoughts about this week's rankings in the comment section below.
Catch me here every week during the BB season for my rankings. If you want more of my thoughts during the season. follow me on Twitter @HeavyMetalTeddy – and listen to my Podcast – @BigBrothersPod.