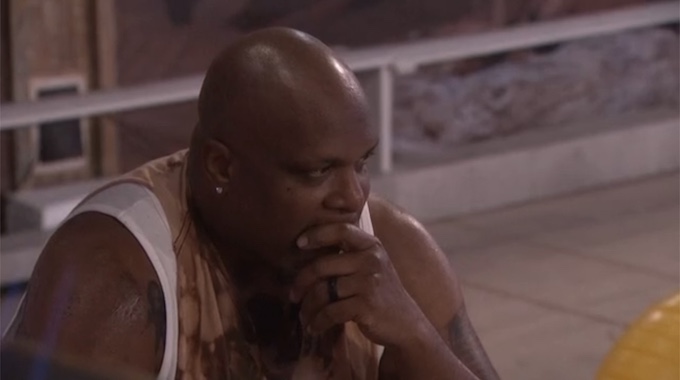 With the Split House Twist in full effect in the Big Brother 24 house, the two Heads of Household have very limited options within their small groups. If you have seen the way the Big Brother houseguests were split for this twist, then you probably have a pretty good idea of what Michael is planning to do. However, who will Terrance target this week? Read on to find out which houseguests are in danger on BB24!
Big BroChella – Indoor Group
Michael is the Head of Household inside the Big Brother 24 house and he has Brittany, Taylor, Monte, and Jasmine inside with him. It's pretty obvious with his picks that his target this week will be Jasmine. Jasmine has already told Michael that she hopes he doesn't nominate her because it's her birthday week (no, I'm not kidding), but Michael plans to tell her that she is one of the only houseguests left in the house that hasn't seen the block yet this season. Jasmine thinks that Monte is Michael's target this week and after talking to Monte last night, he seems okay with going on the block next to Jasmine ahead of this week's Veto Competition. So based on the talks within that group, it looks like Monte and Jasmine will be on the block after today's Nomination Ceremony.
Dyre Fest – Outdoor Group
After most of the Leftovers claimed that Terrance wasn't a threat to their game, he went and won the runner-up Head of Household for Week 7. He has Alyssa, Kyle, Turner, and Joseph all roughing it in the backyard with him this week. Based on his talks with Turner, Alyssa, and Kyle, Joseph seems to be Terrance's target going into this week. Turner had mentioned putting Kyle and Alyssa up initially because they are a showmance and it could be played off as him being nervous of the duo inside the house. However, after talking to Alyssa, Terrance played the "I promised not to nominate her" card with both Joseph and Kyle. He also told the two of them that Turner has had his back from the start so he doesn't really want to put him up either. That only leaves Joseph and Kyle as initial noms options for the outside group.
There you have it! Michael is going to nominate Monte and Jasmine with Jasmine as his primary target and Terrance will nominate Joseph and Kyle with Joseph being his primary target. Do you think that these two HOHs have sold plans this week? Is there anyone else you would rather see targeted on either side?
Download our Big Brother App, join us on Facebook & Twitter, and get our Email Updates for more!