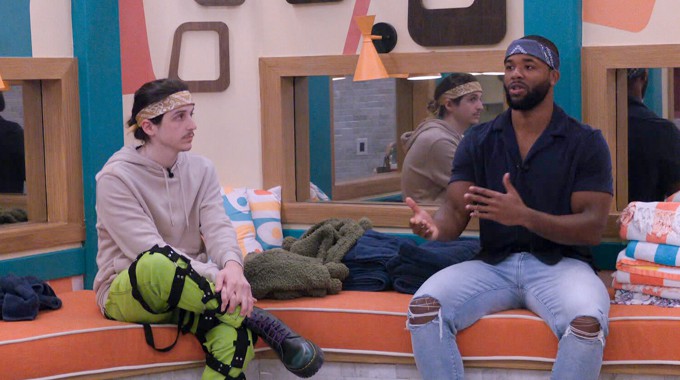 It all comes down to one more competition on Big Brother 24 before the season's Final 2 is set and steps before the Jury to crown a winner of the $750,000 prize. Who makes the F2 is a critical decision and there may still be some uncertainty on that selection.
The first two rounds of the Final HOH are now complete with Turner taking Round 1 on Thursday and Monte besting Taylor for Round 2 on Friday. Next Monte and Turner will face off on Sunday night in Round 3 to determine the last HOH of the season. That HOH will have the choice to evict one last HG and name his pair for the Final 2. That decision seems to be wavering. Maybe.
On Friday's Live Feeds we saw several discussions that highlight the uncertainty ahead on who will be in our Final 2. In past seasons when we've seen a duo reach this point of securing both the first two rounds then it's usually a lock that they'd take each other, but maybe not this time around.
Flashback to 4:38 PM BBT 9/23 as Turner talks with Monte while Taylor is away. Turner is promising Monte that no matter what, it would be the two of them in Final 2. Turner reminds Monte that they've been talking about F2 since Week 3 and now they're this close. Monte seems to agree and they shake on it, but how serious is Monte? He didn't deny that he would take Turner but he also didn't commit to it in nearly the same way Turner just did.
Turner goes on to say that his talk with Taylor the night before solidified this decision for him. He expects this Jury will care more about the social game than the competitions or resume and he thinks Taylor could pull strings on the social side. Turner doesn't think he'd get more votes than Terrance and Kyle if he takes Taylor.
Turner pushes a little more and asks Monte if he will take him. Monte dances around the question saying he doesn't see why he wouldn't and how they've been loyal to each other all season so far. Monte does offer Turner an out that they'd still be friends after the season even if Turner is tricking him.
Fast forward to 11:15 PM BBT 9/23 to find Monte talking with Taylor. He tells Taylor he hasn't made any promises to Turner. You'll remember Monte has been talking a lot with Taylor about F2 while they were having their off-and-on fling over the past weeks. Monte isn't committing himself to a F2 here with Taylor, just as he avoided it with Turner. Monte is going through what Turner was telling him and how Turner may just be trying to feel out things for the Jury.
Jump ahead again to find Turner and Taylor talking at 12:45 AM BBT 9/24 while Monte is in the Diary Room. Taylor takes the opportunity to tell Turner that his best chances are against her, not Monte in F2. Turner says he'll think about it. And he just might.
This is a tough call and we've seen it blow up in a HG's face in spectacular fashion. No one will ever forget Cody picking Derrick over Victoria in BB16. Would that be a repeat for Turner to take Monte? Somewhat maybe. I think Turner loses to Monte if he takes him and I think Monte likely beats either of them if he gets to F2. Would Turner beat Taylor? Ehh, I'd need to really dig into this more to think about it and so should Turner.
What do you think Monte and Turner should each do? Vote now in our poll below and share your thoughts in the Comments section.