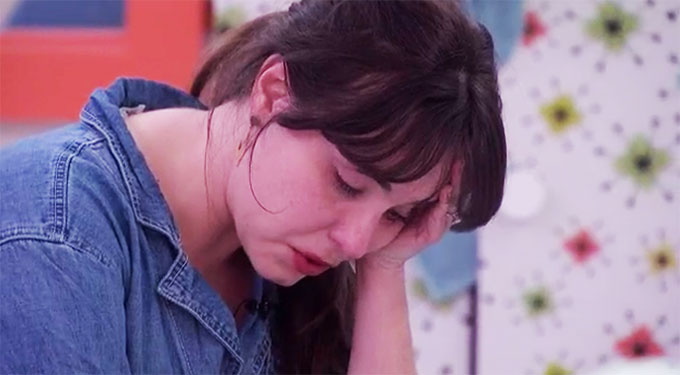 After today's Big Brother 24 nomination ceremony, The Leftovers alliance finished imploding, and most of the houseguests were sent into survival mode, spilling both secrets and lies. It's hard to even know what's true or not, and what anyone's actual intentions are. In other words, welcome to Big Brother.
If you've got the Live Feeds (Free Trial) then you can watch all of these moments with the Flashback feature to go back and watch those important conversations or funny scenes you may have missed.
Big Brother 24 Live Feed Highlights – Friday, August 26, 2022:
4:27 PM BBT – Feeds return. Brittany is in tears in the HOH room talking to Turner. He nominated Brittany and Taylor.

4:30 PM BBT – Brittany is trying to figure out why she's on the block. Turner says she isn't the target and won't go home. He says Michael is going to win the veto and take her off the block. Then he says if Taylor wins the veto, someone else will go up and Brittany still won't go home.

4:32 PM BBT – Turner tells Brittany that Taylor clearly has plans to get to the end that has nothing to do with him. Brittany tells Turner that Taylor was wanting the final 5 to be Taylor, Brittany, Michael, Monte, and Joseph, so she's confirming what Turner just said.

4:34 PM BBT – Taylor talking to Terrance and is upset because apparently Turner used Joseph as one of the reasons Taylor went on the block. She now wonders why Joseph was ever nice to her if he was just going to throw her under the bus. Terrance tells Taylor the only thing Joseph said to him about Taylor was that Terrance was her initial target the week before last.

4:39 PM BBT – Brittany continues to throw Taylor under the bus to Turner. Now talk is how they think the Taylor and Joseph fauxmance was actually turning into a real showmance.

4:42 PM BBT – Michael asks Turner what is going on. Turner said he didn't want to put Michael or his friends on the block so he has to apologize for that. Michael says he appreciates not being on the block. Turner tells Michael that he doesn't know why Joseph would have lied about what he said (turns out Turner is saying that Joseph said Taylor and Brittany came to him about a Final 3). Turner tells Michael he thinks that Taylor was making end of game plans that did not include him. He said he felt like it was too early to be planning that in their alliance so that's why he made this move.

4:44 PM BBT – Michael says he feels like he should be made but he can't be that made since he's not on the block. He does say he's a little confused though because of the conversation they had earlier (Turner told Michael and Brittany he wouldn't put them up again and that he was rolling with the Leftovers). Turner says until he was pulling the keys out of the bag he had no idea whether he wanted to go this route or the one he discussed with Michael and Brittany (which was to nominate Terrance and Alyssa).

4:46 PM BBT – Michael asks if Turner would rather see Taylor go. Turner says he loves Brittany and doesn't want to see her go at all. He says he also doesn't want Taylor to go, but he thinks Taylor is the one who was trying to start a smaller group without most of the alliance. Turner said he felt like he would be saving the six of the remaining Leftovers just to be the first one picked off. Michael says he understands that.

4:58 PM BBT – Brittany tells Alyssa that the story about her trying to make a Final 3 with Taylor and Joseph doesn't even make sense.

5:00 PM BBT – Michael and Brittany catch up. Michael says hopefully he gets picked for the veto and wins so he can take her down. Brittany says this sucks because the reason they were given isn't even a little true.

5:04 PM BBT – Michael says that Alyssa told him she knew Taylor and Brittany were going up and Turner just told him that he didn't know until he was pulling keys out of the bag, so Turner lied to him about that.

5:11 PM BBT – Turner tells Alyssa that Taylor and Brittany aren't threats. So if they can get Michael out this week, that would be ideal and then they can take Brittany and Taylor out after.

5:14 PM BBT – Michael tells Brittany they have been in worse positions before and have gotten out of it.

5:15 PM BBT – Brittany says she feels like she needs to come clean to Alyssa because she can't end up in the situation they put Indy and Jasmine in where they confronted them about not coming clean.

5:22 PM BBT – Turner swears on his life to Taylor that Joseph told him about Taylor and Joseph having a final deal.

5;31 PM BBT – Turner looks at the camera and says that it's a good thing he's not lying about that because Joseph did say that (If that did happen, we must have missed any of that when the Live Feeds were out in the back yard).

5:32 PM BBT – Taylor checks in with Michael to make sure Brittany let him know there was never a Final 3 with Joseph. Michael says yes and he never believed there was. Taylor says that Joseph told Turner that there was. Michael says that doesn't even make sense for Joseph to do that. Taylor says they keep saying that Joseph Pooched himself out there.

5:36 PM BBT – Taylor tells Michael that if she or Brittany come down, he goes up unless he's the one who won the veto. Michael says yep. Taylor says this is literally doomsday scenario.

5:38 PM BBT – Michael says that they could be using Joseph as their scapegoat and this is all just a cover for turning on them.

5:41 PM BBT – Michael asks why would Joseph use his final moments in the game to sink Taylor's game. He says that makes no sense. Why would Joseph want to go out tanking their games. They agree it makes no sense.

5:42 PM BBT – Michael says they must think they have an easier path to the end against Terrance and Alyssa. Michael says he is sure Kyle would love to sit next to Alyssa in the end because he is sure he could beat her.

5:43 PM BBT – Taylor says none of what they've been told sounds like Joseph at all. Michael agrees.

5:45 PM BBT – Kyle lets Monte know that Alyssa and Terrance know everything about the alliance.

5:49 PM BBT – Alyssa tells Monte that Brittany, Taylor and Michael don't know that she knows everything, so she just keeps listening to them lie to her face about everything.

6:46 PM BBT – Alyssa is telling Taylor that Joseph sold her out.

7:10 PM BBT – Taylor tells Monte about all the things Alyssa said Joseph told her. Monte asks if maybe someone else revealed all of these things and Joseph had to defend himself. Monte says if Joseph felt backed against the ropes and he was forced to defend himself, and maybe did so poorly, it would all make a little more sense. Monte tells Taylor he finds all these things about Joseph very hard to believe.

7:26 PM BBT – Taylor says this is all interesting because they have truths but are saying it came from someone else.

7:29 PM BBT – Monte tells Taylor that Joseph has been as honest a person as he's ever seen. He said Joseph was always loyal to them.

7:33 PM BBT – Taylor asks Monte if she gets HG's choice in the veto draw if she can pick him and would he take her down. He says 100 percent.

7:38 PM BBT – Michael asks Kyle if Alyssa knows everything about the alliance. Kyle says he thinks there's a chance she does.

7:56 PM BBT – Brittany comes clean to Alyssa know about the Leftovers (she already knows of course, and Brittany kind of knows she knows).

7:59 PM BBT – Brittany tells Alyssa that she was Brough into the Leftovers late and that Kyle and Turner started it.

8:22 PM BBT – Alyssa tells Kyle and Turner that Brittany came clean to her.

8:40 PM BBT – Kyle says he didn't know M/T/B were that close until Michael picked Taylor 3rd for the Insiders. He thinks Joseph's game relied on spinning conversations and once they were all trapped in the backyard with open discussions Joseph's game didn't work anymore.

8:50 PM BBT – Turner meeting with Kyle, Alyssa, Monte, and Terrance in the HOH room to formalize their five. Kyle says production might add an extra HG Choice chip in the Veto bag to add drama.

8:55 PM BBT – Michael talking with Brittany. He says Taylor asked if he'd use the Veto on her if he wins it. He only said he would use the Veto. Michael doesn't want to screw over Taylor though.

9:00 PM BBT – Alyssa admits to the group the big alliance must have been the focus of the show because she never had DRs.

9:05 PM BBT – Brittany tells Michael she is trying to be careful to neither lie nor Pooch herself.

9:10 PM BBT – Monte joins Michael and Brittany. He asks if Michael talked with Turner. Michael notes that Turner wasn't concerned about Alyssa knowing about the LOs and he thought it was noticeable.

9:15 PM BBT – Monte tells Michael that he doesn't believe Joseph said all the things that are being pinned on him by the outsiders.

9:25 PM BBT – Terrance tells Turner he finally feels like he can breathe in the game. Turner tells Terrance that it was his HOH last week that started all of this. He wants Terrance to come to him to verify info he hears.

9:50 PM BBT – HGs in the kitchen and discuss an early bedtime (they have to wait for 10PM).

10:20 PM BBT – Most HGs gathered for Chinese Checkers and others are off to bed.

10:40 PM BBT – Kyle is camtalking. Kyle says he needs to continue working to build trust between Monte & Alyssa plus Monte & Terrance since they were previously opposed. Kyle thinks it's annoying that Michael and Brittany are coming after him. His wishlist for the boot order: Michael, Taylor, and then Monte. Kyle thinks he'll have it wrapped up if he gets to the end with Alyssa, Turner, Birttany, and Terrance.

10:55 PM BBT – Turner tells Michael he will pick him for HG Choice. (Nah)

11:30 PM BBT – HGs are off to bed.
Big shifts and changes in the game on Friday as Turner flipped against his After Party alliance in the morning and then immediately flipped right back to go against the Leftovers. The change being that he wasn't confident in teaming up with Alyssa and Terrance (low comp performances) but when Monte was added to the mix he felt better about it. Now Michael, Taylor, & Brittany know exactly what's going on and will have to fight hard in the Veto comp on Saturday.
You can watch all of these Big Brother events using the archives Flashback, the DVR-like feature of this year's Live Feeds which means it's always live, even when you missed it! Sign-up now to get the free trial to watch it all live & uncensored.


Gallery: Live Feeds Highlights
Download our Big Brother App, join us on Facebook & Twitter, and get our Email Updates for more!