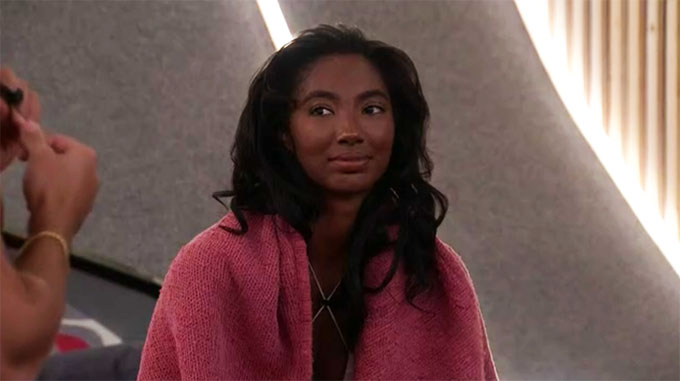 It was a relatively low-key eviction eve in the Big Brother 24 house, as Daniel seemingly accepted his fate and worked on preparing for his departure from the game. Joseph, Taylor and Michael spent part of the evening coming up with a plan to spread a rumor that Taylor and Joseph could be on the verge of a showmance. Read on to find out how that went, and what other talks and plans came up during Wednesday night on the Live Feeds.
If you've got the Live Feeds (Free Trial) then you can watch all of these moments with the Flashback feature to go back and watch those important conversations or funny scenes you may have missed.
Big Brother 24 Live Feed Highlights – Wednesday, August 10, 2022:
3:10 PM BBT – Everyone is pretty mellow and low-key at the moment.

4:26 PM BBT – Brittany has the houseguests doing her guided meditation.

4:36 PM BBT – HGs eating the stew made by Indy.

5:45 PM BBT – House is quiet now as some chess games going on and some non-game conversations.

6:32 PM BBT – Taylor cam talks that she doesn't feel like she's had a direct hand in any of the moves so far. She says she hasn't had any control over her own game because half the house doesn't trust her or want to engage with her.

6:35 PM BBT – Taylor says once Daniel is gone she can pretend to target Monte again. She says that would be an easy sell to Terrance. She says that could get her some trust from the other side of the house. Taylor says she can't win HOH yet if she wants Alyssa or Indy out next (she doesn't know Festie Bestie twist is ending).

6:40 PM BBT – Taylor now says she has to win and do something that is going to benefit the The Leftovers moving forward. And she has to win for herself, she adds. She said now she really wants that HOH.

6:42 PM BBT – Taylor says while she's true to her Final 3 (Michael and Brittany) she's interested in what Joseph really thinks about a Final 2, since they already discussed the idea.

6:58 PM BBT – Terrance says he has to win HOH tomorrow. Daniel tells him he better or they'll probably target him. Daniel says Terrance will be safe if Jasmine falls.

7:00 PM BBT – Daniel tells Terrance he heard Kyle and Alyssa kissing.

7:16 PM BBT – Terrance says he hopes the HOH is the wall comp. He says he has a shot at it because it takes finesse and determination. He says the stronger guys will be out early on the wall. Daniel says he doesn't have to worry about Joseph or Monte winning. Terrance says it'll be between himself and Turner. Daniel says he would say Taylor could win since she's small but he doesn't think she has the drive to win it.

7:28 PM BBT – Jasmine also thinks the strong men won't last on the wall comp. She says the smaller people beast those.

7:29 PM BBT – Michael, Joseph, and Taylor are plotting a Taylor/Joseph showmance rumor. They think it will be a good way to relate to Alyssa and Kyle, and also an excuse as to why Joseph and Taylor might be seen talking.

7:35 PM BBT -Taylor asks Joseph to tell the other side that she wants Monte out next week. He says he will.

7:38 PM BBT – Joseph says to Michael that if he tells Alyssa that Joseph is considering a showmance with Taylor then she'll tell everyone else. So he says tell Alyssa that Joseph asked Michael if she should do a showmance with Taylor.

7:53 PM BBT – Joseph tells Alyssa and Kyle about the showmance talk with Taylor (they planned this, but not sure what they want to get out of it).

7:57 PM BBT – As Michael, Taylor, and Joseph planned, Michael tells Alyssa and Kyle that when he walked in the HOH room Joseph really quickly jumped up from the bed next to Taylor.

8:06 PM BBT – Joseph letting Jasmine know that Taylor is interested in a showmance with him. Jasmine says she thought he would showmance with Indy. Joseph says no.

8:07 PM BBT -Joseph tells Jasmine that he thinks Taylor is beautiful, but his culture is too conservative for him to have a relationship openly on TV.

8:22 PM BBT – Indy asks Taylor if she likes Joseph. Taylor says she doesn't want to rush anything but would like to explore things with him and get to know him more.

8:24 PM BBT – Kyle says that Indy is driving him insane. Monte asks if she's cockblocking and Kyle says yes. Kyle says she's literally a hall monitor. Indy told Kyle that he and Alyssa need to stop hanging out so much and start talking to other people.

9:05 PM BBT – Jasmine and Indy discuss that Taylor might like Joseph so they can get her to spill details to Joseph that he can bring back to them. (This is part of a scheme by Joseph & Taylor to get the girls to trust them.)

9:15 PM BBT – Jasmine tells Indy her F5 includes the two of them, Alyssa, Joseph, and Michael.

9:25 PM BBT – Turner tells Jasmine that he ate part of the cookie, but swears he did not eat the muffin. They're talking game. Turner says (lies) that he'd nominate Monte. Jasmine thought he would nominate her. He assures her he would not.

9:45 PM BBT – Jasmine asks Turner how he's voting, Daniel or Kyle. Turner pretends not to know the plan. Jasmine says she's voting out Kyle.

10:00 PM BBT – Kyle and Alyssa (in bikini mode) are getting very flirty up in the HOH room. They decide not to do anything until one of them wins HOH.

10:20 PM BBT – After Kyle comes back downstairs the guys tease him because Big Brother has to tell him to put his mic on and they question why it was off. He says nothing happened upstairs.

11:15 PM BBT – HGs hanging around and chatting except for Daniel who has gone to bed early.

11:25 PM BBT – Jasmine tells Indy that Turner wouldn't put her (J) if they're not Besties anymore. Jasmine believes Turner. Indy thinks she might get nominated next to Monte.

11:30 PM BBT – Indy feels confident they can get Monte out next week. Jasmine says they need to recruit Alyssa, Kyle, and Joseph to help.

12:20 AM BBT – Joseph is forming a fake alliance with Indy and Jasmine that also includes Kyle and Alyssa plus Terrance. Jasmine wants to name it the Five Swatters.

12:40 AM BBT – Group discussion with Brittany, Monte, Taylor, and Turner that Terrance could be an easy decision to target next week.

12:55 AM BBT – Jasmine and Indy get Kyle and Alyssa to kiss. They're excited and think that's the first kiss.

1:30 AM BBT – Kyle and Alyssa cuddling and her telling him how she doesn't want a manly guy.

1:35 AM BBT – Kyle tells Alyssa that Daniel was lying when he told her that Kyle wasn't going to use the Veto on her. She thinks Daniel was just trying to blow up games on his way out.

2:30 AM BBT – Alyssa confesses to Joseph that it wasn't their first kiss and they did that two weeks ago.

2:40 AM BBT – Joseph tells Alyssa that he's not working with Monte and makes it appear that Monte would be his target.

2:55 AM BBT – Alyssa tells Joseph she is only loyal to their new Swatters alliance.

3:35 AM BBT – Joseph updates Taylor on what's been happening that night. He tells her about the five-person alliance and how he's trying to set it up so she's safe.

3:55 AM BBT – Taylor and Joseph discuss her plan would be nominating Monte and Terrance with Terrance as the goal.

4:45 AM BBT – Joseph and Taylor are still awake and move to the kitchen for snacks.
This new fake alliance could make things awkward for Kyle and Joseph. They'll probably not be trying too hard for the next HOH if both sides feel they're with them. The Swatters seems to be fake though for Joseph and Kyle, but if they won HOH and targeted another Swatter then that'd be over fast.
You can watch all of these Big Brother events using the archives Flashback, the DVR-like feature of this year's Live Feeds which means it's always live, even when you missed it! Sign-up now to get the free trial to watch it all live & uncensored.


Gallery: Live Feeds Highlights
Download our Big Brother App, join us on Facebook & Twitter, and get our Email Updates for more!