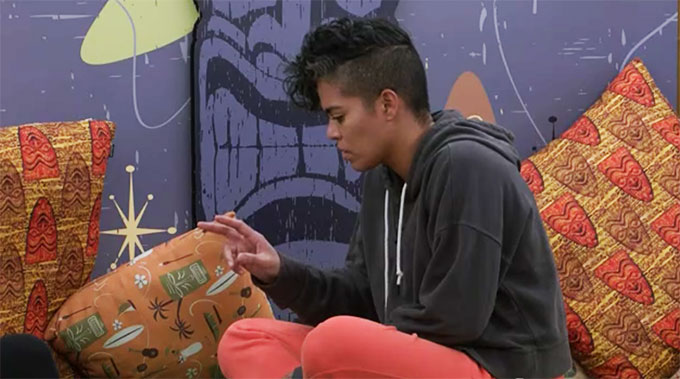 There were some odd vibes in the Big Brother 24 house Thursday night as the next eviction loomed. Nicole felt that the alliance she suspects will try to flip the vote on her, so she got to work trying to convince them that she doesn't trust the girls and would be targeting them if she stays. She didn't make any progress on that front though, so the big question is will it be another blindside eviction or not. Read on to find out the latest plans and who knows and doesn't know what's going to go down at the Live Eviction this week.
If you've got the Live Feeds (Free Trial) then you can watch all of these moments with the Flashback feature to go back and watch those important conversations or funny scenes you may have missed.
Big Brother 24 Live Feed Highlights – Wednesday, August 3, 2022:
3:07 PM BBT – Michael tells Alyssa that Nicole told Jasmine she wouldn't put her up, but she never said that about him and Brittany. Alyssa says she never told her and Indy that either. Alyssa says Taylor doesn't talk to her but she'e never heard that Taylor said anything about her and she is a good competitor so Taylor joining Indy and Alyssa wouldn't be the worst thing.

3:10 PM BBT – Alyssa asks Michael how he's feeling about the vote. He says he feels good with Taylor and Nicole. He says if Nicole is coming after Alyssa he'd be willing to protect her and vote Nicole out.

4:12 PM BBT – Monte tells Michael that he thinks Terrance is still on board with getting Nicole out. Monte tells Michael he can let Jasmine know how the vote is going too if he thinks he can trust her. Michael says once Jasmine knows everyone will know.

4:15 PM BBT – Nicole tells Turner that Monte told her he would send Taylor out if the vote is a tie. Nicole tells Turner that she would go after Alyssa, Indy or Jasmine and that he is not who she would be coming after. She says she's with him 100 percent.

4:19 PM BBT – Joseph tells Monte that he thinks Terrance is back under Nicole's spell because he said Taylor is shady and he doesn't know if he can trust her.

4:25 PM BBT – Joesph tells Monte about Nicole coming to cuddle with him and saying she wanted to make sure she has his vote to stay. He says she said she doesn't trust the girls so next week they can work together.

4:38 PM BBT – Kyle tells Monte that Alyssa said Nicole is going around saying her name now. Monte wonders if the girls are smart enough to plan this to throw them off. Joseph says maybe. Monte says if that's what they're up to then there's no point trying to get their votes and they can just draw the firm line in the sand. Joseph says if they blindside again it would make them look too united. He says they need at least one of them to vote with them.

4:40 PM BBT – Kyle says if he tells Alyssa he's voting Nicole out then she might as well. Monte says one or some of them will need to expose themselves if they don't want the vote split.

4:45 PM BBT – Turner tells Monte and some of the others that Nicole said if the vote is split she'd be fine because Monte has her back.

4:47 PM BBT – Nicole lets Alyssa know that she told Monte, Turner, and Michael that the girls would be her target next week. She says she has to lie to keep herself safe but also make the guys think she's with them instead of the girls. Nicole says she swears she thinks that Monte, Turner, Brittany, Michael, Taylor and Joseph are an alliance (she left out Kyle).

4:58 PM BBT – Monte confirms he won't care to break the tie and send Nicole out, thus drawing a line in the sand.

5:33 PM BBT – Terrance tells Taylor she has him and has had him since Day 1.

5:38 PM BBT – Terrance is telling Brittany that he's ready to vote Nicole out (he keeps flip-flopping). He then tells Monte that he's not keeping Nicole like she didn't vote to keep him last week.

5:48 PM BBT – Terrance tells Monte he is definitely OK with the vote going toward Nicole and he wants to vote how he wants him to.

5:56 PM BBT – Joseph is trying to work on Indy to vote out Nicole, but Indy prefers Taylor to go and there's likely no changing her mind.

6:08 PM BBT – Monte tells Terrance that if the vote is tied he's not keeping Nicole. Terrance says it won't be a tie because he will vote out Nicole.

6:15 PM BBT – Jasmine tells Turner that she is still planning on voting Taylor out. Turner says he's going with the majority. Turner asks her if she's deadset on Taylor no matter what. She says no, she wants to go with the house.

6:25 PM BBT – It's dinner time for the HGs.

6:30 PM BBT – HGs are just hanging out in the kitchen and around the house, chit-chatting, snacking, etc.

7:23 PM BBT – Nicole says she thinks that alliance will be working hard on Thursday to flip the vote like they did on Ameerah. Indy says she doesn't think so. Nicole says she really believes they will.

8:08 PM BBT – Jasmine and Michael discuss when they think the Festie Bestie twist will end.

8:20 PM BBT – Taylor is trying on her dress for the episode. Alyssa says she loves it.

8:28 PM BBT – Kyle cam talks and says Nicole and Daniel think he's dumb but he's not. He says his reasoning for voting out Nicole will be her revealing Po's Pack.

8:50 PM BBT – Michael working on Alyssa. She says she trusts him, Kyle, and Indy 100%.

9:20 PM BBT – Indy worries to Jasmine and Alyssa that if Taylor stays then she'll join her pair. Jasmine shares that Monte warned her they are voting out Nicole this week and Daniel is the next target. Jasmine wants to still vote against Taylor and then lie about it. Alyssa doesn't think she can manage to lie. Jasmine says they shouldn't say anything to Daniel yet, but if he wins HOH then they can go to him with this info.

9:50 PM BBT – Alyssa tells Kyle that Indy asked if they had kissed so she said just on the cheek.

10:15 PM BBT – Nicole stressing to Indy about the vote. Indy says to stop trying but Nicole wants to campaign.

10:35 PM BBT – Jasmine learns to walk again after HGs tell her to stop using the cane.

10:40 PM BBT – Nicole tells Daniel she's tried everything. He says to lay off Kyle for now. She isn't sure if it worked or not.

11:30 PM BBT – Jasmine laments having to ask people for help as she recovered from her grave injury.

12:00 AM BBT – HNs is over again. Turner and Jasmine rejoice.

12:05 AM BBT – Kyle wants Alyssa to work on getting closer to Michael and Brittany so they can have a group of four.

12:10 AM BBT – Kyle questions Alyssa if they're about to be in a full-blown showmance. Alyssa says they need to wait one more week so they're guaranteed to make it to Jury.

12:35 AM BBT – Kyle talks with Michael about how much Alyssa trusts him (M) and they should work together.

12:40 AM BBT – Kyle working on Michael that they're going to need to keep Alyssa for protection. He says the big guys are going to push for her to go soon but she's good for them to keep.

12:55 AM BBT – Daniel questioning Kyle and Kyle playing dumb again about the vote. Kyle suggests maybe he's just blind to the game. Daniel again pushing Kyle that he (K) is the deciding vote. Daniel wonders if either of them was Monte's BD plan. Daniel tells Kyle if the vote is unanimous to keep Nicole then he'll apologize to Kyle.

1:10 AM BBT – Daniel went back to Nicole and says he doesn't trust Kyle anymore after their latest talk. Daniel suspects he'll be the next target after her. They realize their game is doomed.

1:20 AM BBT – Nicole finally gives in that she's going home in the vote. Daniel is sure he'll be following her next week.

1:50 AM BBT – Indy pitching an alliance to Monte and Joseph with her, Terrance, and Jasmine.

1:55 AM BBT – Daniel says his targets next week would be Monte, Michael, Joseph, or Turner.

2:05 AM BBT – Nicole asks Terrance how she should go about her last shot attempt. He says to go to Monte (who can't vote?) and talk to him.

2:10 AM BBT – Indy wraps up her pitch and Monte & Joseph give her a lot of smiles and nods to the alliance proposal.

2:15 AM BBT – Nicole pulls Indy away from the crowd to tell her she does not have the votes to stay. Indy is confused. Nicole tells her to go back and tell the rest that she doesn't have the votes to stay. Nicole is upset and says she's been lied to. Indy says she'll still vote for her to stay.

2:45 AM BBT – Joseph tells Indy to vote how she wants and not to vote scared. Indy says she'll vote with the house (against Nicole) but worries Daniel will shout at her. Joseph says he won't allow that to happen.

2:50 AM BBT – Jasmine talks with Indy about the vote. Jasmine wants to vote for Nicole to stay but always wants to vote with the house.

3:00 AM BBT – Daniel wants the vote to be split so Monte has to openly decide the eviction. Indy says Alyssa isn't voting with them anymore. Daniel wants Indy to throw a fit.

3:10 AM BBT – Daniel says he's done targeting Taylor and would go after Monte and Joseph if he gets HOH next week.

3:32 AM BBT – Jasmine is storming the halls to find who at half her muffin.

3:34 AM BBT – Jasmine continues her hunt and goes upstairs to as Joseph and Monte about her missing muffin. All deny involvement.

3:40 AM BBT – Nicole is back to campaigning and tells Turner she would never target him if she stayed.

4:10 AM BBT – Turner admits to Joseph that he ate half the muffin that Jasmine had bagged for herself. She's been storming through the house to discover who ate half her muffin.

4:10 AM BBT – Alyssa and Kyle are hiding in Storage and kissing.

4:15 AM BBT – Taylor suspects Jasmine is playing them. Turner agrees and says that's why he ate her muffin.

5:17 AM BBT – Turner walks through the empty kitchen. Stops to look at Jasmine's remaining bagged muffins. He cuts another piece off to eat, a half of the half, and continues on his way.
As an aside, muffingate refers back to a pair of muffins that Jasmine bagged and set aside to enjoy later. While she was either in the shower or DR someone came along and ate half of one of the muffins. Jasmine shuffled around the house seeking the perpetrator but no one would admit to it. Finally late in the night Turner told a few HGs that he did it. If she finds out then Turner will have to run for it. Or at least walk at a medium pace to stay ahead of Jasmine.
You can watch all of these Big Brother events using the archives Flashback, the DVR-like feature of this year's Live Feeds which means it's always live, even when you missed it! Sign-up now to get the free trial to watch it all live & uncensored.


Gallery: Live Feeds Highlights
Download our Big Brother App, join us on Facebook & Twitter, and get our Email Updates for more!