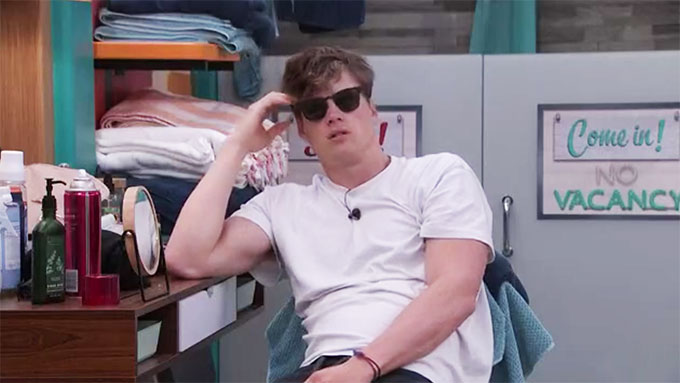 The Big Brother 24 houseguests spent eviction eve debating their votes, or at least pretending to debate their votes. And as of now, it looks to be a pretty split vote. Terrance worked much harder at campaigning than Ameerah did, of course, because she feels like she's safe and is confident Turner's move this week is going to backfire on him. But will it? Read on to find out how the votes are excepted to fall and what other plans the HGs are thinking about as they head into Week 4 Thursday night.
If you've got the Live Feeds (Free Trial) then you can watch all of these moments with the Flashback feature to go back and watch those important conversations or funny scenes you may have missed.
Big Brother 24 Live Feed Highlights – Wednesday, July 27, 2022:
3:15 PM BBT – Brittany is talking to Terrance, and being very risky with the information she's telling him. She tells him she thinks some people are in three or four alliances and says there's an inner circle.

3:20 PM BBT – Terrance wonders who the leader of the circle is. Brittany says it's Ameerah and asks who becomes the leader when she goes. Terrance says he thinks it'll be Nicole.

3:34 PM BBT – Michael tells Terrance that the house needs a shake-up this week and says that the two of them and Brittany are looked at as easy targets.

3:39 PM BBT – Terrance tells Michael that Daniel said he has his vote and he thinks he has Kyle's. He thinks that Nicole will vote with Daniel, too. Terrance says he feels confident.

3:48 PM BBT – Kyle tells Terrance that he still isn't sure what he's going to do. He says he wants to check in with Daniel first since they're "Festie Besties."

3:58 PM BBT – Terrance is now campaigning to Daniel. He says if he stays he will 100 percent have Daniel's back. Daniel says he still needs to see what others are thinking about with the vote. Daniel tells him that he hopes he stays.

4:14 PM BBT – Terrance is now talking with Jasmine. She tells him that she doesn't know what her vote will be yet. She says she will let him know when she decides.

4:45 PM BBT – Nicole and Daniel say they plan to tell Terrance tonight how they're voting. Nicole says that it sounds like the votes are going in Ameerah's favor. Daniel asks Nicole if she thinks it's a bad move if he does give Terrance a sympathy vote. Nicole says not at all. Daniel says he will let people know he did it too.

4:50 PM BBT – Brittany tells Michael that Terrance thinks he has Daniel's vote but not Nicole's.

5:05 PM BBT – Joseph tells Nicole that he took her advice and he's been having talks to figure out how to vote. He says he's 50/50 right now. Joseph asks her if she's made her decision. She says no, she won't until tomorrow.

6:20 PM BBT – Nicole says she hates this game as she lets Ameerah know she'll vote to keep her. Alyssa says she accidentally told Terrance earlier that she's going to miss him.

6:25 PM BBT – Nicole says Turner made a move but it's not working out for him and it sucks that Terrance has to go. Ameerah says when you make a move like that, it's not long-term beneficial.

6:32 PM BBT – Joseph tells Jasmine that she'd have the votes to stay if she and Turner end up on the block. Jasmine says she wants Turner out.

6:40 PM BBT – Jasmine asks Joseph if she should lie to Turner about voting Terrance to stay. Joseph tells her to just say she doesn't know.

6:46 PM BBT – Jasmine, Ameerah and the other girls are convinced Joseph wants Turner out badly.

8:10 PM BBT – Monte tells Brittany that Daniel or Nicole need to go next week. Brittany agrees.

8:24 PM BBT – Jasmine tells Brittany she's an Instagram influencer and makes six figures.

8:35 PM BBT – Taylor tells Brittany they have to keep Ameerah comfortable. They both talk about how they don't remember last season being this chaotic this early.

8:44 PM BBT – Kyle tells Brittany and Taylor that he thinks he's going to tell Daniel he's leaning toward keeping Ameerah to try to get him to vote to keep her. They want the vote to be 6-5 so it's easier to point fingers at where the votes came from.

9:25 PM BBT – Nicole tells Michael she doesn't know what's going on with Joseph because he tells her he's undecided and then keeps trying to get more information from her. Nicole says she isn't telling him anything.

9:50 PM BBT – Nicole worries to Michael that Alyssa could be the leak. She doesn't want to give Alyssa more info because she could be telling Jasmine about their six (Po's Pack). Nicole also complained that Brittany talked to Ameerah about Nicole and Daniel's votes.

10:00 PM BBT – Nicole tells Kyle she's voting out Terrance and she will let Terrance know he's going home. She doesn't want them to mislead Terrance into thinking he's surviving the vote but says they can give him a sympathy vote if they want.

10:15 PM BBT – Nicole lets Terrance know he's going home. She tells him that she was a cop for ten years.

10:25 PM BBT – Michael and Kyle are concerned how they're going to cover their votes. They wonder about using her suggestion of sympathy votes.

10:45 PM BBT – Upstairs in the HOH room with Turner there Nicole tells Terrance he is her soulmate in this game and she's crushed that she'll have to play it without him.

11:00 PM BBT – After Nicole leaves the HOH room Turner tells Terrance he's going to be fine and isn't getting voted out. Turner apologizes for laughing when Nicole told Terrance he was leaving. Terrance explains he's note aligned with Nicole and Daniel.

11:15 PM BBT – Daniel, Ameerah, and Nicole discuss sympathy votes for Terrance.

11:30 PM BBT – Brittany and Michael agree that all of The Leftovers have to vote out Ameerah, no sympathy votes, just in case Daniel or Nicole shift their votes back from sympathy votes to keep Terrance.

12:00 AM BBT – HNs are ending and the HGs are celebrating.

12:20 AM BBT – HGs discussing life back home, going to college, and picking a career for life.

1:00 AM BBT – Monte is working on Terrance for what he plans to do when he stays and where he'll align. Terrance says he'll support Monte if he stays this week.

1:15 AM BBT – Monte promises Terrance the target will be clear soon and it won't be him (T).

2:00 AM BBT – Kyle, Brittany, and Michael discuss how surprised Nicole and Daniel will be after the vote.

2:35 AM BBT – Turner tells Monte that Nicole offered to work together and he didn't know what to say. Monte says he shouldn't decline an offer.

3:30 AM BBT – Few of the Leftovers meet up for a quick game chat.

3:45 AM BBT – Taylor camtalks that she believes this will work. She wants to win HOH.

4:10 AM BBT – Kyle and Taylor are talking game alone in the HN room. Taylor tells Kyle her target is Daniel and thinks the girls won't trust him after this. Kyle says he'd be willing to go up as a pawn to get Daniel out.

4:45 AM BBT – Taylor heads to bed after wandering around alone for a while.
Tensions are going to be very high on Thursday night but expect a calm before the storm unless someone spills the plan. Ameerah went to bed early feeling confident and she shouldn't. The Leftovers are primed to vote her out and then we'll see a big battle for the power in the next round of BB24.
You can watch all of these Big Brother events using the archives Flashback, the DVR-like feature of this year's Live Feeds which means it's always live, even when you missed it! Sign-up now to get the free trial to watch it all live & uncensored.

Gallery: Live Feeds Highlights
Download our Big Brother App, join us on Facebook & Twitter, and get our Email Updates for more!