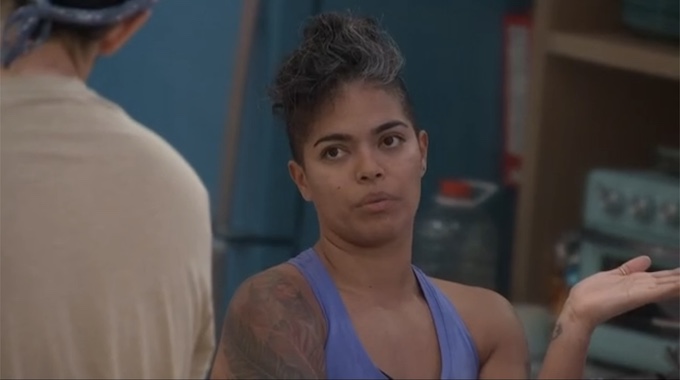 Overall it was a pretty quiet day inside the Big Brother 24 house as the houseguests enjoyed having the backyard and pool for the day. There was quite a bit of game talk between the Big Brother houseguests about how the rest of this week should play out. Nicole is also still oblivious to the fact that she might not have all the votes she thinks she does going into this week's eviction on BB24.
If you've got the Live Feeds (Free Trial) then you can watch all of these moments with the Flashback feature to go back and watch those important conversations or funny scenes you may have missed.
Big Brother 24 Live Feed Highlights – Tuesday, August 2, 2022:
9:45 AM BBT – HGs are waking up.

10:25 AM BBT – Alyssa tells Indy that her and Kyle snuggled last night.

10:40 AM BBT – Jasmine and Terrance are going over the votes. Terrance says they have enough to get Taylor out this week. They count Jasmine, Terrance, Indy, Alyssa, Daniel, and then wonder who the sixth is. Terrance thinks Kyle is voting Taylor out too, but Jasmine thinks they need one more to be safe.

10:47 AM BBT – Terrance tells Jasmine that if Taylor stays she would be joining Alyssa and Indy to keep herself safe. Jasmine is shocked by this. Terrance says that Alyssa is linked to Kyle and Indy is linked to Monte, so she thinks she will be safe with them.

11:00 AM BBT – Michael asks Nicole how her conversations went. She tells him that she talked to Daniel and he is just so set on getting Taylor out.

11:15 AM BBT – Brittany reveals that she made it to semi-finals for BB17 and that she had applied for many seasons in a row.

12:00 PM BBT – Houseguests are just lounging. General chit-chat going on.

12:15 PM BBT – Kyle gives a very details recap of what's been going on inside the Big Brother house this week.

12:25 PM BBT – Kyle tells the cams that he doesn't care if his relationship with Alyssa hurts his game. He would rather spend this time with someone he cares about. Says that he really needs to be more descrete about it.

12:40 PM BBT – Monte tells Kyle that they will start spreading the word that they have the votes to get Nicole out and if it gets back to Daniel then it does. They want to see how people will react. Kyle hopes that The Leftovers don't see his relationship with Alyssa as a liability. Monte doesn't think that The Leftovers are seeing it as an issue.

12:45 PM BBT – Monte mentions to Joseph and Kyle that he thinks with Nicole going out this week, Daniel could be a great target for next week.

12:50 PM BBT – Joseph wonders who Alyssa would go after. Kyle says he has no idea and he doesn't even want to bring up game with her. He worries if he does it might lead to a conversation that he can't share.

12:56 PM BBT – Joseph plans to tell Daniel that he found out from someone that Nicole was part of Po's Pack and tell him that Nicole lied to his face about it. He says that he is going to tell him that as much as he wants Taylor out, at least she is honest about her moves.

12:58 PM BBT – Monte tells Joseph and Kyle that Nicole apparently told Terrance that her plan is to go after Monte next week. Joseph says that he is part of that Festie Bestie group and they (J&N) have talked game a few times and she never mentioned that to him.

1:05 PM BBT – Daniel is breaking down to Michael why he didn't use the Veto even after Monte gave him the information.

1:20 PM BBT – Monte, Kyle, and Joseph think that Nicole is going to lose it when she gets evicted and they also think. They add that Daniel is going to also and that's going to put a bigger target on his back.

1:57 PM BBT – Daniel tells Michael that he thinks that if Nicole is in Jury, she will vote based on gameplay, but Taylor would vote based on emotions.

2:10 PM BBT – Taylor is talking to Alyssa telling her why she told Terrance about the Po's Pack alliance and how she felt dumb because she had put in so much work to get in with the girls for them to still not have her back. Taylor tells her that if she stays and wins HOH, that Monte, Joseph, and Terrance are going up, but Daniel is going to be her target. She reassures Alyssa that Kyle would be safe.

2:12 PM BBT – Taylor tells Alyssa that if she is here after this week's eviction, she would join Alyssa and Indy. She says that at least that way, they know Taylor wouldn't come after them, because she can't. She adds that she will be the target too so even if they ended up on the block, everyone would vote her (T) out.

2:15 PM BBT – Taylor says that her staying and joining Alyssa and Indy would garauntee them a spot in jury because they either won't hit the block, or she will be evicted over them.

2:42 PM BBT – Daniel tells Nicole that Michael hasn't given him a straight answer. He waited for Michael to tell him that he was keeping Nicole, but he never told him that. Nicole tells him that Michael told her that he has her back and so does Turner.

2:45 PM BBT – Daniel asks Nicole if she has talked to Kyle and she says that she hasn't. Daniel tells her that Kyle is her final vote to stay.

2:52 PM BBT – Daniel tells Nicole that Michael was trying to play up the idea of them all being floaters and adds that he has seen Michael in the HOH room all week.

2:55 PM BBT – Nicole says she called them (Leftovers minus Kyle) the Sorry Six because they are going to be very sorry they crossed her. She says when she stays, the first to go is Monte, then Brittany. She says she is going to watch Joseph crumble and then he can go after them. Meanwhile, Jasmine and Brittany are talking about this week's vote outside. Jasmine says that she thinks that the thing to do is get rid of Taylor since she has been the target for weeks, but she has heard Nicole's name coming up and wants to be on the right side of the house.
Even though, Nicole and Daniel know there is a large group working together inside the house, they haven't quite pinpointed all the members of The Leftovers alliance. They both continue to think that Nicole has the votes to stay with Daniel, Jasmine, Alyssa, Indy, Terrance, Michael and hopefully Kyle. Little do they know, Michael and Kyle aren't voting for her to stay and Jasmine and Alyssa might jump ship when they realize that the majority of the house is voting to keep Taylor this week.
You can watch all of these Big Brother events using the archives Flashback, the DVR-like feature of this year's Live Feeds which means it's always live, even when you missed it! Sign-up now to get the free trial to watch it all live & uncensored.

Gallery: Live Feeds Highlights
Download our Big Brother App, join us on Facebook & Twitter, and get our Email Updates for more!