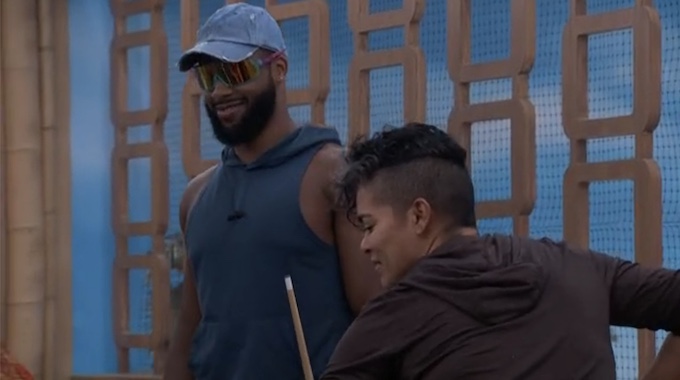 It is Nomination Day inside the Big Brother 24 house and the houseguests spent most of the day meeting with the Head of Household to see what the plan for the week is. Now that everyone has been filled in on the plan, there is no surprise as to who this week's target is for Week 3 of Big Brother. Read on to get all the details of today's pre-Nomination Ceremony talks in the BB24 house.
If you've got the Live Feeds (Free Trial) then you can watch all of these moments with the Flashback feature to go back and watch those important conversations or funny scenes you may have missed.
Big Brother 24 Live Feed Highlights – Friday, July 22, 2022:
10:00 AM BBT – HGs are waking up.

10:20 AM BBT – Brittany is telling Michael that Nicole told her that Turner thinks that they were involved in the flip against Pooch. Brittany says that they need to make sure that they tell him they didn't know until last minute. Michael says that Jasmine could just tell Turner, but Brittany reminds him that Jasmine is acting shocked about Pooch going home.

10:23 AM BBT – Michael tells Brittany that he is worried that Turner might put them (B&M) up thinking that they can win the Veto so they can backdoor Taylor. Adds that if Taylor and Nicole win the Veto they could end up screwed.

10:37 AM BBT – Michael tells Ameerah and Nicole that he is worried about what Brittany is going to say to Turner (she just went upstairs). Nicole and Ameerah tell Michael that he is safe this week. Nicole says if the plan this week is to get Taylor out, then after Veto her and Taylor will be on the block. He says he's worried if Taylor wins Veto. Nicole reassures him that Brittany would be the one who goes.

10:45 AM BBT – Michael voices his concern to Nicole about if he wins a third Veto, it could make him a target.

11:03 AM BBT – Taylor tells Ameerah, Alyssa, and Jasmine that she can't hit the block again this week.

11:07 AM BBT – Ameerah and Taylor leave the room and Jasmine tells Alyssa that she talked to Turner last night and Alyssa is one of the people Turner said was safe (Kyle and Monte were the other two). Jasmine confirms that Turner is thinking about Brittany and Michael or Taylor and Nicole.

11:13 AM BBT – Nicole tells Joseph that they have to be careful about what they say infront of Taylor and Brittany because they are going to be feeding each other information. Nicole says that Turner is going to have to BD them (N&T) in order to get Taylor out this week.

11:25 AM BBT – Brittany is meeting with Turner. She is talking a million miles an hour about missing their significant others and then talks turn quickly to how things went at week 2's eviction.

11:28 AM BBT – Brittany talks about how her and Michael decided last second to vote Pooch out because they didn't want to be on the wrong side of the vote. Turner says that he voted him out too for the same reason. Turner asks Brittany at what point did she realize that Pooch was the target. Brittany brings up that she heard rumblings of an all-girl alliance which was really concerning for her because she is a girl and not in it (not sure what that has to do with anything). Feeds cut to another room.

11:33 AM BBT – Michael tells Kyle about the conversation he had with Nicole where it seems like Nicole is working to safe the Old School people. Kyle doesn't think that they are in a good spot if that's the case and Michael agrees.

11:37 AM BBT – Brittany tells Turner that he is going to want to put up a strong team who can potentially win the Veto so if Taylor and Nicole do get picked, the cards are stacked against them. Brittany reiterates that she is nervous about a girls alliance.

11:40 AM BBT – Turner tells Brittany that he isn't sure what he is going to do, but he doesn't want it to be something that could hurt their game. Brittany goes to get Michael. After she leaves Turner camtalks about how Brittany brought up that it would be good for a Veto beast to be used as a pawn. Turner thinks that Brittany/Michael pawn with Taylor/Nicole BD plan.

11:45 AM BBT – Turner asks Michael to walk him through how he found about the Pooch thing. Michael tells him about the nervousness after the Veto and the way Pooch handled that compared to how Taylor stayed calm.

11:50 AM BBT – Turner tells Michael that he is likely going to BD someone and asks Michael who he thinks would be strong competitors going into the Veto. Michael says that unfortunately that's a hard call because they don't know what kind of comp it's going to be and if Jasmine or even Turner (if it's a duos comp) are going to be able to play. He says that the duo he puts up could be the only ones competing against the random draw team and if it's Taylor/Nicole, that could make it easier for them (N&T) to win.

11:52 AM BBT – Turner tells Michael that he really needs to put strong competitors on the block, but adds that he doesn't really want to put Brittany/Michael up there in case the worst case scenario plays out.

11:55 AM BBT – Turner tells Michael that if he were to use them as a pawn, Michael would 1000% be the safe one. He tells Michael that there have been plenty of people who told him that they wouldn't be sad to see Brittany go.

11:57 AM BBT – Turner asks Michael what he thinks about everything and Michael tells him that he is only nervous because if it's him and Brittany on the block and Taylor/Nicole gets picked to play, he has to gun for it. He adds that winning a third Veto in a row might not be good for his game. Turner says "that's true."

11:58 AM BBT – Ameerah is telling Alyssa to lay low and not offer too much information to anyone. She adds that she thinks that Turner might be a wildcard at this point.

12:36 PM BBT – Jasmine fills Kyle in on her conversation with Turner.

12:50 PM BBT – Jasmine tells Nicole and Ameerah that it's important for Ameerah and Alyssa to reiterate to Turner that it was Taylor that flipped the vote on Pooch.

12:55 PM BBT – Michael is retelling his conversation with Turner to Brittany. He tells her that he has a feeling that Taylor is the target and that Turner is going to BD her. He also has a feeling that they are going to be pawns.

1:00 PM BBT – Ameerah, Jasmine, and Taylor wonder if Turner was called into the DR for the Nomination Ceremony all ready. Ameerah says that he hasn't even talked to everyone yet.

1:06 PM BBT – Turner comes out of the DR and says that they still have a lot of time before the Nomination Ceremony. He says they (production) knows he hasn't talked to everyone yet.

1:10 PM BBT – Taylor tells Turner that she can't handle the block a third week in a row.

1:18 PM BBT – Nicole and Taylor are pitching to have Turner and Jasmine's backs going forward. He tells them that if he doesn't put them up, he hopes that it will solidify trust between them moving forward. Turner says that he doesn't think that it's ideal for him to put them up since they are both strong competitors.

1:23 PM BBT – Turner tells Ameerah that there are two people in the house that people want out and it sucks that they aren't in a duo together (Brittany and Taylor).

1:25 PM BBT – Taylor tells Nicole that she's nervous, but Nicole doesn't think there is any way that Turner puts them up. Nicole adds that they just have to be picked for Veto and win it.

1:30 PM BBT – Turner confirms the plan is to put Michael and Brittany up, someone to win the Veto and take them down. Then he will put Taylor and Nicole up. However, if Taylor and Nicole win Veto, then Brittany will go.

1:37 PM BBT – Turner confirms his plan with Daniel and Kyle. Retells his conversation with Brittany to them also.

1:43 PM BBT – Turner is confirming his plan with Alyssa.

1:51 PM BBT – Turner is now talking to Indy. More of the same conversations.

1:57 PM BBT – Nicole comes up while Turner is talking to Monte. She tells Turner that she should get an award for the performance she just put on in the HOH and in the room after. She confirms to Turner that she is okay with the plan for him to BD her and Taylor to get Taylor out.

2:05 PM BBT – Jasmine tells Ameerah and Daniel that three people have already told her that Brittany offered to go up as a pawn.

2:35 PM BBT – Turner tells Michael and Brittany that Taylor is his target and that a BD is the safest way to do that. Brittany says that she is worried he is putting this trust in them when she isn't confident in her ability to compete well.

2:43 PM BBT – Michael worries that if Taylor wins there isn't a backup plan. Turner says that he would have the Veto used on them.

2:48 PM BBT – Michael and Brittany are talking alone and Michael says that Turner isn't a very smart player. Neither of them believe that he would actually have Taylor use the Veto on them. However, they both agree that they have been there for her, so they might be able to get her to use it on their own.

3:00 PM BBT – The HGs are all relaxing and waiting for the Nomination Ceremony to take place.
There you have it. I'm sure no one is surprised that Taylor is the target for the third week in a row and the only chance she has is if she and Nicole are picked and she wins the Power of Veto competition tomorrow. If that scenario plays out, then Brittany and Michael will likely remain on the block and Brittany will be heading home on Thursday. In the event that Taylor wins and uses the Veto on them, Turner's HOH reign could take a turn. We will have to wait and see what happens after tomorrow's Veto Competition.
You can watch all of these Big Brother events using the archives Flashback, the DVR-like feature of this year's Live Feeds which means it's always live, even when you missed it! Sign-up now to get the free trial to watch it all live & uncensored.


Gallery: Live Feeds Highlights
Download our Big Brother App, join us on Facebook & Twitter, and get our Email Updates for more!