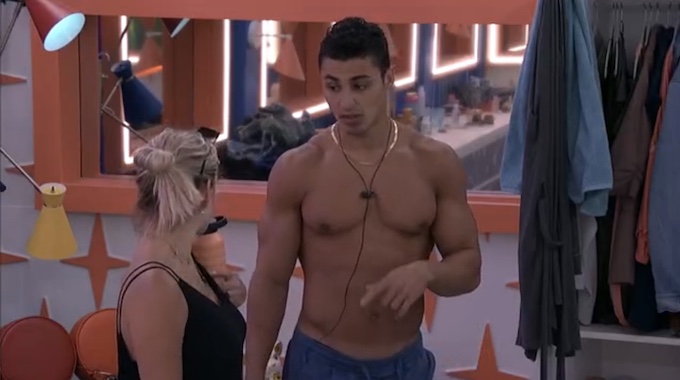 It is Eviction Day inside the Big Brother 24 house and two of the Big Brother houseguests spent most of the day trying to figure out what is going on at the vote tonight. Just a reminder that the vote is happening inside the house today, but will not air until Sunday night's special two-hour episode of BB24. Read on to find out what the houseguests talked about before the live feeds cut for the vote and eviction.
If you've got the Live Feeds (Free Trial) then you can watch all of these moments with the Flashback feature to go back and watch those important conversations or funny scenes you may have missed.
Big Brother 24 Live Feed Highlights – Thursday, July 21, 2022:
10:15 AM BBT – HGs are waking up.

10:30 AM BBT – Ameerah tells Nicole that she talked to Monte and she thinks that they are good with him. Nicole says that she has been talking to Michael and feels the same about him. Ameerah says that Monte told her that Turner and Taylor are probably going up with Indy or Brittany being renoms if one of them comes down.

10:45 AM BBT – Ameerah and Alyssa are in the storage room changing their batteries. Ameerah says that she has no idea how they keep being added to all these alliances. She talks about an alliance that Joseph proposed last night including them, Monte, Jasmine, and Indy.

10:55 AM BBT – Pooch takes Brittany into the SR and says that he talked to Kyle and Turner and they all feel good about working with her and Michael going into next week.

10:57 AM BBT – Brittany tells Pooch that she has to be honest with him and adds that she has to vote with the house. She tells him that she has been told that the plan has always been Taylor, but regardless, she is voting with the house.

11:00 AM BBT – Michael comes in and Pooch starts backpeddling and telling them that he knows that Ameerah was worried about an all guys alliance. He explains that the guys were nervous that there might have been something going on after the POV that they weren't involved in.

11:02 AM BBT – After Pooch leaves the SR, Brittany tells Michael that she felt like she was cornered. Michael leaves and Joseph comes in. The briefly talk about wanting to support the house with this week's vote. Joseph is worried that Pooch is the target and doesn't want to be on the wrong side of the vote.

11:15 AM BBT – Alyssa, Ameerah, and Kyle are talking about how it's looking like it's going to be the whole house against Turner at tonight's vote.

11:21 AM BBT – Alyssa tells Jasmine and Indy that Joseph wants to be on the right side of the vote so someone needs to tell him. Indy says that no one needs to tell him, they (production) tell us not to do that. Alyssa says she will feel bad blindsiding Joseph.

11:35 AM BBT – Pooch tells Joseph that he talked to Brittany and Michael and they said that the plan is still to get Taylor out. Joseph tells Pooch that he needs to be careful because he annoyed a lot of people. He tells Pooch that he is just as much in the dark as Pooch is because everyone knows they are close.

11:36 AM BBT – Joseph asks Indy who she is voting for and she tells Joseph that she isn't going to tell him. She is following her heart regardless of how the house is going. Joseph tells her that he doesn't know what to do, she tells him to follow his heart.

11:45 AM BBT – Joseph tells Daniel that he doesn't think Turner has any idea that this vote could swing.

11:47 AM BBT – Feeds cut to pet cams.

1:36 PM BBT – Feeds are back. Houseguests are getting ready for the day. Taylor is teaching Indy how to put false lashes on.

1:40 PM BBT – Michael tells Turner that he is getting a bad feeling. Turner says that he knows there are some swing votes. Turner thinks that Michael, and Brittany are going to be the deciding votes.

1:55 PM BBT – Indy is telling Michael that she really wants to win HOH. She really wants to get a letter.

2:02 PM BBT – Indy is giving herself a peptalk in the mirror, Joseph walks in and she asks for a few minutes. He leaves.

2:05 PM BBT – Pooch tells Alyssa that Joseph is annoying him because he is running around the house trying to do too much.

2:07 PM BBT – Joseph is asking Terrance what he thinks is going to happen tonight. Terrance says that he doesn't understand why Pooch put himself in this position so early in the game. Meanwhile, Pooch is telling Ameerah and Kyle that if he stays this week, they don't have anything to worry about.

2:28 PM BBT – Jasmine tells Ameerah that she thinks that Indy and Monte are working together. Ameerah says that she thinks that she really likes him and he's just taking advantage of it.

2:30 PM BBT – Ameerah tells Jasmine about how Pooch told her that Joseph is making him nervous by telling him that everyone in the house is getting annoyed by him (P) and he needs to lay low. Jasmine says that means that Joseph told Pooch everything they talked about.

2:55 PM BBT – Alyssa tells Michael that Turner and Joseph are running around the house nonstop trying to campaign for Pooch.

3:10 PM BBT – Nicole and Michael are talking in the SR about everything that has been going on in the house. Nicole says that she thinks that they are pretty good next week as long as Turner doesn't win HOH. Neither know what he would do.

3:15 PM BBT – Feeds cut to pet loops for Eviction taping.
Word has it that the live feeds will be returning tonight regardless of the show schedule being pushed and when they do we could expect to see Pooch no longer inside the Big Brother house. There is a good chance that the feeds won't return until after the Head of Household Competition that kicks off week 3 of Big Brother takes place so be on the lookout for spoilers coming up later on!
You can watch all of these Big Brother events using the archives Flashback, the DVR-like feature of this year's Live Feeds which means it's always live, even when you missed it! Sign-up now to get the free trial to watch it all live & uncensored.


Gallery: Live Feeds Highlights
Download our Big Brother App, join us on Facebook & Twitter, and get our Email Updates for more!