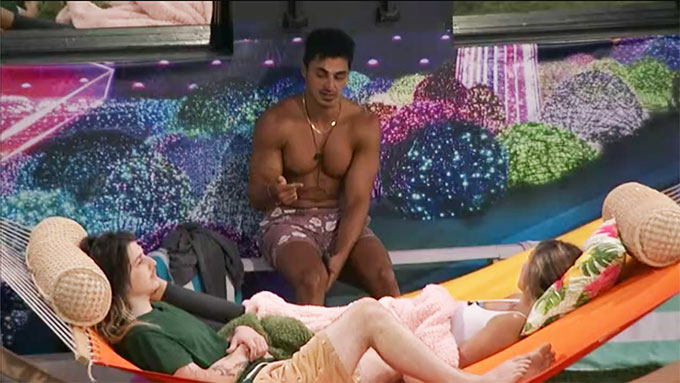 The Big Brother 24 live feeds finally returned to the back yard last night and we got some actual insight on what has been going on out there. Meanwhile, the inside houseguests remained to lay low as some of those on the outside started plotting against them.
If you've got the Live Feeds (Free Trial) then you can watch all of these moments with the Flashback feature to go back and watch those important conversations or funny scenes you may have missed.
Big Brother 24 Live Feed Highlights – Tuesday, August 23, 2022:
10:55 AM BBT – Feeds were down for an extended wake-up call. Taylor and Monte are talking about music in the Kitchen.

11:10 AM BBT – Monte tells Taylor that he doesn't see Terrance sending Alyssa to Jury if he has Kyle, Joseph, and Turner over there. Monte mentions that he thinks Terrance told Taylor that he (T) was going to backdoor Alyssa because it was what she (T) wanted to hear. Taylor agrees.

11:23 AM BBT – Feeds cut to "We'll Be Right Back."

12:49 PM BBT – Feeds return to the indoor crew talking in the HOH room.

12:52 PM BBT – HGs are talking about getting take-out burgers for dinner.

1:27 PM BBT – Taylor tells the others about when her Etsy was hacked and someone ordered $450 in crystals but forgot to change the address so they got sent to her.

1:30 PM BBT – All the houseguests are departing from the HOH room. Looks like they might have been locked down.

1:31 PM BBT – Taylor says that the outside people were inside. Says they must have locked them down so they could do maintenance outside.

1:45 PM BBT – Michael is telling Brittany how he had to reassure Monte that there isn't anything Jasmine could say that would make them want to keep her. Brittany is worried about Terrance staying in this game because no one is going to want to waste their HOH to get him out. Talks about how they were talked into keeping him safe twice now.

1:50 PM BBT – Brittany says she wishes she could shake her uneasy feeling.

2:55 PM BBT – All cameras are on Jasmine who is cooking and you can hear Monte working out.

3:00 PM BBT – HGs are ready to eat.

5:30 PM BBT – Feeds return after being out a bit.

5:50 PM BBT – Feeds are finally back for the outside group. Turner and Kyle are talking in the pool.

6:45 PM BBT – Turner confirms he's off the block. Alyssa says they may need to talk to him and he says "I'm off the block … I don't care." Alyssa says they were just complaining about the tarp (sounds like production covered the outside with tarp to try to prevent outside interference.

6:55 PM BBT – Joseph is pitching to Terrance to keep him this week. Joseph says he will promise Terrance everything he can and if it means he goes home next week, the so be it. Joseph says he isn't even going to say to trust him. He says he will have Turner there to follow him and make sure he does exactly what they want him to do. He says he won't tell them to trust him he will show them they can.

7:02 PM BBT – Joseph says to Terrance that if he saves his game he owes him everything. Terrance says to Joseph "I got you." Joseph says if Terrance gives him a second life he'll make sure he has one too.

7:08 PM BBT – Outside HGs complaining about the tarp covering them. Turner says bugs can't get out, there's no sky or sunset and they can't see the planes.

7:30 PM BBT – Joseph tells Terrance Alyssa said Kyle's betrayal about the alliance was worse than Joseph because they never talked the way she and Kyle did.

7:32 PM BBT – Joseph says that he's willing to go home for Terrance and Alyssa and he says that's something Kyle would never do. Joseph says his game is gone so he is willing to do anything, and repeats that is something Kyle wouldn't do. Joseph says Kyle is a self-preserving player which is why he immediately betrayed everyone he was working with. Joseph says the difference between him and Kyle is that money isn't everything to Joseph.

7:35 PM BBT – Joseph says that he'll just go home next over Terrance anyway, so he can be a shield basically.

7:37 PM BBT – Joseph tells Terrance he will never forgive Michael for what he did (it sounds like Michael told Terrance to target Joseph this week before they split up). He says Michael promised him he had his back.

7:40 PM BBT – Joseph says he was loyal to an alliance that didn't even pick him, so if Terrance, Alyssa and Turner actually chaos him he would be forever grateful and never break his word to them.

7:41 PM BBT – Terrance tells Joseph that if he can get Joseph to vote to keep him then he will keep him. Joseph says he will get Turner to keep him. Joseph says and he promises Terrance he doesn't care what Kyle says, Joseph will give Terrance a second life in the game.

8:00 PM BBT – Terrance says to Alyssa that it would be great if Monte is gone when they go back in the house. They both say they hope Jasmine is still there and think she might be because she has a "way with words."

8:01 PM BBT – Terrance says he thinks Michael should take that shot at Monte because the shot at Joseph is being taken outside. Terrance says if Alyssa or Kyle win HOH, Michael and Taylor need to have a seat. Alyssa says she would probably do Taylor and Monte. Terrance says well if Monte is gone, then it would be Michael and Taylor. Alyssa agrees.

8:02 PM BBT – Alyssa says they have to figure out a way to say they learned about the alliance (that wasn't from Kyle).

8:08 PM BBT – Alyssa says she's more fired up than ever and says Joseph's pitch to them was useless. Alyssa asks if Terrance thinks Joseph would really pick them over the people inside. Terrance says never.

8:10 PM BBT – Terrance says there's no reason for Joseph to have a one-on-one with him because he doesn't have a vote. He tells Alyssa they have a solid plan to get Joseph out. Alyssa says Joseph is trying to get in her head as well.

8:25 PM BBT – Joseph and Turner discuss Michael being very smart and Turner wonders why Michael would pair up with Brittany.

9:35 PM BBT – Kyle tells Alyssa he's concerned about what's going to happen when they go back inside. They both think the past few days have required a lot of effort.

9:50 PM BBT – Both inside and outside are playing board games.

10:10 PM BBT – Brittany and Taylor discuss ideas about telling Terrance some throwaway things when the sides reunite.

11:15 PM BBT – Joseph detailing to Turner, Kyle, and Alyssa how Taylor is working with Michael and Brittany. He says Taylor pitched him a F4 with them.

11:55 PM BBT – Turner hopes Jasmine survives the week so she can be a number for them. Kyle says he will nominate Monte and Taylor then BD Michael.

12:30 AM BBT – Monte talks with Brittany about what the outside may be doing. He's worried if they keep Alyssa and send out Joseph. Monte mentions to Brittany they would need Michael out but it's because of respect for how strong a competitor he is.

1:10 AM BBT – Indoor HGs all gathered in the HOH room and chatting about life back home.

2:25 AM BBT – Jasmine hanging out with Michael and Taylor. She's telling them she needs to work on her speech and really hopes she's still there after Thursday.

3:10 AM BBT – Taylor is up and camtalking about dates and how long she has been gone. (She believes it's been 61 days since she's been home.)

3:30 AM BBT – Indoor HGs are all to bed. No sign of the backyard.
Well that was a big day of Feeds and updates once the backyard cameras returned and we discovered that Joseph is very much still the target and the remaining outsiders are set to go back in, seemingly working together and angling to take down the remaining LOs.
You can watch all of these Big Brother events using the archives Flashback, the DVR-like feature of this year's Live Feeds which means it's always live, even when you missed it! Sign-up now to get the free trial to watch it all live & uncensored.


Gallery: Live Feeds Highlights
Download our Big Brother App, join us on Facebook & Twitter, and get our Email Updates for more!