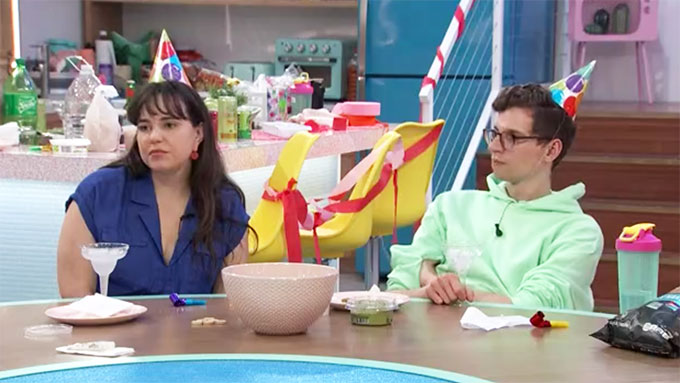 It was a very mild Sunday for the Big Brother 24 houseguests and us as we still only got to see what was going on inside the house and not how it's going for the group on the outside. With Jasmine as the target on the inside, and Monte as the pawn, there was just really no game talk going on. And with them having no idea what's going on outside, they can't even think about planning ahead. This twist hasn't made for very good Live Feeds to say the least.
If you've got the Live Feeds (Free Trial) then you can watch all of these moments with the Flashback feature to go back and watch those important conversations or funny scenes you may have missed.
Big Brother 24 Live Feed Highlights – Sunday, August 21, 2022:
10:15 AM BBT – Feeds return after 14+ hours of downtime. HGs getting their wake-up call.

10:35 AM BBT – Indoor HGs are putting their clothes into bags for laundry service (they can't go outside to the laundry machines).

11:55 AM BBT – Indoor HGs gathered in the kitchen. Monte mentions he could hear Joseph outside laughing.

12:32 PM BBT – Feeds are back down again for an extended period.

2:37 PM BBT – Feeds return, but still only on the inside houseguest.

3:10 PM BBT – Feeds cut and return again. Everyone is sitting around the table talking.

4:45 PM BBT – Jasmine says it's almost 5 and they haven't done anything (yes, we know). She says they're the boring festival.

4:52 PM BBT – The indoor HGs are talking about Nickelodeon shows they watched as kids.

6:00 PM BBT – The inside houseguests get party supplies – party hats, snacks and margaritas.

6:05 PM BBT – HGs are enjoying churros.

6:52 PM BBT – Taylor says they should all say one thing they miss about each person outside. Monte says he misses playing games with Kyle and Joseph's energy. Michael misses making burritos for Turner. Jasmine misses everything about Alyssa.

7:10 PM BBT – Everyone is talking about where they see themselves in the next five years. Monte wants to do a podcast. Michael says he'll be married to Hayden but isn't sure about career. Brittany says she wants to do something with her meditation and hopes she can have two kids. Jasmine says she hopes to have children as well and says she would like for her press-on nail business to take off and get involved in some acting or TV hosting.

8:12 PM BBT –  Taylor says the houseguest with the worst attitude this season was Daniel.

8:35 PM BBT – HGs had the camera and posed for a picture with sleeping-Brittany.

8:40 PM BBT – Indoor HGs in the kitchen and can hear the looping music outside. Monte wonders if it's some sort of punishment.

8:55 PM BBT – Houseguests are already preparing to go to bed. Still no idea what's going on with the outside houseguests.

9:10 PM BBT – Taylor is sitting alone on the stairs and whispering to herself. She's studying days and events.

9:20 PM BBT – Taylor says if she wants to win the game she needs a stronger record with two more HOHs and more Vetoes.

9:30 PM BBT – Taylor continues camtalking and says this is the week to start jury management. She wants to get Terrance out but hopes instead Joseph wins HOH next so he can do it.

11:00 PM BBT – Taylor has gone to bed and sleeping on Joseph's usual bed.

11:10 PM BBT – Brittany got up from her nap and briefly chats with Jasmine.

11:26 PM BBT – Feeds had a quick slip of the backyard. Alyssa is already off to bed and we see Kyle nearby.

11:30 PM BBT – HGs are back to bed.

1:20 AM BBT – Jasmine is back up and so is Michael. They're whispering to each other.

1:30 AM BBT – Michael is camtalking in the HOH room and doing his goodnight messages.
Definitely a quiet night as the outdoor Feeds continue to be blocked because of a potential wall-yeller. It's going to be a long week counting down to eviction night. It's as though production accelerated the game to the sleepy-Feeds stage of the game. Ah well. They'll be back soon and I expect some firey Feeds when they do.
You can watch all of these Big Brother events using the archives Flashback, the DVR-like feature of this year's Live Feeds which means it's always live, even when you missed it! Sign-up now to get the free trial to watch it all live & uncensored.

Download our Big Brother App and join us on Facebook & Twitter for more!