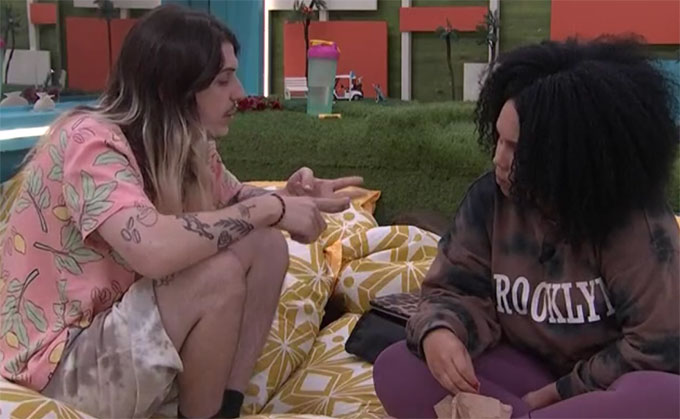 It's Big Brother 24 Eviction Eve, which means we will soon know who the first excited houseguest of the season is.
But with the Backstage Pass twist, we can't be so sure it will be either of the nominees. But we must keep going as if the two options right now are only Taylor and Terrance. And let's face it, if that's the case, there really aren't any votes to count. They're all going to go toward evicting Taylor.
This cast decided right away Taylor was the villain (for NO valid reason whatsoever) and that hasn't chanted. Taylor has made some strides since going up as the replacement nominee, and Michael and Brittany both agree they don't have a problem with Taylor, but they haven't done anything to try to help or save her. And with Head of Household Daniel going around saying if the vote is 9-0 (the backstage pass people can't vote so there are only 9 votes), then he will be happy and blah blah blah, it sounds like the house is going to just follow what the HOH wants. Which is always annoying, but that's how modern Big Brother tends to play out.
So as of now, the target is still on Taylor, and she hasn't gathered any votes. She will likely work harder tonight to see if she can stay, but with this twist looming, there's not much anyone wants to do or decide yet. That's why these twists almost always suck. Not only are the twists usually unfair, they also disrupt basic Big Brother gameplay, like campaigning. But here we are.
I expect the vote to be 9-0 with Taylor going, unless someone decides to put their game at risk and give her a sympathy vote. Or someone might try to frame Brittany or Michael with a rogue vote as well, as they are being looked at as next targets by some.
If the twist changes the nominations, then who knows what will happen. I think Taylor still won't get any votes to save her if Terrance comes down and Alyssa, Paloma or Brittany go up. But if Taylor comes down then things could get interesting with the vote count. But it's too hard to even figure out how that might play out.
Who do you think will be evicted from the Big Brother 24 house Thursday night? Let us know in our poll below.