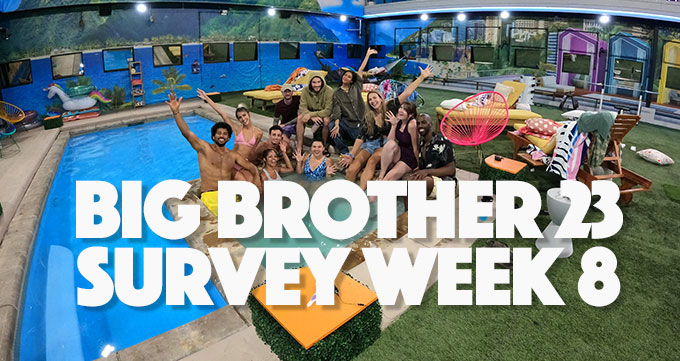 The Big Brother 23 Week 8 Survey results are in! And Derek X might be gone, but he is certainly not forgotten.
Once again, Derek X topped our favorite houseguest poll, by an overwhelming margin. This week Derek X finished with 48.9 percent. Tiffany finished second with 29.2 precent this week. Xavier came in third with 25.8 percent. Hannah and Claire rounded out the Top 5. At the other end of the poll were some of the evicted houseguests and Sarah Beth. For the second week, Britini and Christian beat out Sarah Beth in popularity. Evicting Derek X did nothing for her popularity (or her game for that matter).
As for the best player poll, with Derek X now out of the running in that one, Xavier holds onto the No. 1 spot for the second week in a row, and Tiffany keeps ahold of that second place spot. Xavier finished with 40.5 percent of the vote and Tiffany closed it down with 34.2 percent. That race is a tighter one between the Top 2, but the third spot, which is Hannah, is no where close with 10.2 percent. Kyland rounded out the Top 4, just edging out Claire.
And at the very bottom of the poll, which should be a surprise no one, is Sarah Beth. She got only 0.9 precent, even dropping lower than Azah's 1 percent finish.
As for how the season is going, it looks like the Big Brother 23 popularity is slipping just a bit as the average is now at 4 out of 5. Is that the Derek X eviction effect?
Be sure to check out the Big Brother 23 Popularity Poll Week 8 graphic below so you can see how everyone stacked up this week. Do you agree with the outcome? If not, who do you think should be in the top and bottom spots  of the survey this week?
Click to view larger