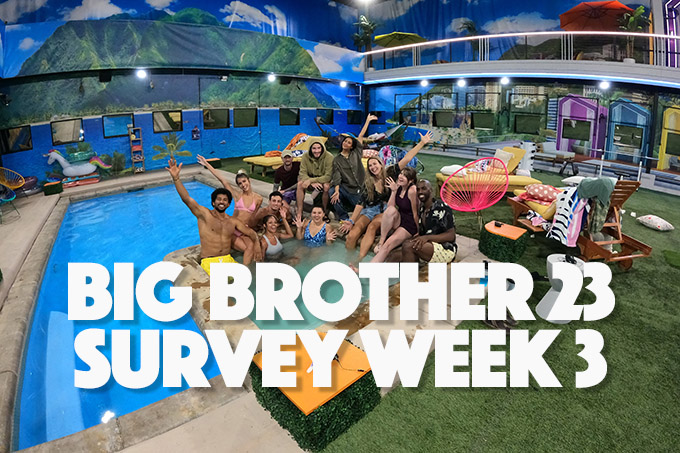 The Big Brother 23 Week 3 Survey results are in, and we've seen some changes. Nothing too major, but a new favorite houseguest has claimed the top spot.
In Week 3, it looks like Derek X has taken the title of Favorite Houseguest away from Tiffany. But Tiffany still holds tight onto the playing the best game title.
Derek X finished at the top of the heap with 53 precent of the vote. Tiffany slid to No. 2 with 42.8 of the vote. Right on her heels was Kyland with 42.5 percent. Xavier rounded out the Top 4 with 29.7 percent. At the opposite end of the poll were the two evicted houseguests, Travis and Frenchie. Travis finished with .7 percent while Frenchie closed out the poll with 1.6. Rounding out the bottom four were Brent with 2 percent of the vote and Whitney with 3.2
As I mentioned, Tiffany held a pretty commanding lead in the best player poll. She finished with 35.6 percent of the vote, followed by Derek X with 26.5. Kyland came in third with 12.8 percent. Sarah Beth just barely edged out for the next spot with 6 percent of the vote. Xavier finished with 5.9. At the bottom of the barrel was Brent with .2 percent of the vote. Britini fared only a bit better with .4 precent. Whitney and Christian round out the bottom 4 with .7 percent of the vote each.
It looks like fans continue to enjoy the season as well as the overall ranking of BB23 this week was again 4.8 out of 5.
As far as trends go, Tiffany was in the lead for both polls for a while, but then Derek X fans got a hold of the poll and snatched that favorite HG spot from her. And the most drastic drop this week was Azah. She fell quite a bit in popularity and gameplay ranking.
Big Brother 23 fans seem pretty consistent on their dislike of Brent, Whitney, Christian and Alyssa, as they continue to hold up the bottom of the polls each week. And while Britini isn't as low in the favorite poll, she is consistently low in who is playing the best game.
Be sure to check out the graphic below for the full rankings.
Click to view larger