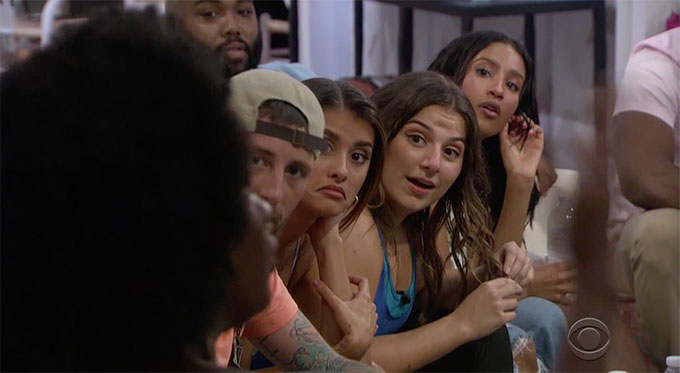 Big Brother 23 Week 1 is in the history books, and what a first week it was. I cannot remember a more insane Big Brother Week 1. So let's commemorate that wacky week with a look back and the best and most moments.
Best Moments of Big Brother 23 Week 1
The way the teams were picked. I really liked that the team pick wasn't exactly the classic schoolyard cruelty. I loved that the slot machine pulled out two people for each person to choose from. That made it much more fair. And it resulted in Travis getting picked last, so that was pretty funny.
Frenchie's HOH. OK, so it got a little too wild and a lot too cringe (see worst moments below), but at first, Frenchie was the ideal HOH. He wanted to target "meatheads" and showmances, which are both things I, and a lot of other fans, do not like. But then he started waffling and made 100 alliances and created so much drama, that this was probably the best fist week of Live Feeds that I've ever witnessed. And I don't think it would have been as fun had he not been HOH.
The Cookout Alliance. It was so refreshing to see The Cookout alliance form. It's hard to believe that this is the first time in the shows 23 seasons that that kind of alliance was even possible. I'm glad CBS is finally trying to make things right, but it's still way too late. Here's to hoping that alliance can stick together and make some moves.
The Women's Alliance. I'm not talking about the crazy one Frenchie formed. I'm talking about the one that formed before Frenchie's really bad idea. I don't really expect the alliance to actually work, but I do hope at least Claire, Tiffany and Azah can look out for each other. I love how strong the women are this season.
Kyland and Sarah Beth. I really wasn't expecting an alliance with those two, but what they struck up reminds me of a good old-fashioned BB secret duo. Think Danielle and Jason. I'm not ready to compare them to those two just yet, but I love the idea of it. This cast gives me old to middle school BB vibes anyway, so seeing stuff like this happen organically makes me happy.
Derek X Wins The Veto. It Was so funny to watch every plan Frenchie had slip out of his grasp. So when Derek X won the Power of Veto, squashing Frenchie's plan to target him instead of Alyssa, it was just too good.
Derek X Saves Kyland. I was really worried something awful would happen and Kyland would go home first over a really stupid idea that Frenchie had. So I'm very happy that Derek X actually saved him.
Travis is nominated and evicted. I don't think Travis was all that bad, but anytime a surfer dude or jock goes out early, is good in my book. I hate when the bros steam roll the game, so one less bro out the door this early is definitely something I'm not going to complain about.
The Live HOH. I know that the HOH competition officially starts Week 2, but I'm glad we got to see it happen and I was happy that Kyland won. I wish someone not in the Slaughterhouse had won, but there were definitely worse options.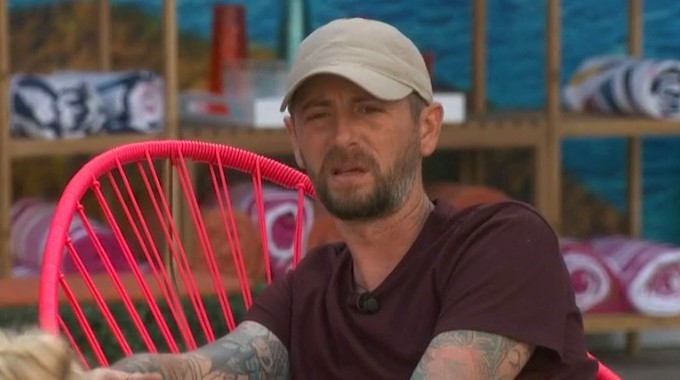 The Worst Moments of Big Brother 23 Week 1
Frenchie's HOH. As I said above, it was enjoyable for part of the week, but then it just got really irritating and hard to watch.
Frenchie asking Tiffany to throw a rogue vote. I really hate that Frenchie went to Tiffany with this request. He really put her on the spot and now that Derek F also threw out a hinky vote, I fear that Frenchie will expose Tiffany and wreck her game.
Alyssa and Whitney. They didn't show this on the episodes, but if you watch the Live Feeds then you probably saw Alyssa and Whitney being the typical mean girls who want to devote their entire game to helping the men and hurting the other women. Both were left out of the women's alliance (for good reason) and both trashed the thought of one when they heard about the one Frenchie started. Which leads me to my next awful moment.
Frenchie blaming the women on the alliance he started. Even though the stupid women+Frenchie alliance was his idea, he told Brent that the women approached him for it. What an awful thing to do. I mean, game wise, it might seem like a good idea, but it is just one more lie he can be caught in, so I don't think it was good game wise.
I probably could have just had Frenchie as one all encompassing worst moment, but I thought I would spread the wealth. I can't believe I only have four worst moments. Last season all I had were worst moments. Here's to hoping Big Brother 23 continues to be enjoyable.