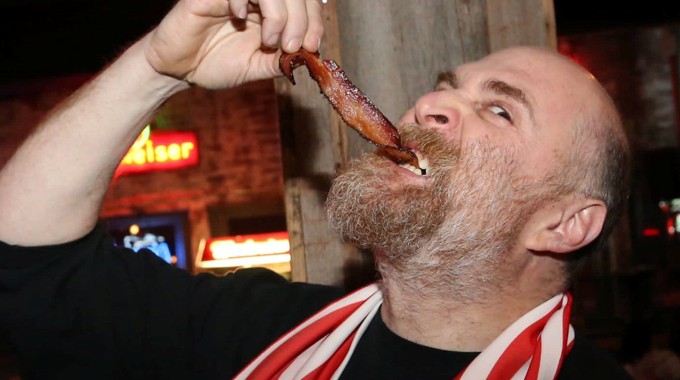 Hello everybody!! Big Brother is back with BB23 – and that means another season of my Bacon / Tofu rankings is also returning for my 8th season here on Big Brother Network. First off – thank you Matt for keeping this site going all of these years – and for continuing to ask me to be a part of it. As a BB Alumni & BB Superfan – I would be talking about this show all summer anyway, so it's nice to share my perspective in a unique way with the best of all foods (Bacon) and the worst of all foods (Tofu). For those new readers – it's simple – the more bacon you get, the better you played that week, the more tofu you get, and if you are the worst player you become the Tofurkey of the Week.
From the CBS bios we see a lot of the Big Brother 23 players fawning over Dan's funeral and Derrick & the Hitmen. Will any of the Houseguests become BB legends? We'll soon find out. But first…. let's get to my preseason rankings!!!
Alyssa Lopez – 2 strips of Bacon – right out of the gate, she wants to try to win that first HoH – and I can tell she has a competitive nature. She also seems to be someone who cannot hold their tongue, so expect some fireworks out of this girl. She'll rope in some people – and will be in a showmance without a doubt. However, all of these attributes will eventually lead to her downfall. If she can get a few wins early, or at least align with others that do, she will be mid-jury.
Azah Awasum – 1 strip of Tofu – unlike Alyssa, Azah wants nothing to do with showmances other than possibly target them. She does want to team up with one person – but at the same time get others to think she is with them. This can be a little dangerous if she tries to do too much too early. If she can keep her mouth closed and ears open – she can get pretty far. But I do not see that happening – a prejury boot but not the first out.
Brent Champagne- 2 strips of Bacon – here's our first bro of the cast. There is a fine line between cocky & confident – and Brent totally straddles that line. His game will be defined week 1 depending on the team he ends up on, and the girl(s) he tries to get in with, Will he be charming or annoying or both? He should make it to jury – not sure he'll have enough to take it to the end but will go down swinging.
Britini D'Angelo – 2 strips of Tofu – my biggest fear for Britini is the fact that she has lived her whole life in the same area. From her bio – it shows she is from Niagara Falls, lives in Niagara Falls, and went to Niagara University. When coming into an environment like the BB house – being able to link some commonalities with everyone is the strongest way to form connections. Her bio also gives me the impression that she loves to talk about herself, a lot. That will always rub people the wrong way.I hope I am wrong, but I see her as an early pre-jury boot.
Claire Rehfuss – 2 strips of Bacon – we had a last-minute switch with Christie out and Super-duper fan Claire in. We are losing a more competitive player for a more strategic player, so it is curious how this will change the house dynamic. Either way, Claire will do the opposite of most superfans, instead of laying low early and playing the long game, she will try to play too hard too fast and this spells doom. Like I said in my prediction for Frenchie – I am Team Superfan – and I am rooting for Claire – which is the only reason she got bacon. Nonetheless, sadly she will probably be hanging out at alumni events while the season is still going on. (I really really hope I am wrong)
Christian Birkenberger – 3 strips of Bacon – Christian reminds me of a combo of Zach Rance & Tyler. He comes off a little goofy, someone who just wants to have fun (a la Zach) and also tries to use his appearance & charisma to try and appear clueless (a la Tyler's early game). In a big group setting, you need some comic relief early on to break the awkwardness during the "getting to know you" phase of the game. By doing so – Christian will get in good with several people. I see a Top 6 in his future. (did anyone else notice in the bio – when he said he loved Jeff using the Coup d'Etat to get rid of Jessica not Jessie? Was that a type-o from the CBS intern, or was that a dig against Mr. Pectacular)
I cannot wait for them to figure out nicknames for the next 2 HGs
Derek Frazier – 4 strips of Bacon – all I know is if he gets voted out and Julie when reading the votes does not say "DOWN GOES FRAZIER" then I am done with this show forever. The son of a professional athlete, especially one of the legends in Boxing, I am hoping Derek F is a humble individual – and can see him becoming one of the early team captains. People will come to him and how he can take that information and process it for his own good will be what gets him far. I see a top 4 finish with the possibility of final 2.
Derek Xiao – 3 strips of Tofu – most seasons there is someone who by no fault of their own, just does not click with others. Derek X unfortunately is that guy this year. The team dynamic will hurt him most as he will be seen as an easy sacrifice. His biggest downfall is the fact that he is logical. Yes, that is a great trait to have in the real world – but not in the BB House. Logic stays outside those walls so unless he can figure out how to adapt quickly – or possibly get some early power – then I see an early exit.
Frenchie – 4 strips of Bacon – he's one of us so I will give him the benefit of a doubt, and I will root for him until he does something to make me not. I am always Team Superfans – and Frenchie checks off all of the boxes. Hopefully, he knows about this column and will do his best to earn bacon every week. Sadly – as a superfan he knows the game is long, and you cannot come out of the barn swinging, so he'll probably try to lay low. In a leaked message he said he would go after the jocks, but I guarantee he teams up with them as meat shields. That said – I am pretty sure he will make jury and if some of the bigger players keep knocking each other out – he can make top 6.
Hannah Chaddha – 2 strips of Tofu – for a 21 year old, Hannah has all the confidence of someone older, but similar to Brent, she could come off a little cocky too. She'll bring some excitement early as I am predicting her to be the first person to get into an argument, With who and over what, not so sure – but I think she'll have at least 1 negative thing said about her in the DR in the first week. Also very likely to get into a Showmance – so that will be the easy reason to kick her out in the first few weeks.
Kyland Young – 3 strips of Bacon – Kyland gives off that "nice guy" vibe from his Bio & the Instagram story. I'm sure his smile can charm a room – so look for him to use that to his advantage. With so many other athletic guys (or guys who think they are athletic) – I do not think he'll be seen as a threat or an annoyance. He'll be an asset to those he is working with and should be able to win a few comps especially if his safety is in jeopardy. Kyland will get knocked out when the rest of them start to realize they wont be able to beat him in the end right around top 6.
Sarah Steagall – 4 strips of Bacon – the "nerdy girl" role has replaced the "nerdy guy" role as a Big Brother usual HG – and Sarah fills the shoes that Nicole Anthonly left behind the last 2 seasons. She'll be the female counterpart to Christian and those 2 could team up (or shack up) and make for a ton of laughs. It's refreshing to see someone who is that self aware and that game aware to know that she'll need to float early to get to a point where she can win out. That was the exact strategy I used (get to F6 & win out) – and it nearly worked. Watch her either go home week 1 or make it to top 5.
Tiffany Mitchell – 2 strips of Bacon – just like the nerdy role – BB often has the "mother" role – and despite Tiffany not wanting to be that character, no doubt she will fall into it naturally. But this strategy should work very well for her as several of these HGs will be so self absorbed, they will not see her as a threat. If she can in fact follow her own advice and keep her mouth shut early – she is a lock for jury. Unfortunately she will find herself as the odd woman out as they get closer to the end, but she will release all of the info she absorbs before she leaves, and that could be some good TV.
Travis Long – 3 strips of Tofu – another bro on the cast. It's clear that anyone who loved Brett & Winston will probably be just as "bro-y" I just cannot see any path for him to make it past the first few weeks. He may have to win a couple of Vetos early to keep himself safe, and if he becomes the early villain – then look for a twist to fall his way. Another self proclaimed prankster – but he will not have the savvy or charm to pull it off like Christian or Sarah. Watch me be totally off base – and Travis to go on to win America's Favorite.
Whitney Williams – 1 strip of Bacon – Whitney has an energetic personality that could get a little stifled inside the walls of the BB house. She understands that she cannot come up with a strategy until she meets and gets to know each of her HGs. She'll try to use her athletic ability to form & strengthen her bonds. If she does not overdo it and does not rub people the wrong way early – she could make it pretty far. But I see a "Real Housewives" vibe from her that will be the reason she is out pre-jury.
Xavier Prather – 2 strips of Tofu – this one is tough because of all of the people in the cast – Xavier looks the most sincere and probably a great guy. However – I see him being seen as a threat right from the start. He's the triple threat of brains, brawn, and personality that will scare the other players. I hope I am wrong about this as he has all the skills to win it all and be the BB legend from this season. However, this is Big Brother and that usually is not the case.
Whew… ok, that's what I think of this cast. What do you think of them, and what do you think of my predictions? Who do you think will win, who do you think will be first out, who is excited that BIG BROTHER IS BACK??? Let me know in the comments section below. Get your popcorn, or watermelon, or cereal, or whatever you like to snack on – because this is gonna be an exciting season.
From outside the Big Brother house – this is Adam Poch enjoy the season!
Catch me here every week during the BB season for my rankings. If you want more of my thoughts during the season. follow me on Twitter @HeavyMetalTeddy – and listen to my Podcast – @BigBrothersPod.