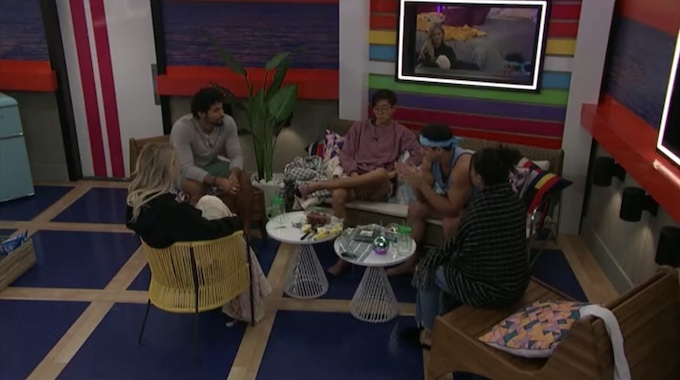 Week 2 of Big Brother 23 is officially underway! The Wildcard Comp has been played in the Big Brother house and the new Head of Household has started their one on one conversations. Nominations are coming up and we know who could be in danger this week on Big Brother. Read on to find out!
The Wildcard Competition this week didn't grant safety to anyone after Sarah Beth won the comp and then turned down the safety to stay with her team. Therefore the only HGs that are safe this week are Kyland, Tiffany, and Claire and anyone else in the house could end up on the block.
During Kyland's one-on-one conversations, Sarah Beth tells him that Frenchie blew up the Slaughterhouse alliance to her. After that, Whitney tells Kyland that Frenchie flipped out and pointed at Whitney and told her "I'm out" as part of their alliance in front of people not in their alliance. Kyland asks her if she feels that someone like that is more of a benefit or a detriment. She tells him a detriment because he is so unpredictable.
Alyssa gets her shot to talk to Kyland and she tells him about Frenchie pulling her aside after the vote and Frenchie told her Derek F and someone who wanted to stay anonymous. Alyssa thought that was sketchy. She also reiterated the story Whitney told him about Frenchie almost blowing up the alliance.
Kyland asked Christian if he thinks that it would be a better idea to let the mastermind of the rogue votes (Frenchie) play in the veto or not. Christian says that he should let him play and Kyland agreed with him. During his one-on-one with Xavier, Kyland tells him that he is planning to nominate Frenchie and Britini at today's Nomination Ceremony. This came after they talked about whether Kyland should give him the opportunity to play in the POV and Xavier said that if he doesn't, things could blow up later.
What do you think of Kyland's choice to let Frenchie play in the Power of Veto? Make sure you come back later for confirmation on this week's Nominations!
Download our Big Brother App, join us on Facebook & Twitter, and get our Email Updates for more!