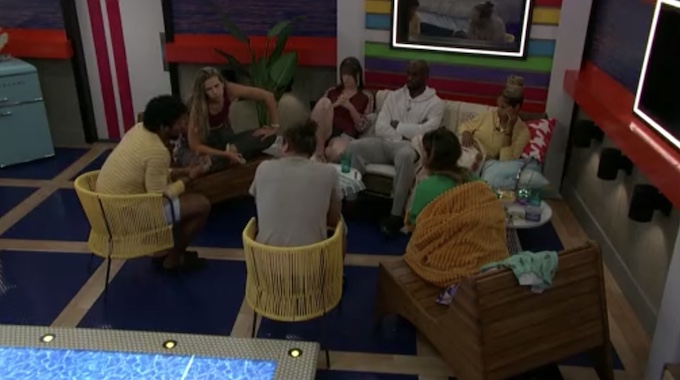 Wednesday night on the Big Brother live feeds, we watched as two new alliances formed inside the Big Brother 23 house. We watched as The Royal Family (aka Royal Flush) and the Mafia form with one team at the center of both. Read on to find out who is in which Big Brother alliance right here and which one might not be the real deal.
I don't think I have ever watched a season of Big Brother with more alliances than BB23. The first one I want to talk about because it seems like the one that might make it past next week is, the Kings and Queens, which called themselves The Royal Family before renaming it to Royal Flush. The Kings and Queens have been talking about working together since the beginning of Kyland's HOH reign. They also talked about bringing Derek X into the alliance.
Everyone except Derek X met in the HOH room and talked about how each of them felt about working together. Tiffany said that she felt that with the other two teams seemingly working together last week, she felt that there would be an advantage to them all working together. Alyssa mentions that with Frenchie's meltdown, there is no way that those teams are working together and Xavier said that even if they are, there are some major cracks in it.
They all talked for a little while and agreed that if someone from either team wins HOH next week, they would meet with the Jokers and Aces first and then share information with each other. Tiffany reiterated that it was very important that they should stick together but gather information separately. Sarah Beth tells them that she does get a lot of information that she has shared with them all already so she feels that continuing to do so is a good idea.
During this conversation, Kyland mentions that the Aces approached them (the Queens) about working with them and even pushed an alliance name. He does say that they weren't prepared for that at all but he felt that he needed to be completely transparent. Alyssa tells them that some of their team have also approached them. Tiffany says that they should continue to let the Aces think that they are all working together, continue to collect information from them, and see how things go from there.
The Queens and Aces formed an alliance called the Mafia earlier in the day on Wednesday also. The twist on this one is, it's a fake alliance and the Queens have no intentions of working with them long-term. The Aces don't know that.
How long until the Aces catch on to the fact that their Mafia alliance with the Queens is fake? Do you think that this alliance is going to come back and bite the Queens?
Download our Big Brother App, join us on Facebook & Twitter, and get our Email Updates for more!