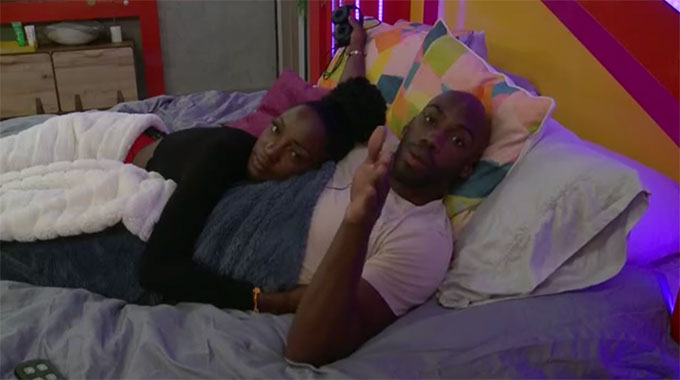 The Big Brother 23 Live Feeds returned a little early Thursday night, and it didn't take us long to figure out who the new Head of Household is. The Final 4 spent the evening studying for upcoming competitions, and thinking about Final 4 veto scenarios. It sounds like Derek may have prematurely tried to prepare Azah for when she gets cut at Final 4, so now he's worried she'll win Veto and cut him instead. Yeah, Big D, you probably should have waited to have that conversation with Azah.
Try Live Feeds 1 Week Free! Sign-up now!
If you've got the Live Feeds (Free Trial) then you can watch all of these moments with the Flashback feature to go back and watch those important conversations or funny scenes you may have missed.
Big Brother 23 Live Feed Highlights – Thursday, September 16, 2021:
7:04 PM BBT – Feeds return after being down since early Wednesday. Kyland and Derek are talking in the kitchen. Azah is in the bedroom and Xavier is in the HOH room. Must mean Xavier is the Final 4 HOH.

7:06 PM BBT – Derek says something about if Azah wins veto she isn't taking him to Final 3.

7:37 PM BBT – Xavier is studying in the HOH room.

7:41 PM BBT – Kyland and Derek are preparing food and studying days.

7:51 PM BBT – Azah decides to join Xavier in the HOH room. They discuss what future comps could be coming up.

8:20 PM BBT – Derek is doing dishes.

8:35 PM BBT – Derek, talking to himself, says he is this close to Final 3. He says he deserves a spot at the end and definitely deserves a spot in the Final 3.

8:37 PM BBT – Derek says after 72 days, he just now realized the shark hanging in the living room moves.

8:38 PM BBT – Xavier is having a playful argument with one of the cameras in the HOH room.

8:46 PM BBT – Derek tells Azah that he doesn't know what he's going to do if he wins veto. He says he doesn't know if he's going to take Kyland or not.

8:50 PM BBT – Derek tells Xavier and Kyland that Azah is pissed at him. Derek told her that he has deals with Xavier and Kyland, but then tried to backtrack and say they were just lookout for each other deals. So now Derek thinks if Azah wins veto, she will take Kyland over him. Xavier says he doesn't think she'd cut Derek.

8:55 PM BBT – Derek says he shot himself in the foot with Azah. He says he told Azah that he took both the deals that Xavier and Kyland offered them. Then he told her about the deal he had with Kyland from Week 2 where they agreed to never vote each other out. Azah then asked him if that means he has a final 3 with Xavier and Kyland. Derek said he told her no. But Azah has been acting suspicious.

8:58 PM BBT – Derek tells Xavier that he told Azah he doesn't know exactly what he was going to do. He says Azah told him she has planned to go to the end with him all along. Derek says it was just an awkward conversation.

8:59 PM BBT – Xavier tells Derek to just drop it and not talk about it anymore because the more he talks about it, the more damage he will do. Xavier says sometimes, talking too much game can backfire.

9:00 PM BBT – Derek is just really worried that now Azah won't take him to Final 3 if she wins the veto.

9:15 PM BBT – Derek continues to worry about what Azah might do if she wins the Veto. Xavier assures Derek that Azah will her word that she'll keep him (D).

9:25 PM BBT – Azah came back from the DR and sings about being on the Block again. Xavier points out it's actually her first time.

10:15 PM BBT – Late night dinner cooking continues with DF preparing and HGs wandering. Azah is looking at her pictures from her brief HOH time.

11:20 PM BBT – Kyland joins Xavier upstairs. He congratulates X on winning HOH and wants to make sure X knew that he was happy that he won this HOH. Kyland is excited for them to have made the F3 with X's win here.

11:25 PM BBT – Derek is taking his turn with Xavier upstairs after Kyland left. DF is complaining about Azah being emotional. DF also complains to X that Kyland is playing both sides and he doesn't like it.

12:10 AM BBT – Kyland and DF talking in the storage. Kyland wants DF to know he doesn't have any negative feelings towards DF. He worries that DF might win the Veto and then keep Azah over Kyland.

12:15 AM BBT – Lights out for Xavier upstairs.

1:05 AM BBT – Azah tells DF she felt disrespected during her HOH because Kyland used the Veto without even talking to her about it.

1:15 AM BBT – Azah says Kyland made a mistake at F6 (evicting Tiffany). She tells DF if they get to F3 together it will be because of loyalty.

1:25 AM BBT – Lights out for the HGs.
Veto is usually on Saturday but the HGs keep talking about the Veto tomorrow (Friday). Not sure if production told them they'd keep things moving at the usual pace even though they're now off a day or not. Either way, this Veto will decide who gets to be the last regular vote and then we can start speculating over who will be heading out the door at F4.
You can watch all of these Big Brother events using the archives Flashback, the DVR-like feature of this year's Live Feeds which means it's always live, even when you missed it! Sign-up now to get the free trial to watch it all live & uncensored.


Gallery: Live Feeds Highlights
Download our Big Brother App, join us on Facebook & Twitter, and get our Email Updates for more!