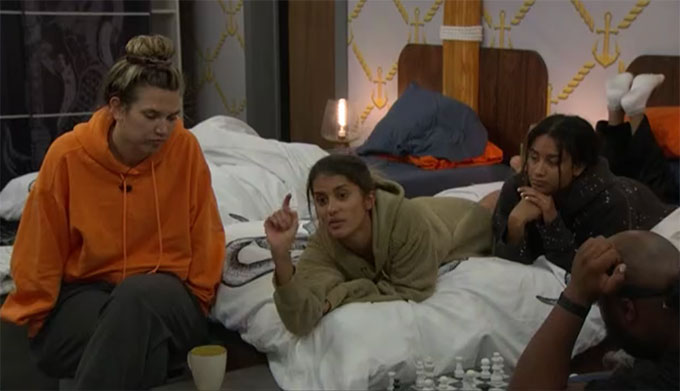 It's officially Week 9 in the Big Brother 23 house, and the new Head of Household already has her nominations lined up. And not everyone is happy with how this HOH competition played out. Read on to find out who will likely be going up, and if the new HOH should have avoided this win.
Try Live Feeds 1 Week Free! Sign-up now!
If you've got the Live Feeds (Free Trial) then you can watch all of these moments with the Flashback feature to go back and watch those important conversations or funny scenes you may have missed.
Big Brother 23 Live Feed Highlights – Thursday, September 2, 2021:
6:48 PM BBT – Feeds return after the HOH competition. Tiffany is the new HOH.

6:54 PM BBT – Tiffany tells Xavier that she told Azah when it was the two of them and Kyland she would have dropped and given it to her after Kyland dropped. But Kyland didn't drop. She says when Azah fell, she said she decided to go for it. She says she didn't want Kyland having a third HOH. Xavier says he just thinks him and Tiffany are in a position where it wasn't beneficial for them to win.

6:55 PM BBT – Xavier says to Tiffany that she can't nominate Claire and says she's also good with Alyssa. Tiffany says she made a deal with Alyssa last week but not this week. Tiffany says if worst comes to worst, she will have to put up Claire. She says no way she is putting up one of the Cookout members to go home when Claire is still there.

6:58 PM BBT – Derek is upset he was out of the comp so early. He tells Azah he's just so defeated.

6:59 PM BBT – Alyssa tells Xavier that she thinks Tiffany will nominate them. Alyssa says their deal was only for one week so she can put her up. She says she thinks it'll be the two of them on the block and if one comes down, Kyland goes up and out.

7:03 PM BBT – Alyssa is really upset she's a have-not again. She says she gets too skinny on slop.

7:05 PM BBT – Azah lets Derek know she was not happy that Kyland didn't throw the HOH again. She says when it was down to Kyland and Tiffany she was praying that Tiffany would win.

7:06 PM BBT – Alyssa tells Xavier she is tried of worrying and being stressed. She says she doesn't even care if she goes on the block. She says she is over it.

7:30 PM BBT – Derek is still bummed about the competition. He says he's just tired and checked out and says it's unfair to him that the comps aren't designed in his favor. Derek then talks about being annoyed with Kyland. He says he's going to just stay away from Kyland.

7:50 PM BBT – Tiffany and Kyland talk about the competition. Tiffany expresses her annoyance with him staying up there trying to beat her. He says he didn't hear her tell him she wanted it.

8:10 PM BBT – Tiffany tells Hannah that she fully planned to give the HOH to Azah if Kyland fell, but he didn't fall so she said she's going to get her whole HOH this time.

8:20 PM BBT – Derek mentions Tiffany not being the secret HOH since she won HOH this week. Alyssa says it was Claire and she figured that out because of how many times Claire was called to the Diary Room this week.

8:38 PM BBT – Tiffany tells Hannah that if Claire happens to win that Final 7 HOH, the two of them and Azah will be safe. She says and so be it, because the men are looking out for themselves.

8:39 PM BBT – Tiffany says the men can't say they're carrying the women any longer. Hannah says Tiffany has as many HOH wins as Kyland, and she has as many veto wins as Xavier. Tiffany says exactly.

8:51 PM BBT – Azah telling Derek she's annoyed Kyland didn't throw the HOH to her again. She says Kyland knew if he dropped that Tiffany would have dropped right after. She says he waned to win.

8:52 PM BBT – Azah says he did this three weeks ago so she knows why Tiffany had to win. She said Kyland could've ended up nominated Tiffany and Xavier. Derek says or "me."

8:56 PM BBT – Xavier expressing his annoyance with Tiffany to Azah. He says if everyone is going to play for themselves, then why is he throwing comps. Azah says she believes Tiffany when she says she would have dropped after Kyland. Xavier says it just seems that Kyland and Tiffany put themselves first any chance they get. Xavier says now he has to be on the block a third week in a row.

9:04 PM BBT – Azah says to herself that at the end of the day Tiffany pulled a Kyland, but she's not mad because Tiffany is watching out for her.

9:06 PM BBT – Tiffany talking to the cameras says everyone is mopey and asks if they'd rather Kyland have won. She says she knows Xavier wanted Kyland to win because he wants Alyssa to stay. She says, well she wants Claire to stay. She says as long as Alyssa doesn't win veto Claire will be here one more week.

9:30 PM BBT – Xavier has moved his bash his alliance party on to Derek. He says he knew they had to watch out for Kyland but didn't know they had to watch out for Tiffany too.

9:31 PM BBT – Xavier says if Tiffany puts up Alyssa and Kyland and he wins veto, he'll pull Alyssa off the block. He says Tiffany wasn't supposed to win.

9:35 PM BBT – Derek tells Xavier that Tiffany was obviously paranoid about Kyland winning. He says the girls also want Alyssa out because Azah feels like she can beat Claire next week. Derek says he believes she can too. Derek says if X wants to take Alyssa off the block with veto he should tell Tiffany about it. Xavier says he's not telling her that because she didn't tell him she was winning HOH.

9:46 PM BBT – Tiffany again explains to Xavier that she was going to drop for Azah until Kyland didn't drop first.

9:48 PM BBT – Xaiver says to Tiffany he thought that the idea was for Claire to go this week. Tiffany said she was always 50/50 on Claire or Alyssa going this week. Tiffany says Alyssa is stronger than Claire. She says if Claire makes it to the seven they should all be able to beat her. Xavier asks what if they don't. Tiffany says then that's no different than if Alyssa would beat them. But they have a better shot beating Claire.

9:50 PM BBT – Xavier tells Tiffany that Alyssa is easier to control. He says if she were to win he could get her to not look at Hannah and Tiffany, but if Claire wins, he doesn't think Tiffany could get her to not look at Kyland and himself. Tiffany says she can convince Claire to do whatever she needs her to do. She tells Xavier that Claire trusts him more than she trusts Kyland.

9:52 PM BBT – Tiffany tells Xaiver if Claire wins that Top 7 HOH she won't let her send him home.

9:53 PM BBT – Tiffany says she doesn't want to put Xavier on the block and would rather do Alyssa and Kyland. But she says Alyssa would expect him to use the veto on her. He says he just wouldn't win the veto. Tiffany says she wants him to win veto, but after she puts him and Alyssa on the block. She says win veto and pull himself off then she will put Kyland up or Derek. Xavier says they can do that.

9:55 PM BBT – Xavier says she could renom with Kyland if she wants to flip things. Tiffany says no, she wants the Six to get to F6.

10:00 PM BBT – Xavier tells Tiffany this will be the third week he's up. He says he's fine doing that, but when he feels others put their own self-interest first, he gets annoyed by that. Tiffany says she understands. She says she hopes things go plan this week and she doesn't have to nominate Claire, but if it comes down to that she will just have to do it.

10:01 PM BBT – Tiffany says she doesn't want Xaiver on the block come Thursday, so if she wins veto, she will pull him off. Xavier says they'll figure it out and gives her the OK to put him and Alyssa on the block.

10:15 PM BBT – Kyland and Xavier discuss that Claire needs to be the next to go. Kyland points out that only Tiffany can't play next so as long as Claire doesn't win HOH then they can go for her.

10:20 PM BBT – Xavier tells Tiffany that Alyssa expects to go up and is prepared, but he isn't going to confirm that to her.

10:55 PM BBT – Kyland and Tiffany discuss their odds are better going forward with Claire than the more competitive Alyssa. They think Alyssa would have put the two of them up.

11:35 PM BBT – DF says he feels like Victoria Part 2. He wants to be the one to make decisions for a change.

11:45 PM BBT – Claire talks with Hannah about this week's target options. Hannah trying to convince Claire that it makes sense to go after Alyssa because she (A) is targeting Claire and Tiffany.

12:10 AM BBT – Tiffany gets her HOH room and HGs head upstairs.

12:35 AM BBT – Xavier is frustrated and says he would have stayed up longer if he knew Tiffany would win it again and nominate him. (He expected it to be thrown to Azah.) He knows it has to be him and Alyssa this week but he's upset at being on the Block for three weeks. (Britini says Hi!)

12:45 AM BBT – Xavier says he'll be tempted to throw the Veto to Alyssa to force Tiffany to renom Claire instead.

1:30 AM BBT – Azah tells DF that Tiffany said she didn't trust Kyland and Azah saw how Kyland wouldn't drop in the comp.

1:35 AM BBT – DF says it's not fair that Tiffany doesn't have to go up this week against Claire.

1:35 AM BBT – Kyland tells Hannah that he couldn't hear Tiffany about her wanting him to drop (he was in the immediate next spot to her).

1:40 AM BBT – Hannah relays that Claire noticed how everyone started dropping fast as soon as she dropped.

2:20 AM BBT – Xavier talks with Azah that he knows it'll be him and Alyssa going up because if it was Kyland and Alyssa then Xavier won Veto he'd have to save Alyssa and force a Claire renom.

2:25 AM BBT – Tiffany tells Hannah that Kyland is trying to get a F2 set up with her (H). Tiffany says her only true F2 is with Hannah.

2:30 AM BBT – Hannah says she will fight hard for Veto or get it thrown to Claire.

2:35 AM BBT – Tiffany is frustrated that Kyland didn't fall when it was them two with Azah because then she would have dropped too so Azah would have HOH.

3:30 AM BBT – Kyland is camtalking that their Six are all playing for something big to get them to the end and he hopes their +1s understand. He feels bad about Sarah but says he brought her as far as he could. He says he misses Sarah and cares about her as a friend.

3:50 AM BBT – Kyland wraps up and heads to bed. Lights out for the HGs.
We're seeing the stress again in the foundation of The Cookout, but don't expect for it to break this week. The Six has their plan to get Alyssa out this round and if things don't go well then Claire will be up in her spot. Noms are coming up on Friday and Veto (with Zingbot) on Saturday.
You can watch all of these Big Brother events using the archives Flashback, the DVR-like feature of this year's Live Feeds which means it's always live, even when you missed it! Sign-up now to get the free trial to watch it all live & uncensored.


Gallery: Live Feeds Highlights
Download our Big Brother App, join us on Facebook & Twitter, and get our Email Updates for more!