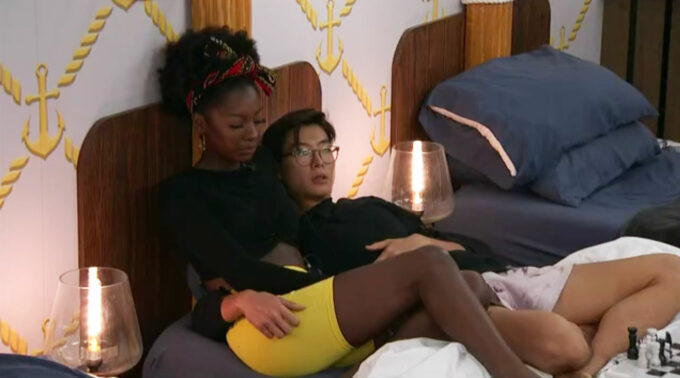 Despite the writing on the Big Brother 23 walls, Derek X made some strong pitches to his fellow houseguests Tuesday evening, even completely changing Azah's mind on the vote this week. But is there a chance he can chance any more minds before Thursday's vote? He's sure going to give it a try.
Try Live Feeds 1 Week Free! Sign-up now!
If you've got the Live Feeds (Free Trial) then you can watch all of these moments with the Flashback feature to go back and watch those important conversations or funny scenes you may have missed.
Big Brother 23 Live Feed Highlights – Tuesday, August 24, 2021:
3:06 PM BBT – Kyland tells Claire the vote this week should be 6-1, or at least 5-2 with her staying.

3:26 PM BBT – Claire asks Hannah what she's thinking. Hannah says it's a weird position to be in and she has no idea what to think about the vote.

3:38 PM BBT – DX making a pitch to Azah. He says if he stays this week and wins that anon HOH, he would put up Sarah Beth and Kyland.

3:45 PM BBT – DX says to Azah that he knows he can't win this season. He says he wants to help her, Tiffany, Hannah and Claire go farther in the game.

3:52 PM BBT – Derek X says he feels stupid because America sent him those BB Bucks wanting him to play the roulette wheel and he feels like he let them down.

4:05 PM BBT – Azah tells Derek X that she has a lot to think about after his pitch. She says he was extremely convincing. Azah tells DX to wait and talk to Derek F on Wednesday. She says she'll talk to him about DX staying too.

4:08 PM BBT – After DX leaves, Azah looks at the camera and says 30 minutes ago she was so sure about DX going but now she's confused after he brought up a lot of good points.

4:10 PM BBT – Azah says to the cameras that she has a bone to pick with us. She asks why we aren't giving her the BB Bucks. She says if we think of her on the same level as SB and Kyland then there's a problem with this picture.

4:16 PM BBT – Azah goes over the pros of DX staying. She says if he stays, that's somebody to go after Alyssa and SB. She says that's someone other than her or the CO that can get the blood on their hands. She says she has a lot of thinking to do now.

4:20 PM BBT – Claire making her pitch to Xavier to stay. She then turns the talk to them working together. He asks her if she could see herself working with Alyssa as well. She says she thinks she could work with Alyssa.

4:35 PM BBT – Xavier tells Claire he's leaning toward voting DX out.

4:43 PM BBT – DF trashing DX to Sarah Beth, saying he can't believe he would want him to vote to keep him after DX was trying to vote him out last week.

4:56 PM BBT – DX talking to Xavier about the benefits of keeping him this week since Xavier is an auto-nominee if he doesn't win HOH.

5:10 PM BBT – Hannah asks Tiffany if she thinks the Cookout men think they are carrying them. Tiffany seems to think that. She tells Hannah that she wants all three of the men gone with they get down to the Final 6. Tiffany says they think the girls aren't doing anything when they're the ones who have been keeping their names out of other peoples' mouths.

5:15 PM BBT – Tiffany tells Hannah that if Kyland and Xavier think they're going to run back-to-back HOHs when DX leaves, they have another thing coming.

5:16 PM BBT – Tiffany says to Hannah that she trusts DX more than she does Claire. She says that he is more naive and gullible than Claire. She says they can convince DX to think a certain way. Tiffany says Claire is starting to pick up on everything. Hannah says and then Claire could bring Alyssa and SB in if she figures out the Cookout.

5:18 PM BBT – Hannah asks Tiffany if they and Azah kept DX where would the fourth vote come from. Tiffany says she thinks DF and Kyland can be convinced.

5:53 PM BBT – Xavier tells Hannah that DX made a good pitch to him, but he still doesn't see how keeping DX would benefit his game.

5:57 PM BBT – Xavier asks Azah what her thoughts are on the vote. Azah says for her personal game, she thinks keeping Derek X would be best. She says she was completely fine with him going home until the talk she had today with DX. She says she worries now that if DX is gone Hannah and Tiffany will be vulnerable. Xavier asks how so with Claire still there. Azah says Claire can't win competitions. Xavier says they don't want anyone outside the six to win competitions.

5:58 PM BBT – Sarah Beth is whinging to Kyland that no one is talking to her about the vote as HOH. He tells her not to worry about it.

6:00 PM BBT – Azah says that DX could take out SB and Alyssa for Kyland and him so they don't ruin their jury game. Xavier asks if she thinks the CO women can't beat the other women or something. Azah says at the moment they're struggling with comps.

6:02 PM BBT – Azah asks Xavier what happens if Alyssa wins HOH and Claire wins veto. Or what if Claire wins HOH and puts up Alyssa and Azah, and then Alyssa wins veto. Xavier doesn't have much of an answer for that.

6:07 PM BBT – Sarah Beth again says "sorry, America, Derek X is going home." She says we can give him America's Favorite Player to make up for the $5,000 he gave her in that veto competition.

6:10 PM BBT – Azah tells Xavier, she's not looking at this from a selfish standpoint in the least. She says she's thinking about all this because she wants to make sure they all make it to Final 6.

6:15 PM BBT – Xavier tells Azah that DX is making too many promises he won't be able to keep. He says he'll have to break some of those because he will have no choice.

6:42 PM BBT – DX tells Tiffany he knows he can't sell him staying to Xavier. He says the person he needs to convince is Kyland. He says he will make his pitch to Kyland while Xaiver is locked in solitary confinement.

7:52 PM BBT – It's dinner time. Azah has done the cooking tonight.

8:50 PM BBT – Hannah and Azah agree the vote this week should be 5-2 to hide the Cookout. Hannah says and if someone flips, it won't be a bad thing for the two of them and Tiffany.

9:03 PM BBT – Tiffany, Hannah, and Azah talk about the Cookout guys. Tiffany asks what they're going to do about them. She says the guys think they're carrying the women. Azah says the guys kind of are but she doesn't mind it. Tiffany says the guys are not carrying them. Tiffany says they are all protecting each other and the guys wouldn't have been safe without their numbers protecting them.

10:20 PM BBT – Xavier pointing out how poorly the twists went for him this week.

11:00 PM BBT – Kyland and Sarah Beth have been taking photos with the selfie camera.

11:10 PM BBT – DX is pitching to DF that he'll be safe from the Block with him as HOH and if he does go on the Block then he'll campaign to save him.

11:30 PM BBT – After DX leaves DF talks with Kyland and X. He feels bad about DX going. X tells him everything is lined up for DX to go.

11:40 PM BBT – DF talks with Kyland about next move plans. DF is worried about Tiffany targeting him first at F6. He wonders what he should do with his Coin power if he gets it. Kyland suggests Alyssa and Sarah. Kyland thinks they can keep the focus between Claire, Alyssa, and Sarah to go after each other.

12:30 AM BBT – HGs are discussing possible fortune and fame that could come after being on Big Brother.

1:00 AM BBT – DF, Kyland, and Sarah have been hanging out and joking around.

1:20 AM BBT – DX tells Hannah that DF mentioned being worried about Kyland + Sarah and Alyssa + Xavier. He thinks DF is afraid to vote to keep him.

1:50 AM BBT – Hannah tells DF that DX needs to go this week.

2:00 AM BBT – DX working on Kyland and questioning if him going or staying this week is best for Kyland's game. Kyland tells DX he doesn't trust Alyssa or Xavier directly but does in their working with Sarah.

2:30 AM BBT – DX still working on Kyland but Kyland won't commit to his vote to keep DX.
Everyone knows DX is going but he's going to Jury so no one wants to burn that bridge and lose a vote. We're seeing that with Hannah and Kyland overnight. Neither want him to stay, it's against the CO mission, but they're going to humor him until the eviction vote.
You can watch all of these Big Brother events using the archives Flashback, the DVR-like feature of this year's Live Feeds which means it's always live, even when you missed it! Sign-up now to get the free trial to watch it all live & uncensored.


Gallery: Live Feeds Highlights
Download our Big Brother App, join us on Facebook & Twitter, and get our Email Updates for more!