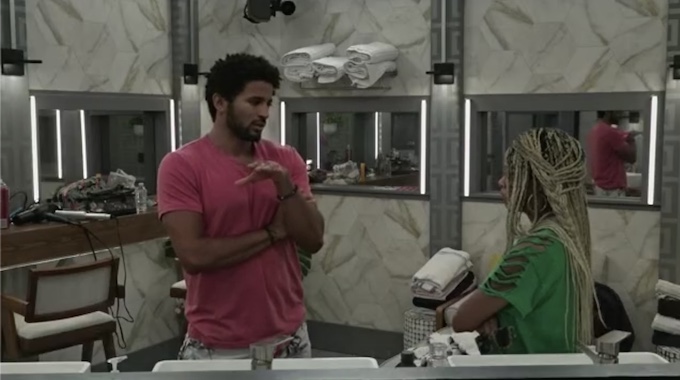 It was Veto Ceremony day inside the Big Brother 23 house and Kyland spent a lot of time trying to figure out what was going to happen at this week's meeting. Finally, he asked this week's Veto winner what their plan was for this week on Big Brother 2021. Find out what she told him and what else happened on the Big Brother live feeds for Monday right here!
If you've got the Live Feeds (Free Trial) then you can watch all of these moments with the Flashback feature to go back and watch those important conversations or funny scenes you may have missed.
Big Brother 23 Live Feed Highlights – Monday, August 30, 2021:
10:15 AM BBT – HGs are waking up.

10:30 AM BBT – Kyland tells Claire that he is feeling pretty good about about his chances of staying over SB. He outlines the possible scenarios and how they affect the house and understands that using the Veto on Xavier wouldn't change anything.

10:35 AM BBT – Kyland asks Claire if she prefers the noms to stay as they are or for the Veto to be used on Xavier. She says that she feels like Hannah one the Veto and she can do whatever she wants to with it.

10:42 AM BBT – Kyland tells Claire that him coming down and Alyssa going up is too risky for Hannah and the HOH, whether it's her or Tiffany.

10:52 AM BBT – Xavier tells Alyssa that Kyland's paranoia is out of control and he has never met someone who needs to hold one-on-ones before a Veto Meeting.

11:15 AM BBT – Azah tells Derek that she has noticed that Kyland hasn't talked game or given any kind of information with either of them.

11:23 AM BBT – Xavier tells Kyland that if Xavier stayed on the block there might be an expectation for both SB and Kyland to campaign against Xavier.

11:30 AM BBT – Tiffany tells Claire that Kyland has to chill out and Claire says that Kyland is making himself such a target.

11:40 AM BBT – Kyland asks Hannah what the plan is and she tells him that she is using the Veto on Xavier. He says "okay, good."

12:05 PM BBT – Feeds cut for Veto Ceremony.

1:23 PM BBT – Feeds are back. Veto was used on Xavier and no renom was named due to him being the third nominee.

1:27 PM BBT – Derek tells Azah that he thinks that Claire is coming for him because she doesn't talk game with him ever.

1:30 PM BBT – Derek, Azah, and Hannah are talking in the backyard about who the next target should be. Derek thinks it should be Claire, but Azah thinks that it should be Alyssa. Derek thinks that it would be dumb to not send Claire out next week considering she can't win HOH next week. Azah gets defensive because she feels like he called her opinion dumb.

1:36 PM BBT – Hannah tells Alyssa that she would like to make a F3 with her and Xavier. Tiffany comes out and the conversation shifts.

1:41 PM BBT – Azah tells Derek that Alyssa knows how to play when her back is against the wall. Where Claire has proven that she can't win competitions. Alyssa has proven she can and will take one of them out if she wins HOH at F7. Derek tells Azah that she should bring this to the rest of the Cookout.

1:50 PM BBT – Azah tells Derek that SB told her that she went into the Coral Room and Xavier, Alyssa, Tiffany and Claire were all talking. She says that once she came in, they all left. Derek says it was probably about SB because Alyssa has been trying to find out what SB has been saying about her.

1:52 PM BBT – Azah wonders why Derek would put up Tiffany and Claire. He tells her it's because he can't put up Xavier and Alyssa with the thought of backdooring Claire. He says if one of them comes down, you have to put the other one up.

2:00 PM BBT – Kyland is trying to guess what SB wants to tell him on Thursday night. Meanwhile, Xavier is questioning why Alyssa would bring up the fact that she is going to be the last white person in the house. Xavier says that Alyssa might have to go next in order to keep Claire off their scent.

2:05 PM BBT – SB tells Kyland that she is a forensic chemist.

2:09 PM BBT – Tiffany tells Derek that Claire is not coming for him. She tells him that there is a big difference between being the target and someone preferring someone else in the house. Azah brings up her reasons why Alyssa needs to go next and Tiffany says that Alyssa lies right to someone's face and she is too far up Xavier's back end. Xavier can't move, Tiffany says she can move with Claire in the house.

2:21 PM BBT – Hannah tells Xavier that she prefers that Azah wins HOH this week. Xavier says that he doesn't want Kyland to win because his ego doesn't need to be anymore inflated. Xavier asks if it comes down to him and Ky, what should he do? She says give it to Kyland (because he can't take the shots that need to be taken).

2:35 PM BBT – Hannah, Claire, and Tiffany are specilating about what this week's eviction night could look like. They all think it could be a double (it isn't) and then they discuss the different HOH comps it could be.

2:40 PM BBT – SB and Kyland talk about how unlikley it is for them to visit each other right away. SB talks about wanting to go home and decompress. Kyland says he understands that, but tells her to make sure she keeps in touch.

3:00 PM BBT – Derek checks in with Kyland and they talk about everything that's been going on. Derek tells Kyland that they have to work together or else they are going to be picked off one by one. Kyland adds that we also can't feel like we are working each other.
There you have it, Xavier is no longer on the block, Kyland will sit there and sweat for a little longer, and then on Thursday Sarah Beth will be evicted from the Big Brother house. Chances are we will get a hundred different variations of the same one-on-one from now until Thursday from Kyland. Meanwhile, SB will continue to think that Kyland is the true target for the week.
You can watch all of these Big Brother events using the archives Flashback, the DVR-like feature of this year's Live Feeds which means it's always live, even when you missed it! Sign-up now to get the free trial to watch it all live & uncensored.


Gallery: Live Feeds Highlights
Download our Big Brother App, join us on Facebook & Twitter, and get our Email Updates for more!