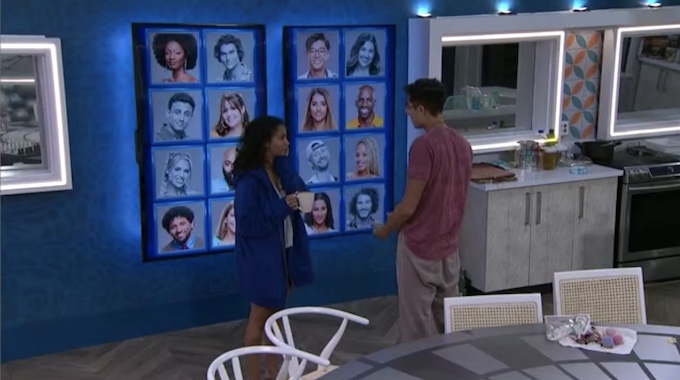 It is Eviction Day inside the Big Brother 23 house and Derek X is working overtime to try and convince at least one more person that keeping him is better for their game. He's made some great arguments, but will that change the outcome of tonight's live vote and eviction on Big Brother 2021? Read on to find out what went on inside the Big Brother house before the live eviction show for week 7!
If you've got the Live Feeds (Free Trial) then you can watch all of these moments with the Flashback feature to go back and watch those important conversations or funny scenes you may have missed.
Big Brother 23 Live Feed Highlights – Thursday, August 26, 2021:
8:50 AM BBT – HGs are waking up.

8:55 AM BBT – Xavier is building a person out of various things inside the Have-Not room where he is serving his 24 hours of solitary. Meanwhile, Claire is camtalking about what she is going to do if she wins HOH. She says that she is going to put up any combination for SB, Xavier, and Alyssa.

9:30 AM BBT – The HGs are going over the videos they saw yesterday for tonight's competition.

9:35 AM BBT – DX tells Hannah that him staying is better for her game, but she is afraid of upsetting DF. Hannah says that DF isn't thinking past today when it comes to making this decision.

9:50 AM BBT – Hannah is helping DX come up with a speech for tonight and mentions that he should compare SB with Nicole F because they both surrounded themselves by strong men. Tiffany walks in and DX tells her that he is going to put Nicole F in his speech and she says "please do!"

10:05 AM BBT – Claire and DX are packing and giving Hannah and Tiffany things to remember them.

10:40 AM BBT – Hannah, Tiffany and Alyssa have been giving DX advice on what he should wear tonight.

10:48 AM BBT – Feeds cut for tech rehearsals.

12:36 PM BBT – Feeds come back to Xavier.

12:57 PM BBT – Azah and DX are hugging in the Yacht Room and she tells him that this isn't over. He says that he has to talk to DF because the last he knew, he was 50/50.

12:59 PM BBT – He asks her if there is anything that he said that convinced her. She tells him that she prayed on it and reflected on it and knows the decision she is going to make is what she had to do (evicting DX). She tells him that she just has to do what she has to do and that she doesn't believe in regret. She says that she won't be surprised if she regrets this in a couple of weeks.

1:01 PM BBT – After DX leaves the room, she keeps repeating to herself that she is going to regret this.

1:15 PM BBT – Tiffany is trying to make Kyland feel bad for getting rid of DX.

1:23 PM BBT – Azah tells DF that she bets that Kyland guns it for the HOH this week. She says that she asked Ky who he was nominating and he told her Tiffany and Claire. DF says that if Ky guns it for HOH then he is winning the Coin of Destiny and putting him and SB up.

1:25 PM BBT – DF tells Azah that DX really wants an answer but he doesn't know what to tell him. Azah tells him that the only reason she is voting the way she is voting is because Xavier is upstairs and she doesn't want him coming down to any surprises. She tells DF that she feels like she is going to regret this in a few days.

1:31 PM BBT – DF tells Azah that Kyland is only going to win it if the rest of them aren't in it. She says she doesn't believe that for a second. DF says that if he does then Ky goes the following week.

1:34 PM BBT – Azah tells DF that Ky has to be the first one to go in the six. DF says that he is going to go talk to DX now. Azah tells DF that he can't say anything to anyone, but DX told her that Claire got 100 BB Bucks last week.

1:37 PM BBT – DF tells DX that he is going to have to go with the HOH this week. DF says that if DX comes back, he hopes that they can do some damage together. However, for right now he is playing a solo game and it doesn't make sense to go against the HOH and make himself a target.

1:50 PM BBT – DX asks DF what if we did something kind of crazy? He says that DF could throw him a sympathy vote since no one in the house thinks that anyone is voting for him. He said he will think about it. DX tells DF for his personal game, people are talking about going after DF during Double Eviction. DF thanks him for that.

1:55 PM BBT – DX tells Claire that he really hopes that there is a Battle Back and you guys better still be in the game. He tells her that they have to get the target off their back.

2:07 PM BBT – DX tries to make a last second pitch to Alyssa and says that he is hearing a lot more of SB trying to push the target off of her and onto Alyssa. He also tells Alyssa that SB gave him a list of targets and Alyssa was number 2 on that list.

2:10 PM BBT – Alyssa asks DX what stops him from taking out Xavier if she keeps him this week like he did to Christian two weeks ago. He says that when he took out Christian, he didn't have anyone going after him, he was going based on his biggest competive threat. Now he has people coming after him so it changes the way he makes decisions.

2:14 PM BBT – Alyssa asks DX how is she supposed to fact check anything if he won't tell her names. He says the bigger question is will keeping him even be better for her game. She tells him that she sees both sides of it and the feeds cut for the live show!
Azah knows that she is making a mistake for her personal game by voting out DX, but she promised that she would talk to DF for him. She did but during his one-on-one with DX, DF told him he had to stick with the house. He gave it the fight of his life, but unless something big happens between now and the vote, things aren't looking good for DX.
You can watch all of these Big Brother events using the archives Flashback, the DVR-like feature of this year's Live Feeds which means it's always live, even when you missed it! Sign-up now to get the free trial to watch it all live & uncensored.

Gallery: Live Feeds Highlights
Download our Big Brother App, join us on Facebook & Twitter, and get our Email Updates for more!