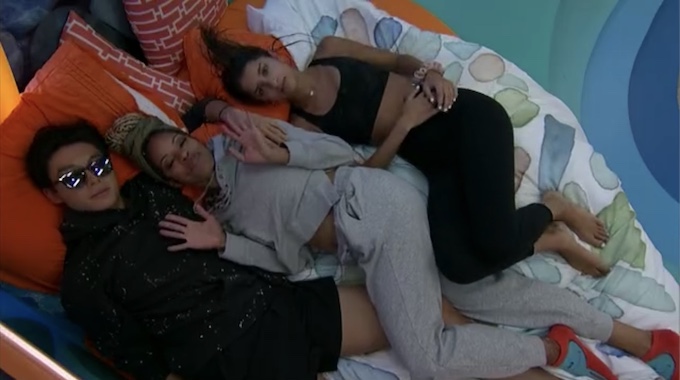 It is Eviction Day inside the Big Brother 23 house and Hannah and Whitney spent the morning finishing their packing. The rest of the houseguests spent some time figuring out their targets if they won tonight's HOH competition on Big Brother. Read on to find out who has switched their targets on Big Brother 2021.
If you've got the Live Feeds (Free Trial) then you can watch all of these moments with the Flashback feature to go back and watch those important conversations or funny scenes you may have missed.
Big Brother 23 Live Feed Highlights – Thursday, August 5, 2021:
8:30 AM BBT – HGs are waking up.

8:37 AM BBT – Britini tells Azah that she really wants to win it this week for the letter, but if it comes down to her and someone she trusts, she will throw it.

8:40 AM BBT – Azah tells her that if it's the wall comp, she isn't going to make it. Britini tells her that it isn't going to be the wall and Azah tells her that if it's a hanging comp she is going to make it either. Britini asks her who they want to work with if teams break up today because they need to know their targets. Britini says that she is still going back and forth on why they are getting rid of Whitney when she has no one.

8:45 AM BBT – Azah tells Britini that she understands why Britini trusts Whitney, but she doesn't. Britini says she understands that it's writen in the cards already, but she doesn't understand why they are keeping someone with deep connections in the house while Whitney is being outcasted by everyone and would be a number for them.

9:00 AM BBT – DF walks into the room and Britini asks if he is okay with Whitney going home and he tells her he is because Whitney could turn on them at any point. He doesn't think that Hannah would target them. Britini tells him that Hannah is aligned with the Queens though. She tells him that they have to figure out who they want to work with too. He says the Kings.

9:10 AM BBT – Britini tells Xavier that she has walked in on Hannah talking to Tiffany and Claire four times this week.

9:15 AM BBT – Xavier tells DF that Christian and Alyssa are upset about his joke and suggests DF apologizes to them.

9:20 AM BBT – DF talks to Alyssa and clears the air with her about his jokes and comments yesterday. He also tells her that she asked him a question and he joked with her because he has told her in the past that he has heard things and her and Christian haven't distanced themselves.

9:23 AM BBT – DF tells Alyssa that he isn't going to joke around with them anymore, but he needs them to understand that if they are working together, then their game is his game too.

9:50 AM BBT – DF talks to Christian and tells him the story behind the jokes he was making. He told Christian that he is going to stop the joking completely and distance himself from them because he doesn't want people to think they are all working together. Christian mentions that Alyssa was mad at him because he was supposed to talk to DF but then Xavier did.

10:00 AM BBT – Azah tells DF that she doesn't understand why Christian and Alyssa can't just not hang out together constantly. DF says that's what he's going to say in his speech (when he wins HOH) "Since you can't stay away from each other, I'll do it for you."

10:10 AM BBT – Azah tells DF that she tries to talk to Tiffany but she feels like their talks don't go anywhere. DF suggests that Azah, Tiffany, and Hannah should all talk. Azah says that another thing that she is worried about is Hannah keeps saying that she doesn't want to see Hannah and Azah on the block together, but as far as she knows, her name hasn't been mentioned. DF says he thinks she means the Jokers in general.

10:45 AM BBT – Azah talks to Claire and they are speculating who would go after who. Claire things that the Kings would go after Kyland and DX. Azah thinks that Tiffany would put Alyssa or her up. Claire thinks that SB would put up DX or Hannah next to DF.

10:50 AM BBT – Feeds go down for tech rehearsals.

12:15 PM BBT – Feeds are back.

12:30 PM BBT – SB tells Hannah that she would love to work with her going forward, but she was scared because she heard that Hannah said she would target SB if she won HOH. Hannah says that if she did put SB up, she would only be a pawn. Hannah says that she didn't say she was targeting SB or Alyssa. SB tells her that she wasn't on Hannah's radar either until she found out that she was possibly Hannah's target. SB tells her that if she wins HOH, Hannah will not be her target.

12:36 PM BBT – Hannah asks DX if she could trust SB and they both wonder who her target would be. Hannah says that she heard from Alyssa that SB's target was shifting to Britini.

12:47 PM BBT – Hannah and DX talk about targeting Christian, but DX says that Christian is a good shield for him though. DX wonders if Alyssa wins HOH if she puts him next to Claire, who would go? Hannah says that DX goes home against anyone except for Christian or maybe one of the Jokers.

12:55 PM BBT – Ky tells Azah that Alyssa and Christian told Xavier that there next three targets are her (Azah), Hannah, and Britini. Azah tells him that she had know idea that they were targeting her. Kyland says that could change, but Azah says that Alyssa is her target.

1:00 PM BBT – DX says that if he wins HOH he's going to take a shot at Christian.

1:11 PM BBT – Azah asks SB if she is comfortable with her team and SB says that they aren't coming for her, but she knows she's at the bottom of the totem pole.

1:50 PM BBT – Whitney asks Xavier if there is any change she could have changed Christian's mind. He says he wouldn't say it like that because there were plenty of chances for something chaotic to happen and change the week. She says she wishes she knew she was the target the whole time because she wouldn't have gotten her hopes up. Xavier tells her that she wasn't the target 100% of the time.

2:05 PM BBT – Claire, Hannah, and Britini are in the gym going over days and events.

2:18 PM BBT – Feeds go down for live show prep.
With Whitney all but evicted from the Big Brother house, the HGs have gotten their eyes on their next targets. Some of the targets have shifted throughout the week, but some have remained the same. Make sure you come back, later on, to find out which HG will go on to win the first endurance HOH comp of the season!
You can watch all of these Big Brother events using the archives Flashback, the DVR-like feature of this year's Live Feeds which means it's always live, even when you missed it! Sign-up now to get the free trial to watch it all live & uncensored.

Gallery: Live Feeds Highlights
Download our Big Brother App, join us on Facebook & Twitter, and get our Email Updates for more!