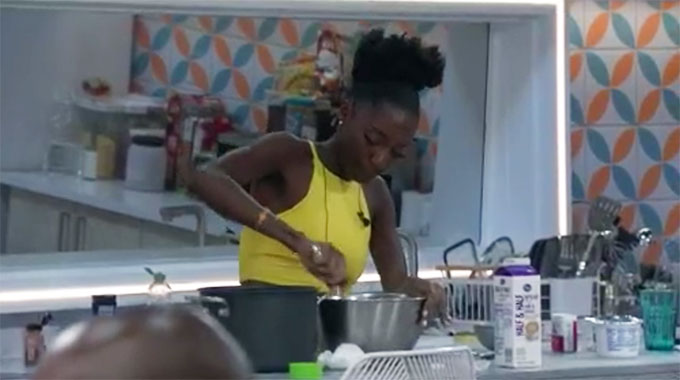 We started off the day in the Big Brother 23 house with some early morning tension between Derek and Azah that boiled over from the previous night. Derek is still feeling some sort of way about conversations that he and Azah had on the Big Brother 2021 live feeds. Derek and Azah did talk out their issues later in the evening, and Azah reveled to him her Final 2 plans if she wins the final Head of Household competition. And Derek wasn't happy with what he heard. Read on to find out what Derek had to say to Xavier about Azah's ultimate betrayal.
If you've got the Live Feeds (Free Trial) then you can watch all of these moments with the Flashback feature to go back and watch those important conversations or funny scenes you may have missed.
Big Brother 23 Live Feed Highlights – Monday, September 27, 2021:
10:15 AM BBT – HGs are waking up.

10:17 AM BBT – Derek tells Azah that he wants her to make whatever decision is best for her (when it comes to who she takes to F2).

10:30 AM BBT – Derek tells Azah that he understands how Azah was feeling last week when he was going back and forth with his decision about Kyland. Azah cuts him off and says that she hasn't given him any indication that she was planning to change her mind about taking him to F2 like he did to her.

10:35 AM BBT – Derek tells Xavier about his argument with Azah.

10:55 AM BBT – Azah is retelling the heated discussion she had with Derek to Xavier.

11:06 AM BBT – Azah tells Xavier that her knowing that Derek doesn't think that she belongs there makes her feel some type of way about who should be sitting next to her in F2.

11:20 AM BBT – Derek tells Xavier that he is regretting cutting Kyland because he could have taken 3rd with him in the house without all the games.

11:25 AM BBT – Xavier says that the difference betweem Xavier and Kyland is that Xavier's actions never went against Azah, but Kyland's repeatedly went against Derek.

11:50 AM BBT – Derek is still complaining about Azah.

12:52 PM BBT – Azah asks Derek if she disrespected him today and he told her no. He just thinks that their communication is poor and at this point in the game it's hard to talk to each other. Derek mentions that her not reassuring him and then cuddling with Xavier makes him feel like she might cut him if she wins.

2:00 PM BBT – Derek is in the Yacht Room reading the bible while Azah and Xavier are cuddling on the couch.

2:13 PM BBT – Azah asks Xavier what he is objectively thinking going into the finale. He tells her that he is split because he can honestly lose to either one of them.

3:10 PM BBT – All the HGs are napping.

5:40 PM BBT – Azah prepping dinner as the guys play cards.

6:15 PM BBT – HGs now have a Jenga game. Derek and Xavier are playing it as Azah continues to make dinner. She then burns herself, but says she'll be OK.

6:35 PM BBT – The Final 3 are having dinner together.

7:55 PM BBT – All three HGs are playing cards now.

8:36 PM BBT – Derek is playing cards by himself, Azah is showering and Xavier is in the Diary Room.

9:25 PM BBT – Azah tells Derek that she still needs to pray, so her decision isn't set in stone. She says she's an emotional person, so she wants to make sure her decision is as objective as she can be. She tells him she does not want to argue with him and just wants to talk.

9:26 PM BBT – Azah says a week ago, it was a done deal that she would have taken Derek to Final 2. She tells him that the conversation they had where Derek implied she didn't deserve to be here, struck something in her. "For me, I am honestly OK with coming in third place," she says. "I don't know if I would feel comfortable with X being in third with all the work he's done." So Azah says at this moment, she might take Xavier to Final 2 if she wins the Final HOH.

9:28 PM BBT – Azah tells Derek that this has nothing to do with her crush on Xavier, and it's not about the money either. She says the story Xavier told her week 1 really resonated with her, and she would feel bad letting him get third.

9:29 PM BBT – Derek is just "yeah-ing" and "mmmhmm-ing" everything Azah is saying. She says she thinks he will win America's favorite and get many options after this season.

9:30 PM BBT – Azah says she still wants to make sure she's not just making an emotional decision, though. Derek says he respects that. Then says to her "I kept you here, because I knew that you would pick me. And obviously I made the wrong choice I feel like …"

9:31 PM BBT – Derek tells Azah he's not kissing anyone's ass and everything that he has done shows in his resume. He says he's not going to argue with her, and he's just going to have to prepare himself to walk out those doors.

9:32 PM BBT – Azah says Xavier is more than likely going to win Part 3, and take him, though, so Derek still has a 50/50 shot at making Final 2.

9:33 PM BBT – Azah says this whole time she's wanted to sit next to her best friend, but this past week she's been thinking the person sitting next to her doesn't even think she deserves to be there. Derek says he didn't say that she didn't deserve to be here (he has definitely said that).

9:34 PM BBT – Azah tells Derek he said he doesn't respect her gameplay. He says if he was this emotional last week as she's being now, he would have sent her out and kept Kyland.

9:35 PM BBT – Derek says he feels like because Azah and Xavier are cuddled up and having deep conversations, all of a sudden it's an emotional thing with her and Xavier. He says he broke his deal with Kyland for her, and he felt emotionally attached to him, so now he's looking like the dumb bitch. He says he didn't think all those Xavier cuddles would have gotten to her.

9:37 PM BBT – Derek says if she's here to play a strong woman's game, and makes a woman power comment, then says she's doing the exact opposite by picking Xavier because she likes him.

9:39 PM BBT – Derek tells Azah the one move he will regret when he watches this back is evicting Kyland over her. Azah says her change of heart isn't because of cuddling with Xavier, it's because of the conversations she and Derek have had. He says, but he still proved his loyalty and kept her. She says he did keep her, but he also hurt her feelings. She says she feels like he thinks she doesn't deserve to be here. He says if he felt like she didn't deserve to be here he would have cut her a long time ago.

9:42 PM BBT – Derek says to Azah that she has a competition to do, and if she wins, do what she needs to do. He says pray on it and he's just going to mind his business and wait for whatever is going to happen to happen. Then says and "you're welcome" because you're here because of him. He says he could have kept Kyland who he knew was going to take him (Kyland wasn't taking Derek either).

9:44 PM BBT – Derek goes out and says congratulations Xaiver. X asks what the means. Derek says Azah is taking X if she wins. Derek says he should have stuck to his game and kept Kyland. He says basically his game is over, and he can't do anything about it. Derek says he will not be speaking to Azah for the rest of the time. He said he got judged when he was going off of his emotions and now she's going off of her emotions.

9:46 PM BBT – Derek says it looks like he'll be walking out of here on Wednesday. He says that sucks because he feels really dumb. He says his mom would not want him to be upset.

9:47 PM BBT – Derek says to Xavier he doesn't regret his decision because he was staying loyal to X. Xavier says the situation would have been the same if Kyland was still there.

9:48 PM BBT – Derek says it sucks because he did have two people willing to take him but now he only has Xavier (who only has one person other than himself who can take him).

9:49 PM BBT – Derek says he will never be Azah's friend again after this. Xavier asks how keeping Kyland would have benefitted his game. Derek says Kyland might have still taken him. He says he never in a million years thought he had to worry about Azah not talking him to Final 3. He says he is checked out now and is just going to separate himself.

9:51 PM BBT – Derek tells Xavier he is happy for him and says he deserves it. He says he knows 100 percent that Xavier will win because when he joins the jury he'll go off on Azah to the jury.

9:52 PM BBT – Derek says he put in so much work, and it sucks to get double-crossed by someone you trusted. He said he could have just brought the villain (Kyland).

9:59 PM BBT – "I got played. I got played." He says it sucks because he wishes he had a game that was fair. He says he still feels like he didn't get a fair chance.

10:00 PM BBT – Derek tells Xavier "you don't even need to win. She's going to take you." Xavier says he still needs to win. He says that's not how he sees it. He says that he needs to win so Derek ends up in the Final 2 chairs, too.

10:01 PM BBT – Derek says he's not even going to sleep in the same room with Azah.

10:03 PM BBT – Derek says Azah told him she thinks he will win America's favorite. He says "$5K, whoopity doo." Xavier says AFP is $25K (it's actually $50K now).

10:04 PM BBT – Derek tells Xavier if he wouldn't have told him to evict Kyland, he would have thought long and hard on keeping Kyland. Xavier says but before that, they thought Derek was guaranteed to be taken to Final 2 by Azah and Xavier.

10:10 Xavier says Azah knows that he is going to honor his deal with Derek.

10:13 PM BBT – Derek says that Kyland and then Tiffany deserved to win if Xavier didn't, not Azah.

10:14 PM BBT – Xavier tells Derek to keep his head clear because Azah could still be a potential jury vote for him. Derek says he doesn't want her vote. He tells Xavier he is never going to kiss her ass. Xavier says he didn't say kiss her ass, but just try not to burn that bridge. Derek says he doesn't think she would vote for him and he doesn't want it anyway. He says he would rather take a vote from Sarah Beth than Azah.

10:36 PM BBT – Derek is moving all of his stuff out of his room with Azah. He does not even want to share a room with her.

10:45 PM BBT – Derek tells Xavier that the two of them will be friends until the day he dies, but his friendship with Azah is officially over.

10:45 PM BBT – Azah is back from the Diary Room.

10:50 PM BBT – Derek says he feels betrayed.

11:05 PM BBT – Xavier goes to check in on Azah. She gives him the retell of what happened with Derek. Azah says she didn't just come here for the money but for the bigger purpose. She doesn't mind coming in third but she doesn't want to see Xavier come in third.

11:45 PM BBT – Azah and Xavier talking again. She says she needs to pray about it. Azah felt she had a deal with Derek but he tells her they don't. She continues to says she will pray on it and see what she should do. She believes God will put her with the right person for F2.

12:00 AM BBT – Lights out for the HGs. Derek sleeps alone in the other bedroom while Xavier and Azah are in the boat room.
Derek should soon begin writing his book on "How to alienate friends and lose money in Big Brother." Astonishing what he's done when all he needed to do was nothing. Sit there and be quiet for a few days so the other HGs could drag your goat-self to the end, but nope, not Derek. We'll be watching on Tuesday to see if he can patch this up or dig that hole any deeper.
You can watch all of these Big Brother events using the archives Flashback, the DVR-like feature of this year's Live Feeds which means it's always live, even when you missed it! Sign-up now to get the free trial to watch it all live & uncensored.


Gallery: Live Feeds Highlights
Download our Big Brother App, join us on Facebook & Twitter, and get our Email Updates for more!