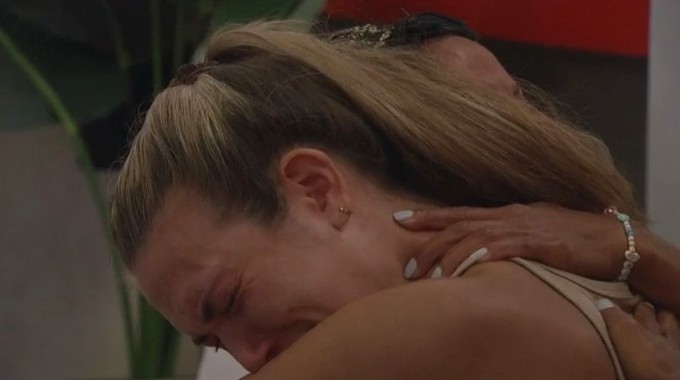 It was an emotional day in the Big Brother 23 house as Tiffany let Claire know that she is going to be going on the block this week. Tiffany explained the situation as best she could to Claire at this moment, and through a lot of tears, Claire accepted it, promises not to hold anything against Tiffany, and vows to still fight to stay in the game this week.
Try Live Feeds 1 Week Free! Sign-up now!
If you've got the Live Feeds (Free Trial) then you can watch all of these moments with the Flashback feature to go back and watch those important conversations or funny scenes you may have missed.
Big Brother 23 Live Feed Highlights – Sunday, September 5, 2021:
10:15 AM BBT – HGs are getting up for the day.

11:05 AM BBT – Tiffany and Azah discussing options on telling Claire about the Cookout or not. Azah wonders if Alyssa would use the Veto on Xavier.

11:15 AM BBT – Azah and Tiffany contemplate offering Alyssa a F5 deal.

11:40 AM BBT – Tiffany says Claire will see through it if she tries to lie to her about this situation. It won't be believable to Claire if she tries.

11:45 AM BBT – Tiffany decides it's not good to offer Alyssa a deal because then they'd have to break it.

12:00 PM BBT – Tiffany is very concerned about lying to Claire. Azah notes that Xavier stutters when he's lying.

12:10 PM BBT – Tiffany explains that it's not hard for her to cut Claire, but the hard part for her is lying to Claire like this.

12:30 PM BBT – Xavier discussing Tiffany's story for Claire. Tiffany will tell her she made a deal with the other HGs that she wouldn't nominate two of them at the same time. Xavier thinks Claire will figure out the Cookout from that.

12:35 PM BBT – Hannah thinks it's best to be honest with Claire and Alyssa so they are not angry later. Kyland doesn't agree. They worry if Alyssa keeps winning Veto and forces a CO eviction.

1:00 PM BBT – Claire camtalks that she's worried about going up and possibly out the door.

1:25 PM BBT – Hannah goes back to talk with Tiffany about what to tell Claire. She isn't so sure anymore about telling Claire the truth. She worries Claire would warn Alyssa.

1:35 PM BBT – Tiffany wants to tell Claire that she tried hard to protect her and Alyssa was the target.

1:50 PM BBT – Xavier is upset that the CO is putting him in a position to be exposed to Alyssa and feels he'll take the brunt of her reaction.

1:55 PM BBT – Tiffany going over her plan with Kyland for how she'll explain the situation to Claire.

2:40 PM BBT – Azah is upset that Xavier has rejected her suggestion for how to handle the Claire renom by telling the truth. She's talking with DF and Hannah.

3:30 PM BBT – Claire and Tiffany are meeting in the HOH room. Tiffany is letting Claire know she's going to have to put her up because she has made a promise not to put up two of the other HGs at the same time. Claire explains her original target was Alyssa but now she's out of options.

3:35 PM BBT – Claire asks if Tiffany is in an alliance with them. Tiffany says No. Tiffany says if she hadn't won HOH then Claire definitely would have gone up so she protected her as far as she could.

3:40 PM BBT – Claire, crying, tells Tiffany she would have never done this to her. Tiffany says she knows and is so sorry.

3:40 PM BBT – Azah started to come in the HOH room but Tiffany turned her away. Azah reported back downstairs that Tiffany may have told her because Claire was crying.

3:45 PM BBT – Claire tells Tiffany she won't be upset at her for doing what she has to do to stay true to who she wanted to be coming into the game. Claire understands what this means for her own game and still wants to support Tiffany in what she has to do for her own.

3:55 PM BBT – Tiffany wants Claire to fight to stay. Claire says she will but tonight she will be sad first.

4:20 PM BBT – Claire again promises Tiffany she won't hold this against her. Tiffany says she has been her number one from the start.

5:00 PM BBT – Tiffany let Kyland know that she revealed to Claire she would be going up.

5:10 PM BBT – Tiffany talking with Azah how she told Claire and Claire accepted that it was going to happen and the reasoning. Tiffany says Claire doesn't know about the Cookout after their talk.

5:20 PM BBT – Azah promises Tiffany she won't put her up or renom her next round. Azah says she'd prefer Kyland to go next if Alyssa wins the Veto again.

5:30 PM BBT – Claire again tells Tiffany that she hopes she doesn't go this week but if she does then she won't be mad at Tiffany.

5:37 PM BBT – Claire is still upset and is talking to the cameras. She says Tiffany deserves to win this game.

8:48 PM BBT – Dinner time for most HGs.

9:00 PM BBT – Derek tells Azah that Xavier thinks she's mad at him. Azah tells him that X suggested they should avoid each other after Zinbot said something about her crush on Xavier. Azah thinks Alyssa came up with that.

9:15 PM BBT – Derek tells Azah that he wants Tiffany out bad. Hannah comes in and Derek asks her who she wants out first. She says Kyland. He says that's Azah's pick too, but he wants Tiffany out first.

10:35 PM BBT – Tiffany and DF discussing if HGs have lied about loved ones. They still question if Shelly really exists.

11:00 PM BBT – DF, Hannah, and Tiffany still chatting. DF says he's ready for this to be over. He's struggling with being a HN.

11:30 PM BBT – Tiffany and DF discussing BB alum and who they follow on Twitter. Tiffany really enjoys EvelDick. She hopes maybe Janelle will tweet her back now.

11:40 PM BBT – HGs gather for a game of Mafia.

12:30 AM BBT – Alyssa talks with DF and hopes she could get Tiffany to renom Claire and it'd be a huge move for the season.

1:00 AM BBT – Kyland and Xavier complaining to each other about Tiffany and how she's making moves against them.

1:05 AM BBT – Hannah joins Tiffany in the HOH room and lets Tiffany know Claire told her she was expecting to go on the Block.

1:10 AM BBT – Tiffany tells Hannah she's frustrated with how Xavier wants everything run past him first. They disagree with Xavier's view that Alyssa would come after him if she found out about the Cookout. Tiffany believes Claire understands her after explaining the situation as most she could.

1:25 AM BBT – Tiffany worries that Xavier won't be willing to take out Alyssa. Hannah disagrees and thinks he would. Tiffany warns Xavier is going to win the whole game.

1:45 AM BBT – Kyland joined Tiffany and Hannah. They discuss if Xavier is lying to them because everyone is telling each other they'll take one another to F4.

2:00 AM BBT – Hannah tells Tiffany and Kyland that she's confident the three of them can win out. Tiffany says she thinks everyone wants to take DF and Azah to the end, even if they won't admit it.

2:05 AM BBT – Hannah says her plan is to nom Alyssa + Xavier then renom DF if needed.

2:20 AM BBT – Hannah notes that DF, Azah, and Xavier never throw out each other's names. She's sure they're going to stick together.

2:30 AM BBT – Hannah says DF is this season's Victoria but she wouldn't bring him to F4.

2:55 AM BBT – Tiffany is rehearsing what she'll say on Monday at the Veto meeting. Hannah says Claire is relying on her vote.

3:50 AM BBT – Hannah and Tiffany wonder if they could get Alyssa to use the Veto on Xavier.

4:00 AM BBT – Kyland has gone back downstairs while Tiffany and Hannah are still upstairs talking. Tiffany expects Kyland will want to stay with the guys of the CO but hopes they've shown him why the guys don't need him and why he should work with her and Hannah instead.

4:10 AM BBT – Hannah and Tiffany discuss how DF doesn't like that there are more women in the Jury and he thinks they'll vote emotionally instead of game-based.

4:30 AM BBT – Tiffany and Hannah are off to sleep.
Definitely an emotional day in the Big Brother house as Tiffany revealed to Claire what she would have to do and Claire accepted the challenge ahead of her to stay. We know she doesn't have a chance, but watch for Claire to fight for votes this week after Monday's Veto meeting. Those spoilers and more are coming up soon.
You can watch all of these Big Brother events using the archives Flashback, the DVR-like feature of this year's Live Feeds which means it's always live, even when you missed it! Sign-up now to get the free trial to watch it all live & uncensored.

Gallery: Live Feeds Highlights
Download our Big Brother App, join us on Facebook & Twitter, and get our Email Updates for more!