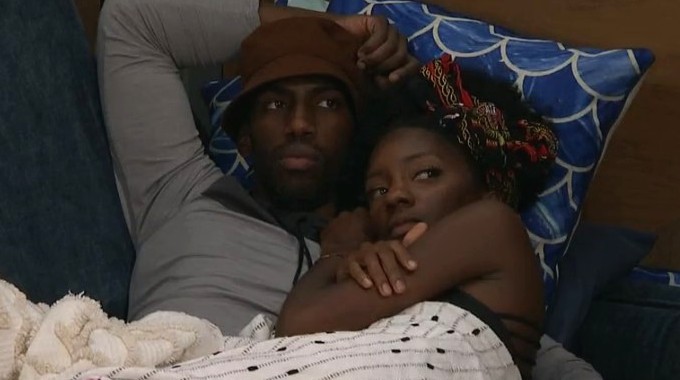 Veto Day delivered the drama in the Big Brother 23 house as things finally didn't go to plan for the Cookout and the tension is rising for what the HOH will have to do next to keep them on track. It won't be an easy decision but the choice is clear. And with a Double Eviction on the horizon, there could be some quick moves made against them if they're not careful.
Try Live Feeds 1 Week Free! Sign-up now!
If you've got the Live Feeds (Free Trial) then you can watch all of these moments with the Flashback feature to go back and watch those important conversations or funny scenes you may have missed.
Big Brother 23 Live Feed Highlights – Saturday, September 4, 2021:
7:20 AM BBT – HGs are up early for Veto Day.

7:45 AM BBT – Hannah and Alyssa planning some ideas for the Veto picks this morning. DF joins them and discusses his F2 with Frenchie but claims he's made no others since then.

8:00 AM BBT – Tiffany tells Hannah if X gets saved then she'll renom Azah. They discuss how Kyland is upset that Tiffany won HOH.

8:45 AM BBT – Feeds come back from picking players. Everyone but Kyland and Azah will be playing.

9:05 AM BBT – DF and Xavier are complaining about Tiffany and think she's worried that they won't work with her anymore. DF says as long as he stays longer than Tiffany then he's happy.

9:15 AM BBT – DF tells Azah how frustrated he is that Tiffany won and how that's bad for the Cookout. Azah wants them to target Tiffany and Kyland before Hannah.

9:40 AM BBT – Alyssa tells Xavier that she thinks Hannah would join them for an alliance with Tiffany. She wants to pitch for Kyland going up if either of them coming down then they'll vote him out.

10:15 AM BBT – Hannah and Tiffany trying to sort out what the Cookout is really planning. Hannah mentions DF jokingly suggested she was coming after him. Tiffany says Azah wouldn't commit to keeping the noms the same.

10:25 AM BBT – Azah and Xavier discussing the game. She's confused why Claire would think Kyland could be with her when he nominated her. They discuss the decision between Claire or Alyssa to go next and both thought it'd be Claire.

10:40 AM BBT – Xavier tells Azah it was unfair for Tiffany and Kyland to have been the last two in the comp when it should have gone to others in the Cookout.

11:30 AM BBT – HGs are lounging and waiting on the Veto comp.

1:00 PM BBT – Tiffany and Hannah are studying the Memwall in case it's a face-morph comp. Soon after Azah, Xavier, and Alyssa are doing the same.

1:45 PM BBT – Pet Loops start for the Veto comp.

4:15 PM BBT – Feeds return to HGs excitedly discussing the mini Veto competition.

4:50 PM BBT – Hannah talking with Tiffany about how to have a cover story for needing to renom Claire. She suggests Tiffany say she made a deal not to put two of the four up at the same time so she has to honor that deal and to promise Claire she has the votes to stay. Hannah suggests Tiffany doesn't tell Claire about the Cookout in case of a Battle Back. Tiffany admits that if Claire has to go then it's time for Claire to go.

4:55 PM BBT – Hannah doesn't think Alyssa would fall for using the Veto on Xavier instead of herself.

4:55 PM BBT – Kyland tells Xavier that Tiffany wants Xavier to convince Alyssa to use the Veto on him (X) and then they'll vote Alyssa out. Xavier is upset at this idea. (This was Kyland's idea but now he's blaming it on Tiffany.)

5:00 PM BBT – Tiffany tells Hannah that Claire knows the other HGs are mad that she won HOH and she can use that to explain that they were worried she'd break her deal instead of renoming Claire if it came to that. Her concern here is that telling Claire she's safe while knowing she's not and how that could hurt her with Claire in Jury when she finds out.

5:15 PM BBT – Tiffany talking with Claire about the possibility of getting Alyssa to vote Xavier out, but Claire says she (A) wouldn't vote out X over DF.

5:20 PM BBT – HGs getting the backyard open again.

5:20 PM BBT – Kyland spreading the "Alyssa saves Xavier" idea to Azah. Azah doesn't see that as a likely scenario.

5:25 PM BBT – DF threatens to go off if Tiffany doesn't renom Claire. Xavier thinks it'd be Kyland if Tiffany goes after anyone else in the Cookout.

5:30 PM BBT – Hannah assures Xavier that Tiffany has accepted the situation that she'll have to renom Claire.

5:40 PM BBT – Xavier says if Tiffany reveals the Cookout to Claire then if there is a Double then they may vote Tiffany out over Alyssa instead at F7.

5:45 PM BBT – Xavier tells Hannah that Tiffany should frame this as Claire is the only renom that makes sure Xavier goes home.

7:00 PM BBT – HGs revisiting their Zings. Hannah thinks Azah's was the most embarrassing about her crush on Xavier.

7:15 PM BBT – Tiffany says she will tell Claire that she is going up as an ally and a pawn. Hannah says she'll try to make Alyssa think that Claire going up is her (A) idea. Hannah says it looks like there are two sides to the Cookout with her, Tiffany, and Kyland on one side then Xavier, DF, and Azah on the other.

7:30 PM BBT – Tiffany camtalks that she didn't want this to happen this week with Claire but she made her bed and now she'll have to sleep in it.

8:20 PM BBT – Azah and Xavier discuss telling Claire or not. Xavier doesn't want to reveal the Cookout because Alyssa will still be there (and feel betrayed by him…).

8:45 PM BBT – Xavier tells Alyssa that he hopes it'll be Kyland going up against him.

9:00 PM BBT – Alyssa talks with Azah and says it'd be good to keep both her and Xavier this week (not to VTE X while he's still up there). Azah says she's down for that. Alyssa says it'd be a bad move for Tiffany to renom Claire to try and force the Xavier eviction.

9:40 PM BBT – Alyssa reports back to Hannah that Azah is good to keep Xavier. Alyssa says she's secretly close with Azah and DF.

10:00 PM BBT – Azah and Kyland agree that the best way for your +1 to go is to be on the Block next to them so you don't feel bad.

10:10 PM BBT – Azah and Xavier are going over possibilities in a DE situation so they are prepared. Xavier is upset at the idea of going up a fourth time.

10:40 PM BBT – Claire and Hannah discussing how Tiffany will be a target, but Claire says she won't have to go after Tiffany because so much of the house will be doing it.

11:05 PM BBT – DF boasting that he makes every situation better and believes viewers are watching the show because of him.

12:20 AM BBT – Xavier and DF discuss how Tiffany really messed up her game this week. DF says they need to keep Tiffany what she wants to hear for the time being.

12:30 AM BBT – DF says he'll tell Tiffany she should renom Kyland so she doesn't think the guys are working together.

12:50 AM BBT – Tiffany tells DF that she wishes she could just be straight with Claire about the situation. DF says he'll support her.

1:05 AM BBT – Xavier tells Tiffany that Alyssa will be okay with Claire going up this week and he's already been working on it. Tiffany says she never told Claire she'd be safe. She's thinking of telling Claire that she promised safety to other HGs already.

1:40 AM BBT – Hannah talks with Azah about the CO guys suggesting they're carrying the women and she doesn't like that suggestion.

1:55 AM BBT – Cookout discussing how to target Alyssa next week. DF says put up Tiffany or Azah against Alyssa. Tiffany says everyone needs to fight for HOH, no throwing it.

2:20 AM BBT – Tiffany reassures the group that she's loyal and no one can claim otherwise.

2:45 AM BBT – Kyland and Tiffany continuing the discussion on what to do this week. Kyland wonders if they could get Alyssa to just not use the Veto and he thinks this is a good plan.

3:00 AM BBT – DF tells Azah he'll have no trouble presenting his game to the Jury and thinks he can sway votes in his favor.

4:00 AM BBT – Tiffany and Kyland are curled up together asleep upstairs in the HOH room.
Tiffany knows she has to renom Claire and it's going to happen but we'll see how that goes over on Monday when it's official. With Claire on the Block the numbers are locked against her and she'll be off to Jury, but what's the lasting impact on Tiffany's game and will the Cookout really go against her in the DE?
You can watch all of these Big Brother events using the archives Flashback, the DVR-like feature of this year's Live Feeds which means it's always live, even when you missed it! Sign-up now to get the free trial to watch it all live & uncensored.


Download our Big Brother App, join us on Facebook & Twitter, and get our Email Updates for more!