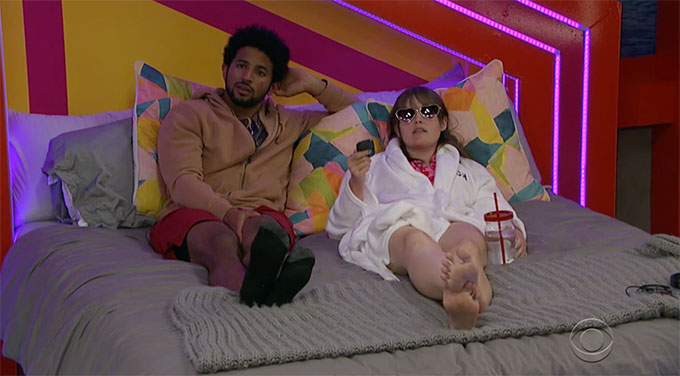 Sarah Beth might be the Big Brother 23 Head of Household this week, but she let Kyland pull all the strings. So, more or less this is an extension of his last HOH. But the roulette wheel twist comes into play and changes up her nominations in a way that she nor Kyland wanted.
Sunday night's episode picks up right after the HOH competition, and Sarah Beth is very happy she is the first woman HOH of the season.
Meanwhile, Azah and Tiffany are annoyed that Sarah Beth won, and how it would have been avoidable if last week Kyland had just thrown the HOH to one of them as planned.
Everyone else in the house is wondering what Sarah Beth is going to do, and also what's going to happen with the High Rollers' Room Twist. This week the winner can remove a nominee from the block, and then the replacement nominee is decided by the spin of a roulette wheel.
And then Derek F decides, after two weeks, it's time to finally try to clear the air with Tiffany after that time he and Azah went into the HOH room as Britini's bodyguards against her. The two of them basically didn't resolve anything at all, but the edit the show went with was grossly misleading. The editors and producers of the show are clearly trying to guide the narrative that Tiffany is the villain in this situation, when that is not the case. Derek F was completely in the wrong, and has been many times before when it comes to Tiffany and other women in the house, but they aren't showing the casual viewer everything. If you watch the Live Feeds, then you know the full story, which is not what this scene showed the viewers at all.
Sarah Beth lets Kyland know who she's worried about this week, and she mentions Xavier, Alyssa and Derek X. So Kyland has to sway her away from Xavier and more onto Derek X and Claire. So, as already mentioned, what we are having is an extension of Kyland's HOH last week.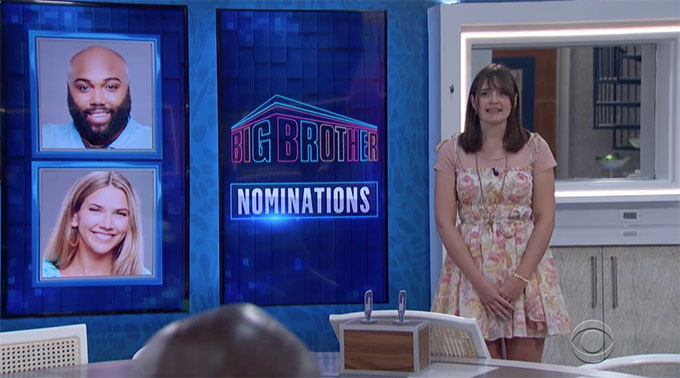 So let's get the nomination ceremony and see Sarah Beth's (Kyland's) nominations. Oh look, it's an exact repeat of Kyland's last week – Derek F and Claire. But the difference this week is that Derek X is her hopeful target. But what you didn't see in this episode was how much Kyland steered her in that direction as well. She was leaning more toward Alyssa at one point.
It's time for the High Rollers' Room. Claire goes in first. She learns that she has earned 100 BB Bucks from America this week. But she does not have enough bucks to play the game this week.
Azah is up next. She got another 50. Her total is 100, so she doesn't have enough.
Hannah is up next and gets another 75 bucks. Her total is 150 but she chooses not to play.
Xavier earns 75 this week. He now has 150, but he saves his money.
Sarah Beth is up, next and gets 50. She doesn't have enough to play. Tiffany also gets 50, and doesn't have enough to play.
Alyssa gets 75 BB Bucks. And she has just enough to play this week. She decides to play.
Kyland gets 50 bucks and doesn't have enough to play. Derek F received 100. So he now has 150. And even though he's on the block, he decides not to play this week and wants to bank his money for next week.
Derek X gets another 100 from America, but he decides not to play because Kyland previously talked him out of playing.
So by default, Alyssa wins. And she's safe for the week, and gets to take someone off the block. She decides to take Derek F off the block.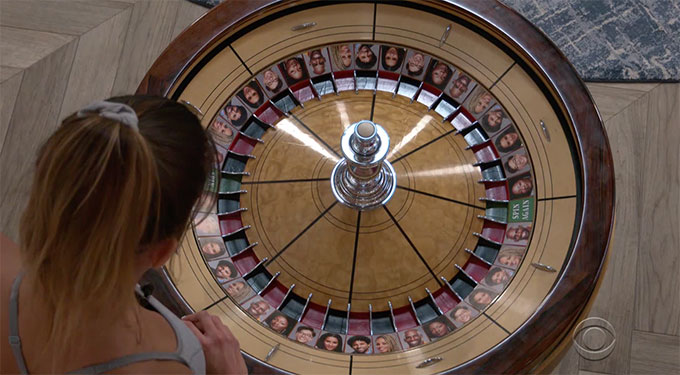 Alyssa gets to spin the roulette wheel to decide the replacement nominee. And it lands on Xavier. The one person Alyssa didn't' want it to land on. So ahead of this week's veto competition, the nominees are Claire and Xavier.