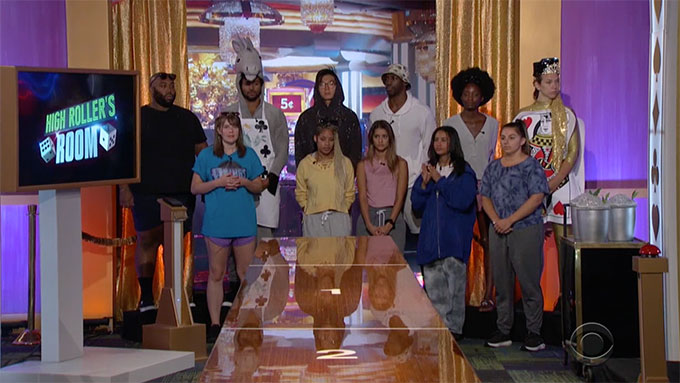 The Big Brother 23 High Roller's Room has officially opened, unleashing three chances to win some serious powers. And after this week's Head of Household competition, tensions are high among the Cookout members.
Sunday night's picks up at the start of the Head of Household competition. For this HOH the players will face off two at a time. They will hear a song clip about one of the competitions this season and the person who buzzes in first and answers the right question stays in the game. The last person standing, of course, wins Head of Household.
Britini and Claire are up first based on a random draw. Claire is out first. Britini picks Sarah Beth and Kyland. And Sarah Beth is out second. Kyland picks Britini and Azah to face off. Britini is out this round. Azah picks Kyland and Alyssa. And Alyssa is the next one out.
Kyland picks Azah and Derek F to face off next. And Azah finds this very interesting. Derek F is out next. Azah picks Tiffany and Hannah to face off. Hannah is out. Tiffany picks Azah and Kyland. And Azah just told Kyland she wants to win this one. But he rings in immediately and Azah is out.
That means Xavier and Tiffany are up next. Xavier is out this round. And it's between Tiffany and Kyland. And he's trying to throw it to her, but she's just not getting the answer. He clearly keeps waiting, but then she picks the wrong answer. So Kyland is the new Head of Household.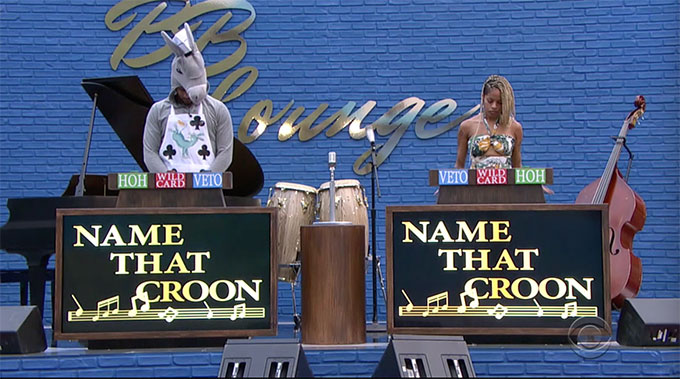 Azah is not happy because Kyland said he would throw it to her and now he's the HOH. And Tiffany is upset with herself because he's HOH and not going to nominate Sarah Beth, and she blew her shot at winning to do that herself.
And once again, the main thing Azah is worried about is Britini going home.
Kyland lets Derek F know that his target list is Claire, Britini and Alyssa. He just has to figure out which one it should be.
Tiffany is starting to struggle with the idea that her plus one, Claire, is possibly in trouble this week. She tells Xavier she knows this is all a part of the plan, but Claire is her best friend in the house. She says they have to stick to their plan, but it doesn't make it any easier.
Meanwhile, Azah is confronting Kyland about why he kept picking her to go up in the HOH competition. He tells her that she's Britini's ally, and it's a good idea to keep people off the trail of the Cookout. Kyland tells Azah that he is still looking out for them as a group and that there was no malice in his decision. Then she asks him about not throwing the HOH to her and he says a bunch of words that make no sense to us or her.
Kyland starts meeting with HGs to figure out what he's going to do. Claire throws out Xavier's name and Kyland can use that as an easy excuse to nominate her. Kyland tells DF that he's not worried about Britini and then mentions putting up Azah as a pawn. DF doesn't like that idea, so it looks like DF will be going up as the pawn to protect Azah and Britini.
So at the nomination ceremony, Kyland nominates Derek F and Claire.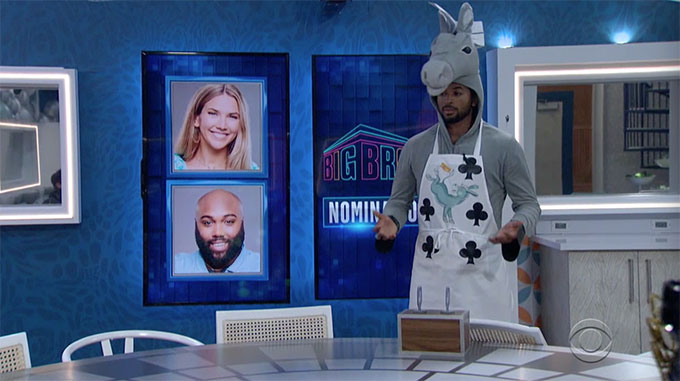 And this is normally where this recap would end, but we have a whole High Roller's twist to get to.
The HGs head off to the High Roller's Room. They're told that for 50 BB Bucks they have a shot at bing able to bet on a veto player this week. If their player wins veto, they too win a veto. For 125 BB bucks next week, they have a shot at winning a chance to take a nominee off the block. But the replacement nominee will be decided by a roulette wheel. And for 250 BB bucks the third week, they have a shot to win a chance to take over the HOH's reign. Those are some really serious competitions that could really change the game.
But how many bucks did the players earn? Let's find out. Sarah Beth was gifted 50 BB bucks. Sarah Beth chooses to play in this week's veto derby. Hannah learns she got 75 BB bucks. She decides to save her money. Xavier also received 75. He also saved his BB bucks. Britini finds out she got 100 BB bucks. She decides to save her money. Azah gets 50 BB bucks. She also chooses not to use it. Alyssa gets 50 BB also and saves hers. Kyland also gets 50 and he decides to play.
Tiffany finds out she got 75 BB bucks. And she decides to play but loses all her points. Derek X finds out he won 100 BB bucks and he saves his bucks. Derek F also got 100 BB bucks. He decides to play in the veto derby.
Claire got 50 BB bucks and she does decide to play the veto derby.
So let's find out the results from the veto derby. First place went to Kyland, second place was Derek F, third place went to Claire, fourth place was Sarah Beth. So those are the four people who will be placing their bets on veto players.